Cover Story
The High Price of Renting in Paradise
Santa Barbara Tenants Facing Extreme Competition and Record Rates
Up along Jimeno Road, right above the Santa Barbara Bowl, is a one-bedroom apartment for rent. It has delicate Japanese sliding doors, a flowered stained-glass window, and a private balcony overlooking a Zen garden and the Pacific. Rent is $3,000 a month. Only a single occupant may apply.
Over on Prospect Avenue, a two-bedroom, remodeled Victorian condo with rich brown oak floors, ornate fireplaces, and walk-in closets is listed for $6,400 a month, a "masterpiece" perfect for a "professional couple."
Across town is a $1,100 Chapala Street studio, subdivided from the original apartment. A bed jammed in the corner leaves little room for walking, and the "kitchenette" consists of a toaster oven perched on the bathroom's vanity.
Nearby, where Islay Street runs into the highway, a "cozy" two-bedroom with a heater that doesn't work, a beige popcorn ceiling, a stained gray carpet, and the deafening roar of 101 traffic goes for $1,900.
This summer, middle-of-the-road rentals have been thin. While that's not unusual for the City of Santa Barbara's drum-tight market, availability has reached an alarming low. Analysts recently declared the competition "extreme." Units are being gobbled up as fast as they're listed, with hordes of qualified hopefuls applying for the same property, and prices are rising to take advantage of the ravenous demand for the city's limited stock. A 5 percent vacancy rate is considered a healthy market for both renter and landlord. Manhattan currently has a 1.8 percent vacancy rate. In April, Santa Barbara's was 0.6 percent. Things have definitely not loosened up since then.
In our city, made up of 60 percent renters, the simmering discontent has reached a boiling point. For the first time in anyone's memory, discouraged rental seekers have hijacked the listing forums on Craigs­list, where they're ranting against "greedy" landlords. One of the most remarkable complaints alleged that a landlord had told applying renters he was restricting the number of hours a tenant could spend in his studio.
The reasons for this crisis are varied: residue from the Great Recession, national trends in the rental market, and Santa Barbara's long struggle for adequate housing to meet the demand while maintaining the city's quality of life. But as the vise tightens, investors, developers, and policy makers say there are a few projects and ideas in the works that could ease some of the pain.
'Three months into our search, a landlord finally said he would consider a dog, and we met to look at the apartment. The apartment was filthy — abandoned clothes, couch, and mattresses all over the floor and in the bedroom a keg with fresh vomit surrounding it. He then proceeded to tell me the rent for this little beauty would be $2,100 a month because our dog might damage the carpet. I told him that if my dog pissed on the carpet, it would be an upgrade —Sarah, 45, social worker
Generational Showdown
When my friends and I graduated UCSB in 2009, we were determined to stay in Santa Barbara for the obvious reason: It's one of the best places on the planet to live. Many of us found work in and around town ​— ​sound mixing, sales, graphic design, biology, and journalism ​— ​but over the next few years, limited living options and offers of better gigs thinned our ranks. The group scattered to Portland, San Francisco, San Luis Obispo, and Los Angeles. I'm now the last man standing. And while I've had my fair share of rental woes and full-blown horror stories, I've always managed to find a place to lease, willing to look past sometimes cruddy conditions to reside in this idyllic seaside hamlet.
The American Dream died for scores of millennials in 2007 when the economy tanked — we gave up on owning a home, at least for the foreseeable future. Since World War II, we're the first generation, all 80 million of us in our twenties or thirties, to be financially worse off than when our parents were starting out. We've delayed crossing traditional milestones of adulthood, such as getting married, starting a family, and paying a mortgage. But now, as the economy improves, millennials are beginning to set off on their own in earnest. They're moving out of their parents' homes and hoping to live without roommates. This social shift is the biggest factor driving housing demand across the country.
But tough financing standards, crippling student loans, and a belief that they will have better career choices if they remain mobile have kept home buying off the table. "These are critical members of our work force, but they often don't have the desire or capacity to buy," explained Dawn Dyer with Dyer Sheehan Group, a real estate consulting firm that recently completed its analysis of the South Coast rental market for the 2014 UCSB Economic Forecast Project. Besides, with the median price of a South Coast property at $1.1 million, she asked, "how can you possibly save enough?"
Dyer's survey of 2,132 of the city's market-rate rentals — there are approximately 21,000 renter-occupied units in the city; 36 percent are one-bedroom, and 39 percent are two-bedroom — showed that the average studio now costs $1,114 a month. An average one-bedroom is $1,378; a two-bedroom, $1,996; and a three-bedroom, $2,740. The area's median salary is $36,773.
As a general rule, economists say tenants shouldn't pay more than 30 percent of their income toward rent. More than half of Santa Barbara renters exceed that mark, living paycheck to paycheck. Affordable housing proponents argue that South Coast communities, particularly in Santa Barbara, have failed to provide for their future workforce. "There's a Greek proverb that goes 'A society grows great when old men plant trees whose shade they know they shall never sit in,'" said Pew Research Center demographer Paul Taylor at a recent conference. "We haven't been doing that."
While rental rates ticked up 2-3 percent this year, as they have for the last several years, a continuing loss of middle-income jobs from the area and minimal gains in salaries have kept rates from jumping any further. Otherwise, it could have been as high as 6-8 percent. Dyer said she predicts another 2-3 percent rental raise next year. Nevertheless, Dyer wrote in her report, "Given the strict limitations on new development and the high quality of life, demand for South Coast rental housing is expected to far outpace supply for the next several years."
'We pay for such poor-quality housing in this town and sadly, after years, lower our standards. If you've rented in Santa Barbara, you know you can count on at least one of these problems in a rental: mysterious mold smell under a sink, poorly maintained interiors, windows that are painted shut, bathroom tubs and fixtures so old there is no such thing as "clean," horrible showerheads, hard-to-work-with property owners. There seems to be an overall attitude of, Well, if you're unhappy, move— 20 other people will want to rent it out next week.' —Lori, 32, artist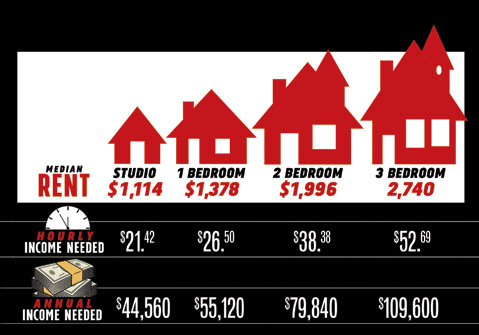 Supply and Demand
Leon Lunt, vice president of the 1,200-member Santa Barbara Rental Property Association, conceded the market is "really tight" right now but said he remembers vacancy rates dropping below one percent before. That was in the 1980s. Today, Lunt said, many property owners and managers such as himself could probably get 10 percent more than what they're asking, but that would level "too much pressure on the customer."
It's not always worth it to beat the market, Lunt explained, as landlords don't want to create more work for themselves by watching their tenants move every few months. "We have to be sensitive to community needs," he said. "We don't want to spark any issues with price control. It'd create a lot of animosity between owners and tenants."
While Santa Barbara's prices may be steep, Lunt went on, they're no different than other Southern California coastal cities. "Look at Corona, San Diego, Newport," he said. "They have an equivalent median income, and their rental rates are pretty high compared to us." Other Santa Barbara property owners and managers interviewed for this story made similar claims, which were borne out in census data and market surveys.
"Some form of rent control is probably one of the few ways that the large increases in rents are going to stop," said one city official who wished to remain anonymous. "I do not think that the supply will catch up with demand anytime soon." Since 1984, Santa Barbara has had rent control for mobile-home parks, but a community-led movement in those years for a citywide ordinance met with strong resistance from property owners and development companies. To be enacted, rent control would have to be approved by the city council or by a proposition voted on by the public. So far, there is no sign that will be happening any time soon.
Because 68 percent of Santa Barbara's housing stock was built before 1970 when design standards were more lax, in a style sometimes described as "dingbat postmodern," many city rentals are suffering from the serious aches and pains of old age. With the economy in recovery, property owners are taking on the fix-it work of leaky pipes, spotty electrics, cracked asphalt, and roofs that need resealing in anticipation of an even moderately wet El Niño. Such work raises individual rents a lot or a little, depending on the scale — a $1,000 facelift may raise a monthly rate by $20, but a complete $15,000 overhaul will mean a monthly increase of several hundred dollars.
This is the story with the number of apartment complexes that have been bought and refurbished during what amounts to a recent buying boom. Steve Golis with Radius Commercial Real Estate & Investments said he's watched the residential income market take off in the last six months, noting apartment investment loans are performing especially well on bank books. Last March, when the 97-unit Harbor Heights Manor complex sold for $33 million, it set a new price record for the city. Other properties have since changed hands, and now there's little left for sale. The only one listed by Radius is a 29-unit building on Ladera Street for $7.1 million.
Bob Bartlein is the undisputed tri-county heavyweight of property management. Bartlein & Company boasts around 21,500 residential and commercial units, with approximately 4,000-5,000 in the City of Santa Barbara. The region's second largest firm is The Towbes Group, which has only 2,500 units, mostly in Goleta, according to the Pacific Coast Business Times. "Right now, it's almost impossible to find housing," Bartlein agreed, but he believes that is mostly the result of normal seasonal activity.
At the end of August, returning college students, visiting professors, and parents wanting to get their kids settled duke it out for any openings. Vacancies will open up a bit in the fall but then shrink again close to the winter holidays when no one wants to move unless they absolutely must. While the low vacancy rates are cyclical, according to Bartlein, it's been a number of years since he has seen things this bad, but he partially attributes the current crunch to tougher housing loan requirements. Families who might have wanted to buy are now out looking for rentals.
Most landlords in the city own only a few units and determine their rent pricing based on anecdotal information gleaned from what other nearby properties are charging. Bartlein's company does slightly more scientific market research, including a trial-and-error method: In a building with 10 identical units, they'll raise the rent on one to see how quickly it leases. Bartlein, who has managed properties all over the state, said that compared to San Francisco, "the rents in Santa Barbara are considered dirt cheap."
The returning 20,000 Santa Barbara City College students, many of whom are from out of town, have struggled to find space on the Mesa and near West Beach, but Colene Skinner, leasing coordinator for Wolfe & Associates Property Services, said their entire rental pool "is pretty much dry" all over. Surprisingly, almost every applicant meets the strict requirement of having good credit and earning a monthly income that is three times the rent. Yet most still cannot find a place to live. It hasn't helped that a number of landlords have turned their properties into the more profitable vacation rental. The city estimates that there are around 300 of these units, a third of which are operating under the radar. "The market has certainly changed" in the last four years, Skinner said. "We're forced to become especially picky."
'I work with mostly students and young adults just starting out on their own. None of my co-workers can afford to have a place of their own. It's not an issue of sharing an apartment; it's two to three people per bedroom. One of my co-workers rented out the second bedroom of a two-bedroom apartment from a single mom, so it was her in one room and the mom and two kids in the other room. I think the worst story I can share is walking in on two of my coworkers having a serious conversation about whether or not you can live in a storage unit.'—Jamie, 35, retail manager
Source of the Squeeze?
Rob Pearson, the director of the city's Housing Authority, said he was "shocked" by the numbers that came out of Dyer's UCSB report. The Housing Authority works to put roofs over the heads of low-income families, seniors, and the disabled through Section 8, public housing, and other programs. And while they've had recent successes by building Bradley Studios for low-income residents on Bath Street, Garden Court for seniors on De la Vina Street, and Casa de las Fuentes for downtown workers on Carrillo, they only have a total inventory of 3,605 units. Their waiting list has 11,699 applicants.
Most of the Housing Authority's clients are now seniors and the disabled because low-income families have already left the area. "I'm worried about the young working stiff," Pearson said. "They're the ones who will lead the city when the rest of us retire." And it is true. Many Santa Barbarans find themselves in financial limbo by earning too much to qualify for housing programs but not enough to compete for the few desirable places to live. In a mini-exodus out of the county, the South Coast's middle-aged middle class is slowly but surely leaving. Between 2000 and 2010, more than 10,000 county residents ages 35-44 packed up and moved.
City Hall ​— ​nudged and sometimes shoved along by advocates and grassroots groups such as CAUSE, COAST, SBCAN, and SB4all ​— ​has long toiled to manage the admitted "crisis." Constrained not just by the geographical boundaries of ocean and mountains, public officials have had to enact policies that reflect the voters' determination to retain the city's coastal-village ambiance. Walking that fine line, planners have, nevertheless, been able to limit building heights and densities, while also creating a host of affordable and assisted-housing units, which compose about 15 percent of the city's housing. Commercial development has intentionally been kept at bay to avoid making matters worse, but select worker-housing projects ​— ​notably Cottage Hospital's 115-unit Bella Riviera complex ​— ​have been approved.
Santa Barbara updated its state-mandated General Plan in 2011 after seven arduous years of input and negotiation, much of it over density and affordability. It views housing ​— ​rentals, specifically ​— ​as a high priority. The city, which has struggled to keep the population to about 89,000 ​— ​added around 1,100 rental and owner units to its housing stock over the last decade, approving "smart growth" building along downtown corridors close to businesses and transit lines. By comparison, Santa Maria added approximately 5,500 units in the last 10 years. "When people look at our numbers, they say, 'This is nothing,'" admitted Santa Barbara city planner Betty Weiss. "But this is how we grow."
Santa Barbara planners are hopeful about a freshly minted initiative that's already gaining some momentum. The Average Unit-Size Density (AUD) Incentive Program lets developers nestle up to 63 units as small as 800 square feet into an acre of land with the hope that it will allow projects to better "pencil" from an investment standpoint and therefore keep rent prices down. Fewer parking spaces are required, and setback restrictions less severe. The program will last for eight years or until 250 AUD units are built.
'I'm a native of this town and can't afford to live here—a couple of rent increases and my family and I are cooked. We've been fortunate to rent the same apartment for 16 years, but that has meant raising our kids in a space that most Americans wouldn't tolerate. When S.B. stopped being a town and became a destination, it was all over for working-class folks.' —Brian, 55, human resources manager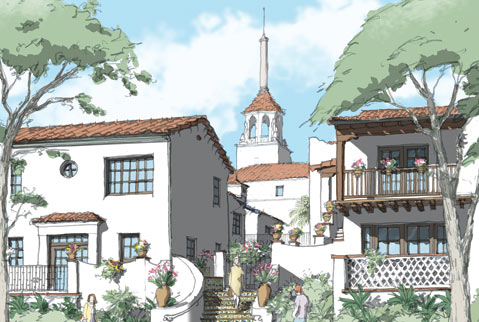 Toppling King Condo
For many years, condos were king in Santa Barbara. Their construction was a relatively safe bet that often yielded quick, hefty returns. But the spaces were typically out of reach for all but the very wealthy. Now that renting is becoming more the norm, developers are starting to test the rental market waters. A few have jumped right in. Arlington Theatre owner Bruce Corwin switched from condos to apartments for his Arlington Village development, slated to be built in the parking lot behind the downtown theater. The three-story, 33-unit complex was designed by Peikert Group Architects, who've headed a number of South Coast "affordable by design" projects.
Simplicity for such structures is key, Detty Peikert explained. Units are stacked and repeated to drive down costs; middle floors are always less expensive because they don't need a roof or foundation. Each unit will be allotted only one parking space, but Peikert expects that won't be a deterrent to young professionals, two-income families, or recently-retired folks. Peikert also hinted that another mixed-use project on Milpas Street might be in the works that could feature as many as 70 units. But the proposal is still in its early stages.
While the AUD is a step in the right direction, Peikert believes, it needs some ushering along to attract companies that may utilize it for workforce housing. Peikert envisions an employer housing consortium in which the professional development company would act as a general partner and the employer businesses as limited partners. "This is a concept that I pioneered with my former business partner some years ago," he explained. "It is a tried, tested, and proven legal framework." Through the model, the limited partners would become equity investors in a development, and their return would be completed residential units at below market pricing.
As Arlington Village's groundbreaking draws near, construction crews have finished knocking down the Mirasol Plaza Inn and an office building on upper State Street near La Cumbre Plaza to make way for a four-story, mixed-use rental project that's in its final stages of design approval. It was originally envisioned for condos. The lots were purchased at market price by State Street Property LLC, a partnership between Santa Monica–based REthink Development, the Kor Group out of Beverly Hills, and other unnamed investors.
Under old city rules, only 38 studio units would have been permitted at the site, said city planner Daniel Gullett. With the AUD program, 89 one-, two-, and three-bedroom apartments with an average of 804 square feet have been allowed. The project's commercial space will be limited to office and "general retail" — not including restaurants, fast food, banks, or convenience stores — and a partially submerged parking garage will hold 134 spaces. At an Architectural Board of Review meeting last week, designers promised to tone down some of the structure's bright accent colors and go instead with a more neutral, "timeless" palette.
Greg Reitz with REthink Development, similarly envisioning the apartments for young professionals, said the project boasts a number of amenities normally reserved for high-hat condo complexes, like a gym, pool, viewing deck, garden plots, bocce ball court, and BBQ area spread throughout three courtyards themed Fire, Water, and Farm. "Working with the city was great," said Reitz of the approval processes. "The staff were all very helpful and very good at what they do. That was refreshing." Reitz said the community feedback he and his partners received was encouraging and that the overall experience "has been so good that we would love to look at other opportunities" in the city.
Ahead of the curve are Michael Towbes and the Towbes Group, who've taken advantage of Goleta's large, comparatively cheaper parcels to build hundreds of affordable rental units in recent years as the city rejiggered some of its own zoning rules. Just last month, Towbes celebrated the expansion of the Willow Springs complex by 100 new apartments and has his sights set on Heritage Ridge, a pending 360-unit project along Los Carneros Road.
Craig Zimmerman with the Towbes Group said the developments cater to the area's higher-wage tech and financial-service jobs, and that their average resident stays four to six years. While environmental reviews and open-space regulations can still scare off some developers because consultants are expensive and "time kills all deals," both Goleta and Santa Barbara policy makers have been supportive of the rental push, he explained. No one is under the illusion that rentals alone will solve the housing issue, Zimmerman said, but the continual additions will help fill the ballooning need because, as he put it, "when you speak with demographers, you hear that this is just the tip of the wave that's coming."
Cities all over the country are bracing for that wave ​— ​the Census Bureau reported last month that over the course of the last year, construction crews broke ground on 332,000 new apartments, more than any comparable period since 1989. The census also noted that the national vacancy rate for rentals fell to 7.5 percent, the lowest since 1997.
'I moved here for a job. It would pay more than I was making before in San Diego. I had to move a son with me. We were living in a standard two-bedroom apartment before. I made promises without knowing better to sweeten the bitter pill for my son. "We'll rent a house, we'll get a dog, we'll all walk off into suburban happy land." I arrived and started to look around. I quickly learned that there would be no house, no dog, no suburban happy land.' —Fran, 57, county executive
Evolve or Die
Those who resist the creation of higher-density housing often complain about the "canyonization" of city corridors and the sullying of the city's red-roofed skyline. But Lisa Plowman, who works at Peikert Group Architects and is the president of the Coastal Housing Coalition, said careful choices can make a building more "human scale" and approachable at the street level, like hiding a fourth story in the back of a structure and breaking up the mass with nuanced design techniques. She lamented the recent backlash that greeted Peoples' Self-Help Housing Corporation's AUD-inspired plan to develop a four-story structure on Haley Street that would contain 47 subsidized family apartments ranging in rent from only $500 to $1,000 a month.
Concerns from nearby property owners over height and parking ultimately led to a one-story reduction and the loss of seven units. "If we're serious about providing housing," Plowman said, "then four-story projects that meet code should get approved." The neighborhood is in transition, she went on, "so when you're the first to go, that can present challenges." Much of the resistance to that project and others seems rooted in a general fear of the unknown, Plowman theorized. "People just don't like change." Parking often emerges as a sticking point to denser developments, but housing advocates counter that cars are too expensive for most people who qualify for public housing and that young workers who seek manageable market-rate homes are open to, and actually embrace, walking, biking, and public transportation.
The xenophobic stigma sometimes attached to renters has started to wane in recent years, advocates also noted, but many homeowners still come out of the woodwork to complain when a new development is proposed nearby. "A lot of people don't realize that many renters are young professionals," said analyst Dawn Dyer. "They're young doctors doing their residencies; they're police officers, teachers. But if you want to keep them around, you need to provide a variety of different types of housing at different price points." A community is a living thing, she summed up. It's constantly in change, and if it's not growing or evolving, it's "moving toward death."
'I don't make a lot of money, so I share a room in a tiny two-bedroom. I pay way too much per square foot, but it's a beautiful house with a private rose garden in the best location ever ​— ​right across from the mission. Cons include miniature closets and terrible plumbing. But it really is a gem in Santa Barbara rentals.' —Jenny, 25, barista