Sports
Football: Dons Beat Chargers
Santa Barbara Works Overtime to Defeat Dos Pueblos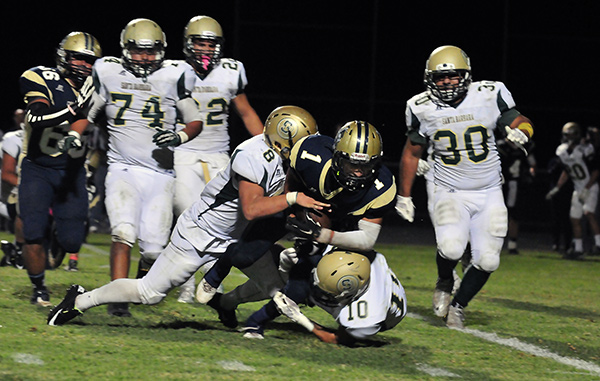 Santa Barbara High made big play after big play, and the Dons needed every one of them to beat Dos Pueblos, 28-21, in a Channel League football overtime thriller night at Scott O'Leary Stadium last Friday, October 17.
Junior Garcia bulled through the line for a 3-yard touchdown run and Hugo Ronces kicked the PAT to give the Dons the seven-point lead in overtime.
In an attempt to tie the score, Dos Pueblos running back Angel Davison was stopped an inch short of the goal line on a third-down play. On fourth down, Santa Barbara cornerback Russell Enholm knocked down a Barrett Burnes' pass intended for Josh Flora and the Dons rushed the field to celebrate their first league win.
The city rivalry win comes a week after the Dons (4-4, 1-1) were blown out by Ventura. The heartbreaking loss drops Dos Pueblos to 1-8, 0-2.
"It was fun," said Santa Barbara coach J.T. Stone, who was returning to his alma mater. "Our coaches did a good job this week keeping [the players] focused. You know, we haven't finished [a game] all year. We had to go five quarters to do it."
Carter Soto, who picked off a Kellen Roberts pass and returned it 50 yards for a touchdown to give the Dons a 21-14 lead early in the fourth quarter, said the win keeps alive the team's goal of making the playoffs. "I knew we had to come out and play hard because a loss would have ended our [shot at the postseason] — no Golden Tornado," Soto said of the program's playoff nickname. That's what we play for, the golden jerseys."
The loss was big blow for Dos Pueblos. "It's a tough one, a tough one to swallow," said coach Nate Mendoza.
On the play after Davison was stopped short of the goalline, the Chargers were hit with an illegal procedure penalty, moving the ball back to the 5 yard line. "One inch," Mendoza lamented of how close Davison came to scoring. "It's tough, it's been very tough."
The game went into overtime, with Santa Barbara getting first crack at scoring from the 25. The Dons went to the powerful Garcia for three running plays and he scored the eventual winning touchdown."It was definitely a change of pace in overtime," said Mendoza of dealing with Garcia. "They never really got the running game going on us and then that 22 did a phenomenal job hitting his holes and running hard."
Garcia, who primarily plays defense, said he was ready to carry the load on offense in overtime. "I really wanted to win this game so I went in there to take over," he said. "I was tried but I was motivated to get this win. It's a big win."
For the full story, see presidiosports.com