News
Park Your Bike at Bicycle-Friendly Businesses
Valet Bike Parking at Saturday Farmers Market
Last month I wrote about three big infrastructure wins for cyclists and all road users on the South Coast. Here's a thumbs-up to several local bike friendly businesses and two bike parking improvements!
Four local businesses won recognition from the League of American Bicyclists. The Santa Barbara Bicycle Coalition received a Platinum Bicycle Friendly Business award, while Deckers Outdoor Corporation was awarded a gold medal. Both Rincon Cycles and Lynda.com received bronze medals. Locally, they joined REI Santa Barbara and UCSB as Bicycle Friendly Businesses. All of these businesses encourage employees to bike to work by providing cyclists with resources and education to make biking a safe and convenient alternative to driving.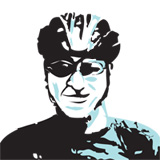 Bicycle-friendly businesses (BFB) offer employees incentives to ride and encourage them to participate in group rides, bike clubs, Bike to Work Day, and commuter challenges like the National Bike Challenge. They offer cyclists supportive resources like convenient covered bike parking, showers and changing rooms, and space and tools for minor bike repairs. A BFB will also educate cyclists about street skills and riding safely so that they are confident riders. They'll have bike maps and route sheets available so that staff can plan their commutes or work-related trips. Finally, bicycle-friendly businesses set ambitious but achievable goals to increase ridership and collect data to measure progress and encourage cycling.
With the announcement of 150 new and renewing Bicycle Friendly Businesses in 39 states and Washington, D.C., SBBIKE, Deckers, Rincon Cycles, and Lynda.com join an increasing number of businesses, government agencies, and Fortune 500 companies across the United States that are transforming the American workplace. These companies understand that bicycles are good for business. "Visionary business leaders are recognizing the real-time and long-term impact that a culture of bicycling can create," said Andy Clarke, president of the League of American Bicyclists. "We applaud this new round of businesses for investing in a more sustainable future for the country and a healthier future for their employees."
The over 800 award-winning companies have access to a variety of free tools and technical assistance from the league to become even more bicycle friendly. Companies around the country are working to make their businesses bicycle friendly because it's good for their employees' health and productivity and the company's bottom line profitability.
Safer roadways are essential to cyclists. But, it takes more than safer roadways to encourage cycling. I've said it before that equally important is adequate and accessible bike parking. In fact, I noted that Santa Barbara needed to step up its bike parking game in a July Pedal On column. I'm proud to say that Santa Barbara is stepping up!
The City of Santa Barbara recently installed our first bike corral. Located on the 100 block of East Canon Perdido near Santa Barbara Street, the bike corral replaces one parking spot with 14 new bike parking spaces. Bike corrals are on-street bicycle parking areas that typically replace one or two automobile spaces in commercial areas that attract a lot of cyclists.
Even if you never ride a bike, this is an example of a forward-thinking infrastructure improvement that is beneficial for motorists and pedestrians as well as cyclists. For motorists, when 14 cyclists ride to shop or dine on Canon Perdido, there is less traffic congestion and more available parking spots. The bike corral will also help to better organize bike parking on this block; pedestrians benefit because the narrow sidewalks are less congested when bikes are not chained to trees, fences, and telephone poles for security.
Businesses owners located on Canon Perdido and Santa Barbara streets petitioned the city's Public Works Department for an increase in bicycle parking on this busy downtown block. The city was responsive to their request to encourage cycling. The bike corral is a demonstration project that will be evaluated over the next year. Bike corral users, business owners, and customers will all be asked to contribute to the assessment of the project.
So, ride over to Canon Perdido and check out the new bike corral. If you forget your bike lock, both Sojourner Café and Handlebar Coffee Roasters have free loaner locks for their customers to use at the bike corral.
If you ride your bike to the Saturday Farmers Market on Cota Street, you know how hard it is to find a place to park your bike. All the nearby fences, posts, trees, and telephone poles usually have multiple bikes locked to them. No more! Every Saturday, the Santa Barbara Bicycle Coalition is offering free bike valet parking at the entrance to the market. So, roll on down to the market, and say hi to Joey and the bike valet crew. Let them park and watch your bike for free while you shop.
I'm always happy to report positive news. More bicycle-friendly businesses and better bike parking are two ways that Santa Barbara is a better town for all residents, businesses, and tourists. When members of our community bike, great things happen: Businesses prosper, health care costs are reduced, and our community becomes better connected and accessible for all while we enjoy the fun and health benefits of cycling along our beautiful Santa Barbara coast.