News
Capps, Richard Martinez Encourage Students to Vote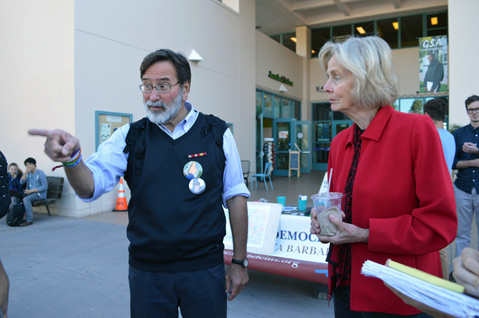 Gun control advocate Richard Martinez, father of Isla Vista shooting victim Christopher Michaels-Martinez, joined Representative Lois Capps on the UCSB campus and around Isla Vista on Monday to urge students to vote. The two stood outside the campus UCen before going door-to-door in Isla Vista, advocating voting as a way to influence legislation and prevent future tragedies.
Martinez said students shaken by the May shooting can help dictate policy by voting for representatives who advocate gun control. "We can't let people who are pro-gun win in this town," he said. "It will be an embarrassment if this other guy wins — it's going to say we don't care about this issue."
Martinez voiced his support for Capps, who introduced the Pause for Safety Act and the Protecting Domestic Violence Victims and Stalking Act bills in the House earlier this year. The former act would grant families of gun owners the ability to seek a gun violence protection order in the case of a perceived threat, and the latter would ensure greater protections from gun violence for victims of domestic abuse and stalking.
"We are both committed on the importance of voting to change gun control legislation," Capps said, advocating a "common sense gun policy."
UCSB registered 7,152 new voters this quarter, continuing its tradition of having among the highest percentage of registered voters for any college or university in the country. Though there are no measures on Tuesday's ballot pertaining directly to gun control, Capps encouraged students to vote on other issues that could affect them, such as the environment and school bonds. "This is a critical election. All kinds of issues are at stake," she said. She said voting is the most basic way students can get involved in their community.
Martinez echoed this sentiment. "Voting matters," Martinez says. "Every big change starts small. Every big change starts local. And this has got to change."