Film & TV
Time Warp
Director Lael Wageneck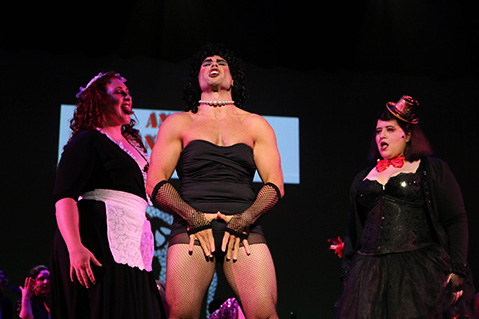 This half-hour documentary, about San Marcos High School alumni's staging of The Rocky Horror Picture Show in honor of a popular teacher's retirement, is directed by San Marcos grad Lael Wageneck.
How did you come to cover this story?
I graduated from San Marcos in 1993 and was into theater. We always produced a musical in the spring, and the joke every year from David Holmes was that we would produce The Rocky Horror Show. We never produced it because it is obviously too racy for a high school production. The joke of doing Rocky Horror lasted throughout all of David's career. I had been wanting to produce a documentary outside of my day job for awhile, and when David announced that his retirement show would be Rocky Horror with an alumni cast it just made sense. Alumni from 30 years returning to their high school to fulfill a long running joke, produce a show in six days, and honor their drama teacher makes for a great story. I expected the experience would be more Waiting for Guffman, but it turned out to be this beautiful and emotional experience. The performances and my documentary are love letters not just to David Holmes, but to the role that theater in high school played in our lives.
How large was the cast?
Cast, crew, and production staff was 84. All cast and crew were alumni. The show was double cast for most roles and I'm going to guess there were 20 to 25 actors. I would guess 10 to 20 percent of the actors and crew are professional or have been professional. Some of them are actors. Some work in TV post-production and others do makeup and costumes. Tariqh Akoni, who was the musical director and played the role of Eddie, has played with Stevie Wonder, Elton John, Christina Aguilera, and Josh Groban.

Was there any controversy at the school related to the somewhat racy content?
I don't think there was any controversy related to the content. The shows were held in June outside of the regular school calendar, so it wasn't a high school production as much as it was a production that was held at a high school. Most of the time I filmed the cast was in costume, so it was more of a shock at the cast party to see people in jeans and shirts and not in lingerie and makeup. If anything was controversial it was food in the auditorium. Food in the theater is a big no-no, and yet the floors were covered every night in rice, toast, newspaper, and all of the stuff people bring to a Rocky show.
Is there momentum for a second annual affair?
The show was expected to be a one-off but the experience was so great that they decided to go ahead and do an alumni show in 2015. Some of the cast and crew got together to create the San Marcos High School Alumni Foundation Theater Group. In June of 2015 they will produce Spamalot and all proceeds will benefit the school. They are currently in the process of auditioning.