Living
Cloud 10 Jump Club
The Trampoline Venue Offers Bouncy Fun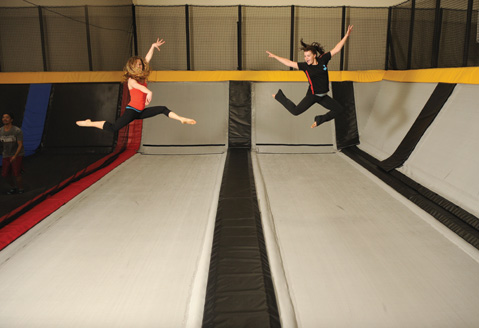 From the outside, Cloud 10 Jump Club doesn't appear big enough to be a trampoline warehouse — but looks can be deceiving. The venue contains five large trampoline sections, a U.S.A. training spring floor, a full food stand, birthday party rooms, and a lounge area. I hadn't been on a trampoline in years, so I was eager to try out everything.
Cloud 10 Jump Club opened mid-February 2014, making it the 16th trampoline warehouse throughout the United States created by owners Suzanne Wolfe Jewell and her husband, Wayne Jewell. Cloud 10 Santa Barbara now serves as headquarters for their company Trampolines Unlimited, which they founded in 1975.
Since opening, Cloud 10 has been a hot spot for those who like to leap about. The several jumping areas include a trampoline basketball court, where the hoops can be raised or lowered; a free jump area, where the surrounding walls are also trampolines; an extra-high bounce section, where boards are provided to practice mid-air tricks; and, my personal favorite, a long stretch of trampoline that leads to a giant balloon at one end into which you can throw yourself.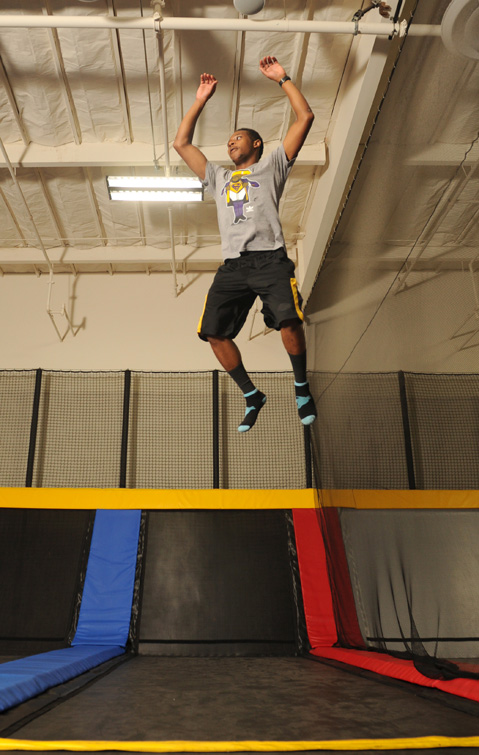 There is also a dodgeball section: The floor is composed of multiple mini trampolines where teams square off and hurl soft balls at one another. A staff member is on hand for refereeing. The competition is fierce — my friend Tyler and I were too intimidated to join — but watching from the sidelines was very entertaining.
Though my jumping level is novice at best, consisting mostly of twirls in the air, Tyler is quite acrobatic, able to do an array of mid-air flips, tucks, and twists. Not long into our jumping session, however, despite our different jumping abilities, both of us were in great need of a rest. I understand why parents would take their kids here — it may be the only thing that can fully wear out a child.
It was a holiday when we visited, so an abundance of kids were there. Toddlers and young children had fun in the Cloud Kid section, where parents can sit next to their child as they jump on singular mini trampolines or watch as their kids roam a three-level play structure. The friendly and accommodating staff was observant and quick to reinforce all safety rules.
Though it is definitely youth friendly, Wolfe Jewell explained that Cloud 10 has many opportunities for all ages to enjoy a jumping experience. A few of their weekly specials, for example, are Tuesday Family Nights, Wednesday College Nights, Saturday Teen Night, and Thursday Dodgeball Nights.
I had such a good time at Cloud 10 that I plan to return for one of its weeknight specials. I may even venture onto the dodgeball court.
4•1•1
For more information, call (805) 617-3900 or see cloud10jumpclub.com.