Curran Grenache Blanc Santa Ynez Valley 2012: There are almost 300 times more acres of Chardonnay than Grenache Blanc planted in California, but when you drink Kris Curran's, you start wondering about the wisdom of those numbers.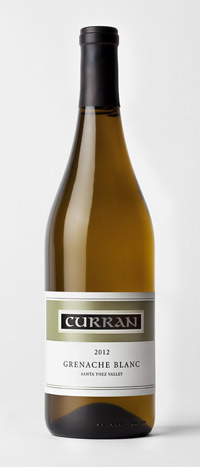 Coming from the Tierra Alta Vineyard in the Santa Ynez Valley, her take on this white Rhone varietal is a bit of all things to all people, very floral on the nose but with a palate that's more biting than you'd expect. The flavor is lemon over melon, almost, running to green apple.
The wine's low alcohol (13.2%) and high acidity makes it extremely food friendly, not just with a dish like mussels with leeks but spicier foods like Thai or Vietnamese. Or skip the martinis and dive right into this bracingly good bottle.
See d-cwines.com.