Film & TV
Review: Jupiter Ascending
Mila Kunis, Channing Tatum, and Eddie Redmayne star in a film written and directed by Andy and Lana Wachowski.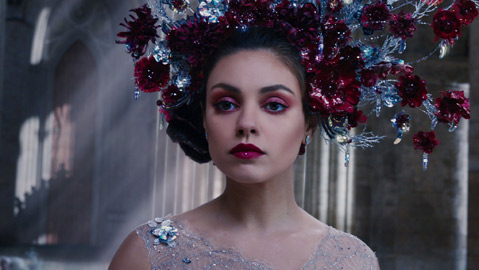 Remember when the Wachowskis were deep? Way back in 1999, before Larry Wachowski became Lana, they were the darlings of film professors everywhere and prone to quote trendy French philosophers like Jean Baudrillard to help poor mortals understand The Matrix. Sadly, they have headed steadily into shallower waters since then — though Speed Racer was misunderstood genius — and this film seems to confirm that the siblings have arrived at mediocrity's harbor.
There's nothing in Jupiter Ascending we haven't seen before. Star Wars, Dune, Flash Gordon, and The Fifth Element were amply plundered in this transplanetary melodramatic epic in which Mila Kunis plays Jupiter, a Russian immigrant's kid who cleans rich people's toilets but actually owns the Earth because a space family (House of Abrasax) seeded Earth's DNA pool, and she won the lottery. Super-evil Balem (Eddie Redmayne), who we know is bad because he only mumbles and screams, plans to harvest Earth. Channing Tatum plays a disgraced wolf-humanoid who swoops down repeatedly to provide foil.
Even though it's all familiar territory, rarely has so much science fiction been applied so liberally to every shot, except maybe the toilet-swabbing scenes. There is a massive spaceship; young Tatum slides by on hover-skates; rays zap and explode; they pass another ship with an elephant humanoid squeaking at the helm. It would be great fun if the story wasn't so boring, stilted, and inconsequential. If the Wachowskis were pulling a prank on us, just to prove that Big Science Fiction is empty-headed, they succeeded. Or maybe they believed that in outer space nobody can hear you yawn.