Wedding
Weddings: Leo and Cynthia Torres
The Couple Modeled their Nuptials on Small-Town Mexican Weddings
"Simple and not too expensive was kind of the goal," said Cynthia Torres (née Marquez) of her September wedding to now-hubby Leo. The pair, who were introduced by a friend a little over two years ago, wed at Our Lady of Sorrows Church last fall, just seven months after their Solvang engagement date.
With a bevy of area vendors on their side, the couple orchestrated a stunning, classy 200-guest wedding, which concluded with a reception at the historic Casa de la Guerra. "We went with a Mexican theme," said Cynthia, "but nothing too crazy colorful — mainly white and purple. We really wanted it to be a little more traditional."
The Torreses modeled their big day off of the small-town Mexican weddings their families grew up attending. Following the ceremony, the couple and about 100 wedding guests were escorted down State Street to their reception by Santa Barbara–based banda La Invasora. "We got a lot of attention," laughed Cynthia, "but it was great fun."
So much fun, in fact, that passersby even got in on the action. "When we were walking down, the owner of the La Arcada Bistro came out and offered us a shot, so we stopped everybody and went into the restaurant," recalled Cynthia. "After we came back from our honeymoon, we went and saw her and asked if she remembered us. She was so sweet. She said she heard the music and it just reminded her of home."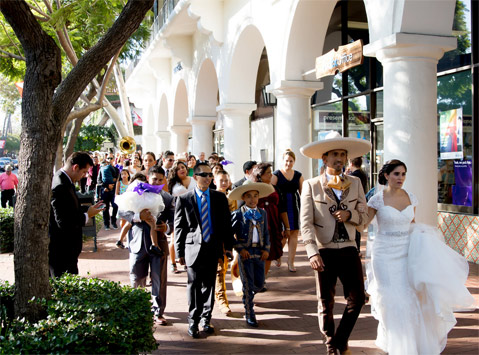 Vendors
Hair: Mira Bella Salon and Spa
1819 Cliff Dr. 962-2887.
Makeup: Luis Torres Makeup Artist
Catering: Events by CP Catering
479-0804.
Music: Banda La Invasora
Music: DJ Orbs
Photography: Purple Zeal
338-6161.
Bride's Dress: Ana Maria's Bridal Boutique
3891 State St., Ste. 104. 687-5054.
anamariasbridalboutique.webs.com
Groom's Suit: La Casa del Mariachi
1836 E. 1st St., Los Angeles. (323) 262-5243.
Cake: Fresco Café
Ceremony Venue: Our Lady of Sorrows Church
21 E. Sola St. 963-1734.
our-lady-of-sorrows-santa-barbara.com
Reception: Casa de la Guerra
15 E. De la Guerra St. 965-0093. rain@sbthp.org.
Transportation: Santa Barbara Pedicab
224 Anacapa St., Ste. 1B.
910-7334.
Flowers: Julia Unzueta