Travel
Don't Lose Money on Unused Hotel Rooms
Roomer App Gives Escape Options and Discounts Around the Country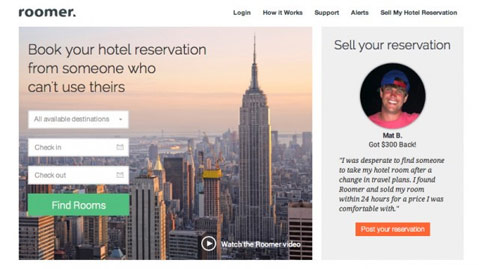 Roomer, a two-year-old app and website, allows users to book hotel rooms at discounted rates from other people who had to cancel their trips.
CEO Gon Ben-David was motivated to create the app through his own experience in paying a $400 cancellation fee for a room in New York. "If only I could sell my room on eBay," he recalled thinking.
By connecting travelers who don't want to cry over hotel cancellation fees with those who are looking to score a deal, Roomer has created a secondary-market place that Ben-David says is a win-win for everyone involved, including the economy.
"$8.6 billion dollars are lost though cancelled hotel rooms in the US each year, and you can add more to that because travelers spend much more than just on hotel rooms," said Ben-David. "It helps communities around America when those rooms are filled."
Although the app currently has hotel listings in 210 countries, the biggest discounts can be found in metropolitan areas like New York, San Francisco, Las Vegas, and Miami. If there is a high demand for rooms, they are usually sold at the same rate that the sellers bought them for initially. But "most of our sellers are willing to lower their prices up to 80 percent last minute," explained Ben-David, whose app also lists the exact price that hotels are offering on other websites such as Travelocity, Priceline, and Expedia, to ensure you are getting the best deal out there.
While the Roomer team is still working on growing their Santa Barbara market, it's already a good option for anyone seeking to get out of the house for the night and find an unbeatable price on a room.
See roomertravel.com.