Outdoors
Franklin Trail Extended 3.3 Miles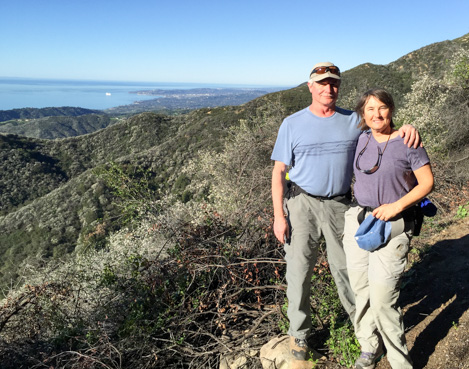 For the past two years, Carpinterians have flocked by the hundreds every week to enjoy the views from the power lines above the valley. This week Santa Barbara County Parks announced that an interim agreement with Rancho Monte Alegre has been approved to allow the public access to the middle or Phase 2 section of the Franklin Trail.
With this addition the trail now includes an additional 3.3 miles of jeep road that provides access to a section of the front country that cannot be seen from any other place, including the upper stretches of Sutton Creek and the Santa Ynez Mountains.
With the addition of the Phase 2 section, the public now has access to 5.2 miles of trail. Equestrians will love this trail because of the added distance, especially the many miles of wide-open jeep road. Hikers will as well but making it to the end of Phase 2 is quite a challenge given its length and the number of ups in both directions. You'll definitely want to pace yourself and to spare some energy for the trip back. Mountain bikers will also find the trail quite nice. The main challenge for bikers is the half-mile or so of single track on the lower section. You'll most likely need to walk your bike up a good part of the lower trail but once past the power lines, the effort is within most riders' capabilities.
Next Steps
There is quite a bit that still needs to be done before the upper Forest Service part of the trail can be opened to the public. Next steps include environmental review, fund raising and then re-construction. All of these require support from the community. If you would like to contribute to the cause, please visit the Santa Barbara Trails Council or Friends of the Franklin Trail websites to see how you can become involved or how to make a contribution.
The Details
0.0 Franklin Trailhead (28′).
1.0 End of lower section; start of single track (127′)
1.9 Top of power lines; Frank's Bench (662′)
3.0 Top of the main ridge (1,135′)
3.3 Bench #2. Top of the World. (1,321′)
4.1 Sutton Creek (1,294")
4.5 Last Turn onto upper ridge (1,524′)
5.2 End of Phase 2; Beginning Forest single track (1,703′)
7.9 SY Mountain crest (3,720′)
Please note that the Forest Service section of the trail is currently NOT open for public use.