Food & Drink
Grill It Your Way at The Palms
Cook Your Own Beef and More at Carpinteria's Legendary Steakhouse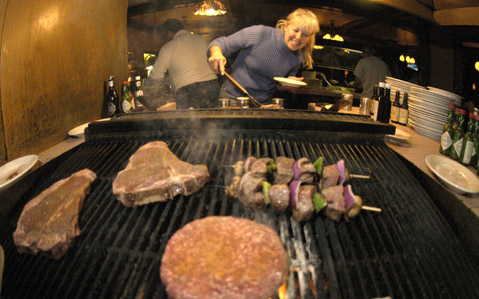 I knew exactly what I had ordered, but when the waiter delivered the raw cut of beef to our table, the 10-ounce rib eye gave me pause. Cherry-red and unblemished, there was no question of its freshness. It's just that for the first time in my life, the steak I'd ordered didn't arrive cooked. That's part of the program at The Palms (701 Linden Ave.; [805] 684-3811; thepalmscarpinteria.com), a longtime dining-and-drinking hub a few blocks from the beach in downtown Carpinteria.
Backed by a full bar, The Palms' sizable menu offers more than a dozen appetizers — including armadillo eggs (cheese-stuffed fried jalapeños) — and nearly twice as many main courses of the surf or turf variety. While most of the surf (shrimp, scallops, lobster) gets cooked by real cooks, the turf (chicken, steak, lamb) is all you. The Palms also offers grill-your-own Alaskan halibut and Atlantic salmon.
Now back to that rib eye, which I gently placed upon one of two centerpiece lava-rock gas grills. The tender, boneless rib eye's marbled fat rendered with a heavenly sizzle, basting the lean meat from within. I had just enough time to load up a big bowl from the salad bar (don't forget the famous croutons) and wander back grill-side for the flip. 
Rib eye tends to cook quickly, and I prefer mine medium-rare, so I kept an eye on it while my friends tended to teriyaki chicken, a half rack of lamb, and a 16-ounce T-bone. We chatted and laughed, clinking beer bottles with perfect strangers.
Don't be shy. Anybody who knows their way around a backyard barbecue — or has timing instincts gleaned from family-sized kitchen duty — knows it's better to get the meat off the heat too soon rather than too late. Same drill at The Palms. Get it on the grill, don't fuss with it, flip it once, and plate it when your gut says so. And when you lightly season with salt and pepper, hit the temperature just right, and sink into your first forkful, that rib eye tastes that much better. 
---