Living
The 'Black Filth' of Santa Barbara
Adding Sewer Pipes Cleaned Up State Street in the 1880s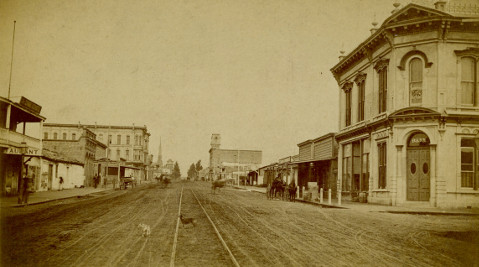 By the 1870s there was growing concern over Santa Barbara's lack of a proper waste disposal system. The old habits of dumping waste water into the unpaved gutters or using the water to irrigate gardens were becoming untenable. A systematic solution was needed.
Worries revolved around issues of public health and economics. Tourism was becoming an important industry in the 1870s as Santa Barbara developed a national reputation as a health resort. One newspaper complained about an especially noxious drain near Ortega and State streets in 1875, "If the councilmen wish the city to forfeit its reputation as a sanitarium for invalids, they will pursue their present course and allow the drain to remain in such a condition that the miasma arising from it is a cause of disgust to those who use the street whereon it is situated and spreads sickness among the surrounding houses."
Discussion about construction of a sewer system continued for the next few years. A proposal for a $20,000 bond measure provoked such an outcry the idea was dropped, and officials contented themselves with enforcement of sanitation regulations and a periodic program of scraping the gutters clean of "black filth."
The problem only got worse as population grew. In 1881, Mayor Peter Barber pointed out how "waste liquids from stables, hotels, restaurants, boarding and private houses [could] be at once carried to the ocean … the whole central portion of the city will be drained" by a good pipeline system. The Weekly Press warned how poor sanitation could result "in lassitude, deranged stomachs, and torpid livers" and how serious illness could "create a harvest for undertakers."
Action was not taken until 1886 when W. W. Hollister led a petition drive to install a modest sewer system. In September, the council awarded a contract to J. D. Dunn to lay a sewer along State Street from Sola Street to the ocean. The cost was just short of $15,000. The system of 12-inch underground pipe utilized gravity to drain away waste from upper State Street.
Work began in late October with the aim of completing construction before the rainy season. Most challenging was placement of the undersea pipe. This section weighed some 40 tons and was more than 1,000 feet long. The pipe was lowered into the water from Stearns Wharf and attached to the pilings. The Pacific now served as the dumping ground for the city's liquid refuse.
Santa Barbara's first sewer system was completed in December 1886. One editorial cited "a new era in Santa Barbara's prosperity. The one object that could honestly be urged against the city as a health resort will be removed."
Almost immediately it became apparent this single line was going to be inadequate. In 1888, the council passed a resolution to extend the line to Mission Street, and there were constant requests for the construction of feeder lines. Flushing tanks proved to be necessary to maintain flow; one citizen suggested the tanks be above ground in the shape of fountains.
By 1891, the ocean end of the system needed upgrading, otherwise the town would end up spending money "for drugs, medical attendance, and funeral expenses." A $19,000 bond passed almost four to one. Reportedly the new outfall would be able to handle a city of more than 60,000. Little did citizens realize it was just a beginning.
Michael Redmon, director of research at the Santa Barbara Historical Museum, will answer your questions about Santa Barbara's history. Write him c/o The Santa Barbara Independent, 122 West Figueroa Street, Santa Barbara, CA 93101.