Living
Shooting Hoops for Shoes
Sergio Hernandez's Training CAMP Helps Eastside Kids, Hosts 3-on-3 Tourney Saturday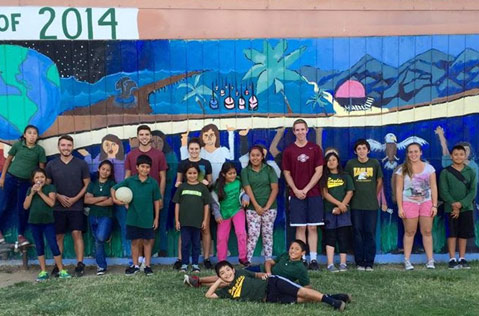 The children of Franklin Elementary School in Eastside are getting a hand up thanks to Training C.A.M.P. (Communities to Achieve Maximum Potential), which was founded a few years ago by Sergio Hernandez. The program provides an after school mentoring program for Franklin students and community engagement events for the Eastside area.
This Saturday, August 15, for instance, Training C.A.M.P. is hosting an inaugural 3-on-3 basketball tournament called "Summer Shootout for Shoes." The proceeds will go towards providing much-needed footwear for underprivileged families in the community, with the goal of providing shoes for 100 families.
"It's all about maximizing the potential of your community," said the 30-year-old Hernandez, "and everyone coming together to make it a better place."
Training C.A.M.P. offers Franklin students the opportunity to grow and develop as leaders through after-school tutoring and mentoring, while including sports as a common avenue towards that goal. A key to the program's success is the low volunteer-to-student ratio, hovering around 1-2 or 1-3, allowing for a more personal connection and an easier environment for the kids to feel engaged.
At Franklin, the Training C.A.M.P. kids spend their time after school once or twice a week playing sports like basketball or soccer, working on homework with the help of volunteer mentors, and engaging in lessons with mentors on topics ranging from the meaning of integrity to the importance of perseverance. "Their favorite part is to hang out with the mentors," Hernandez said.
Working with basketball camps throughout high school and college, Hernandez saw first-hand how sports can bring people together regardless of income or social standing. "Whether you're rich, poor, or middle class, sports is a great avenue," Hernandez said. "And so being able to help kids through sports and academics has been important to me."
Training C.A.M.P. officially launched in 2012, after a year in development during a time when Hernandez had been laid off from a previous job. He now works at his alma mater Westmont College in Montecito and gives the rest of his time to Training C.A.M.P. and working on his master's degree in business at Pepperdine University. The program is going into its third year and has already seen two round of kids graduate to junior high.
Aside from its work with schools, Training C.A.M.P. puts on community events and benefits for the children and families of the Eastside. Last December, they organized a toy drive, giving toys and Trader Joe's gift cards to 20 families for Christmas. With summer coming to an end and the new school year right around the corner, Training C.A.M.P.'s next event will focus on giving kids a head start with some new shoes.
In a conversation with Franklin's principal Casie Killgore, Hernandez came to learn that, even though the students all wear the same uniforms, a common indicator of economic disparity is seen in the shoes they wear. "I was blessed to go into many new school years with new shoes, so it'd be nice to do the same for others," Hernandez said.
By working with and for the community and taking a qualitative approach to mentoring, Hernandez hopes for the organization to keep sending kids off to junior high on the right track for years to come. "We want to provide fun, creative, and healthy outlets," Hernandez said, "That's kind of the goal. But the long-term effect is more important. What does this community look like in five to 10 years, in 20 years?"
For info on Saturday's "Summer Shootout for Shoes," click here.