Drink
Carpinteria's Coastal View Brews
3rd Annual Surf 'n' Suds Festival Brings Big Beers to Small Town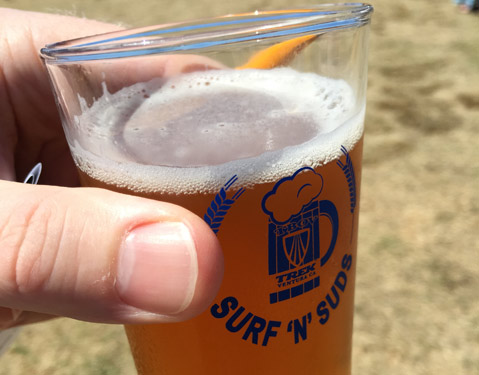 Perfectly situated between the award-winning Island Brewing Company and the "world's safest beach," Carpinteria's Surf 'n' Suds Beer Festival kicked off its third year this Saturday, August 15, on Linden Field in the little seaside town just south of Santa Barbara.
With close to 60 breweries represented, the sunshine-soaked summer event boasted beers from as close to home as Carp's Island Brewing Co., Rincon Brewery, and brewLAB and as far-flung as Delaware's Dogfish Head. Also on tap was a smorgasbord of side attractions, including surf and merch booths, food-truck fare, games of cornhole and oversized beer pong, and live music from area psych-rockers Afishnsea the Moon and others.
The spotlight, though, remained on the beers, and there was a wide enough variety to keep both the hopped-out bro and snifter-sniffing beer nerd abuzz at what's shaping up to be one of the best beer festivals on the South Coast. Of the many suds sampled, here are a few standouts to seek out:
1) brewLAB's Loquats 'n' Brett: Attracting the longest lines of the afternoon, this just-opened Carpinteria brewery was the clear MVP of Surf 'n' Suds, using its home-field advantage to show off a whopping 10 beers. Pouring a light amber with a full head, this tart twist on the saison gets its funky sourness from the wild yeast Brettanomyces (or, simply, "Brett") — which factored into roughly half of the beers on tap at brewLAB's booth — and its fruity flavor from the loquat, a citrusy, peach-like fruit native to China.
2) Rincon Brewery's Wild at Heart Blonde Ale: Another experimental sour out of Carpinteria, this wild-fermented take on Rincon's Bates Blonde has a more tropical, cider-like quality, with hints of pineapple and mango. With its low 5.78% ABV and less-pronounced tartness, this is a sour that could easily pass as a session beer.
3) Tap It's Berlinerweiss: Carpinterians weren't the only ones capitalizing on the sour craze: San Luis Obispo's Tap It turned up the acid and tartness on this light, wheat-y contender that drinks like a pineapple-tinged Blue Moon gone wild.
4) Poseidon Brewing Company's Underway Tropical IPA: For those tired of having their tastebuds beaten into submission by burly, bitter IPAs, this copper-hued rendition from Ventura's Poseidon Brewing Company balances the beer style's hop-heavy characteristics with sweet, tropical flavors that hit you in the nose before you can take your first slug. Approach it like a piña colada that goes to the gym.
5) Island Brewing Co.'s RISistance Russian Imperial Stout: The eldest of Carpinteria's breweries, Island eschewed the tart, wild-fermented styles of its upstart neighbors in favor of a malt-centric, coffee-colored imperial stout for its appropriately named showcase beer. With a brown-sugary, fig flavor balanced by an alcohol mouthfeel, this stout — with its double-digit ABV — is one that you'll want to revisit when the temperatures drop and a comfy chair is within sitting distance.