Cover Story
Sonos Spins into Control
How Santa Barbara's Digital Audio Company Is Taking Over Downtown and the World
Ten years ago, the world's most cutting-edge stereo system showed up in my home, offering a glimpse into the digital audio future that today immerses us all. The gray box and oversized, iPod-like remote control was the first product sold by Sonos, which was founded a couple of years earlier in a red-tile-roofed complex just around the corner from my Santa Barbara Street house.
I was writing an article about the new company, which was employing a couple dozen twenty- and thirty-somethings with good-paying, career-track jobs, quite a rarity in Santa Barbara those days. In that era, CDs still ruled the world, streaming music services were nascent, and only your most dedicated or proud pirating friends downloaded much digital music. So it was challenging to describe what Sonos actually did: provide a user-friendly way to listen to all of your digital audio, and even different tracks in different rooms, if you so desired. To let me experience this magic, Sonos lent me a system and a hard drive stacked with music. Within hours of connecting it to my speakers, my friends and I were jostling for control of the remote, scouring for our favorite songs, and interrupting each other's playlists with glee.
We didn't understand exactly how it worked, nor did leading stereo companies that marveled at Sonos's technical wizardry. Yet we immediately recognized that it presented endless and exciting opportunities to entertain our ears with amazing ease. By the time I had to give the system back, we were hooked on Sonos, but the system's $1,200 price tag was way out of our range ​— ​and even harder to justify without owning banks of digital music.
Fast-forward a decade. I'm living with my family in the suburbs, and we're stuck in an audio-starved limbo between inconvenient CDs, temperamental terrestrial radio, and glitch-y apps that come through my phone. Meanwhile, streaming music, podcasts, and radio stations are easy and free, and Sonos starts selling an all-in-one, iPhone-app-powered device called Play:1 that starts at just $200. Sonos quickly invaded our kitchen, garage, living room, and bedrooms, and today I listen to more of everything than ever before, all with a few swipes of the finger.
Much like 2005, Sonos is still the most cutting-edge stereo device on the market and still hires young professionals, who these days are often much younger than I am. But unlike 2005, Sonos now employs more than 400 people locally and about 1,200 worldwide, with offices in Boston, Seattle, Los Angeles, and London; it's becoming a household name, thanks to Super Bowl commercials and rock-star partnerships; it's fighting at least one copycat competitor with a patent lawsuit to stay on top of the niche it created; and it's the gorilla in downtown Santa Barbara's commercial real estate market, soon to be occupying more than five major properties.
As such, the fast-expanding company ​— ​which enjoys an average of 50 percent growth year over year ​— ​is affecting the culture of downtown Santa Barbara in ways that few companies have ever done in the past. Though many techie start-ups are on the rise here today (see independent.com/tech for details on a forthcoming roundup), Sonos was one of the first to bring Ping-Pong into the modern Santa Barbara office, ushering into this region that cubicle-bucking, Google-esque culture that's fascinated many a Silicon Valley observer. The company's employees bring with them the "creative class" promise of a more vibrant economy, helping to keep restaurants and bars abuzz, supporting arts and music, and generally making things a little bit hipper.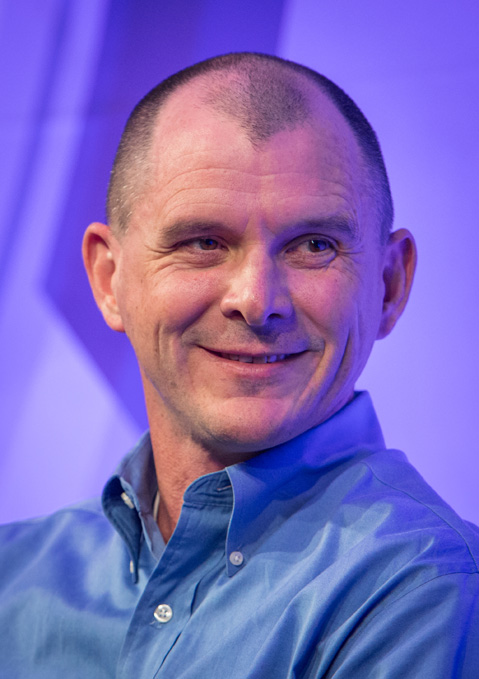 But unlike many Santa Barbarans who fell in love with the region first and then fought hard to stick around ​— ​such as Sonos's top visionary and cofounder John MacFarlane ​— ​many Sonos employees are lured here from afar, believing that they, too, will fall in love. I've met many of these newbies and their families around town; some are quickly convinced that this is the place to be, while others are still in that dating phase. And though decidedly a hip place to work led by laid-back executives, no company of global import can escape the trappings of corporate culture, so that's adding a new spice to downtown's historically small-shop work scene. Time will tell if and how these nuances might affect Santa Barbara's relatively tight-knit social fabric, but the net effect of Sonos as a downtown player appears fabulously positive so far.
With all this on my mind, I reached out to Sonos last spring to arrange for a tour of their facilities and an interview with visionary cofounder MacFarlane, who was happy to speak with me back in 2005 when I wrote my first story on the company. When MacFarlane declined, cofounder Craig Shelburne, who currently serves as the company's general counsel, agreed to chat.
Fit, tan, and dressed in a T-shirt and shorts, Shelburne welcomed me to a table in the middle of the open layout of the Sonos office at 614 Chapala Street, inside the old Samy's Camera space. Near a wall covered in Sonos devices and lit by moving purple, pink, and blue-ish lights, Shelburne entertained an hour of my questions as errant Ping-Pong balls bounced sporadically through our legs.
Based on that conversation as well as some insight from MacFarlane I gleaned from the 2005 article, what follows is a three-volume greatest hits Sonos album, from the deep past to the exciting present to the hopeful future. Feel free to fast-forward to your favorite parts, pause for a while on some surprises, and then rewind to read it all over again.
Sonos Vol. 1: The Past
"Starting Software.com"
After graduating in electrical engineering from Rensselaer Polytechnic Institute, MacFarlane came to grad school at UCSB in 1990 but took a sabbatical before getting his PhD. Knowing the Internet would be huge, but frustrated at the horrid state of digital messaging, MacFarlane built a system for sending such messages ​— ​what we call email today ​— ​and sold it to major telecomm companies like AT&T through his website Software.com. (Ever ahead of the curve, MacFarlane bought the URL to sell software, but no one started buying that online for another decade.) "It was a critical backbone component to the explosion of email," said Shelburne, who joined that company in 1998 and oversaw its multibillion-dollar merger with Phone.com. Together, the companies were called Openwave.
"Ashes of OpenWave"
With the newly combined company based in Redwood City, Santa Barbara became "an afterthought," said Shelburne. However, the whole deal went sour fast, even before the dot-com bubble burst in 2001. "It was one of those mergers that culturally didn't work very well," said Shelburne, who told MacFarlane he was quitting in May 2002.
"Meet Me in Montecito"
After quitting himself, MacFarlane moved back to S.B., confiding in Shelburne that he'd do anything to stay here, even flip hamburgers. But he had other ideas, and during a meeting at the San Ysidro Pharmacy, he shared with Shelburne his idea for a digital music stereo. "Even though the bubble had popped, the Internet was still this big thing, but it hadn't affected the home at all, other than email and Google," MacFarlane told me in 2005. "But digital music had happened. The trend was in full swing." Though Shelburne had just "bought one of those 100-CD carousel things," he trusted MacFarlane's instincts. "It was very plain to John that all music was going to reside on a hard drive somewhere," said Shelburne. "I was the crazy lawyer willing to do a two-person start-up with three kids." They also enlisted former Software.com-ers Trung Mai and Tom Cullen as cofounders.
"Develop Yourself"
From 2002-2004, the Sonos team mapped out "the effective architecture of what we sell today," said Shelburne. More importantly, the cofounders, who were already wealthy thanks to their Software.com success, invested their own money rather than relying on outside interests. "We funded it ourselves; therefore, we didn't have independent pressures to get revenue," said Shelburne, noting that there wasn't much investment opportunity in those burst-bubble days anyway. "We had the incredible luxury of taking our time to really think hard and not back away from tricky issues that were there."
"Aha Moments"
The iPod's rise in 2004 allowed the Sonos team to better explain their vision. "Having that to point to really helped a lot," explained MacFarlane. "We'd just ask, 'Don't you think people are gonna want to listen to music in their homes without those buds in their ear?'" Shelburne's personal aha moment happened while lying next to his wife in bed, when he used the new $10-a-month streaming service Rhapsody on his early Sonos to play U2's Achtung Baby. "Do you know what I just did?" he asked his wife. "I went to my car, drove to the store, bought an album, downloaded it to my hard drive, and played it, with no incremental costs and all in 15 seconds!" Though his wife fell asleep, Shelburne was convinced. "It was a revelation," he said. "You went from having 12 songs on an album or a mixed tape to having 10,000 songs on a hard drive, and the fidelity was almost as good."
"Delays for Details"
Despite publicly pledging to release Sonos in the fall of 2004, the team decided it wasn't ready. "You don't get a second bite at establishing brand reputation with consumers," said Shelburne, who admits that they've had "a couple" products come out on time but that delays over quality concerns are common. "We are hypersensitive about under-promising and over-delivering."
"Ready for Release"
The ZP100, the first Sonos product, came out on January 27, 2005, quickly making a "hockey stick" mark on sales charts and attracting praise from most media. Soon after, MacFarlane was adamant that Sonos was a product for the everyman, not the elite. "We're not aiming at Montecito," he said. "We're aiming at Goleta and suburban Atlanta and suburban Texas, someone who wants to listen to music in their home in multiple places. The fun of the market is with people who are eight to 10 years out of college, in their thirties to early forties. When they start buying houses, they're gonna buy what we make."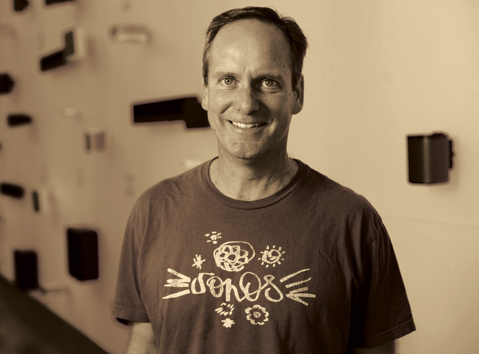 "Ahead of His Time"
Though sales were steady, the rise of streaming music came a lot slower than MacFarlane anticipated. "We had a strong belief that music was going … to move into the cloud very quickly," said Shelburne. "We were wrong." That only came more recently. "One of John's great geniuses, just like Software.com, is to identify a trend and build a company designed to take advantage of that trend," said Shelburne. "And like Software.com, Sonos was super early on certain things." And they weren't just making a new product. "It's hard enough to try to do something without an established brand," said Shelburne. "But to do a brand and a category at the same time is brutal."
Sonos Vol. 2: The Present
"Recession Wisdom"
When the Great Recession of 2008 hit, Sonos only grew 10 percent rather than the usual 50 percent, and at a time when they were seeking investors. "It was not a fun year at all," said Shelburne, then CFO. Then, in October 2008, Sonos stopped selling the remote control, instead allowing people to download the required software on their iPhones for free. "It was the height of the hysteria, and we cut our own controller and gave it away for free," said Shelburne of the potentially money-losing move. "The pace of development on the iPhone was moving so fast that there was nothing you could do to keep up with it."
"Lower Price of Entry"
"The Play:5 changed everything," said Shelburne of the company's November 2009 release, which combined everything, including speakers, into an "all-in-one" device and sold it for $400, much less than the ZP100's $1,200 price tag. Not only did the product become more affordable; it allowed Sonos to control all aspects of the sound. "We could take huge leaps in terms of fidelity," said Shelburne.
"Improving Tech with Time"
The seemingly ancient ZP100 still works fine today ​— ​in fact, thanks to continual software upgrades, it works even better. "If you want to talk about value, think of a consumer electronics product that is better 10 years after you bought it," said Shelburne. (But the company did stop issuing upgrades to that clunky original remote control they lovingly refer to as "the Russian iPod.") Consumer response tends to be effusive. Said Shelburne, "We get these emails all the time where people say, 'You changed my life. My whole family is listening to music.'"
"Becoming a Brand"
"For much of our existence, we didn't market much, because we didn't know what we were doing," admitted Shelburne. But in 2011, Sonos focused on marketing by re-branding, building a studio in L.A. (and soon London) for live and recorded audiences, investing in advertising that led to Super Bowl commercials, and establishing relationships with recording artists. "We are integrating into the artist community and becoming a champion among them," said Shelburne.
Sonos Vol. 3: The Future
"Fighting for Fidelity"
With the success of the Play:5 and even cheaper Play:1, which came out in late 2014 for $200, Sonos's primary focus today is sound quality. "We've got the best sound team in the industry now," said Shelburne. "We've been recruiting them for years." The company already runs one of the largest anechoic sound chambers on the West Coast off of Anacapa Street, and they're turning the former Brooks Institute building on Mason Street in the Funk Zone into a three-story research and development hub. (They're retaining the current R&D center on Salsipuedes Street for other purposes.) Sonos wants audio to reflect "artist intent" by replicating how the musician responsible intended their song to sound. That may mean programmed equalizer settings for individual songs in the future. "We are taking sound to absurdly different levels," said Shelburne.
"Protect Ya Patents"
As General Counsel, Shelburne must ensure that copycats don't steal their patented ideas. Though by patenting their technology it becomes public knowledge, it also prevents anyone from copying their work for 20 years. "People competing against you is a good thing, and if they do good work, they push you to raise your game," said Shelburne, who is currently suing D&M Holdings over Denon's Heos wireless sound system. "Are we seeing a ton of that kind of competition? No. But we will. It will be good for us, and, most importantly, it will be good for the consumer. On the flip side, if you're just copying and not even making an attempt to do anything unique, then we either fight for the right to protect our patents or we license it royalty-free."
"Biting the Apple"
After years of reluctance about the streaming-music market, Apple Inc. announced Apple Music in June. Sonos has been working to integrate that into their system ever since, hoping to offer it by the end of the year. "We have a high bar, and they have a high bar, and we don't want an integration that's schlock," said Shelburne. In addition to Apple Music, you can already use more than 60 different streaming services on Sonos.
"Staying in Santa Barbara"
Despite offices in Seattle and Boston and studios in Los Angeles and London, Sonos will stay in downtown Santa Barbara. "We don't like to talk about headquarters," said Shelburne. "Sonos was founded in Santa Barbara, and we have offices spread around the world, with incredibly key contributors in those offices. That's a philosophy of ours, but we won't leave Santa Barbara." Not that it's the easiest place to survive. "There is no single building where you can get everyone, so we are distributed throughout the downtown area and getting more so," said Shelburne. "Being downtown is part of Sonos's identity, and we think the trade-offs are well worth it."
"Issues of Attraction"
Attracting people to Santa Barbara from places like Silicon Valley and Seattle can be tough, both for cost and culture issues. It's an expensive place to live for people with families, and it's also not the best town for singles. "Depending on the person, it can still be challenging to get them to make that leap," said Shelburne, though it's easier to attract employees from Los Angeles and San Diego. "Santa Barbara has that glow in Southern California."
"Righteous Retention"
But once hired, Sonos endows employees with equity and allows them the annual chance to sell their stock if they need cash to, for instance, buy a car or home. "Every single employee has an equity in the form of options since day one," said Shelburne. "We think that's very important. We talk about behaving like owners, not renters."
"Investing in Relations"
Though funded by founders and owned by employees, Sonos is also supported by plenty of carefully chosen outside investors. "We try to be very aligned with them," said Shelburne. "We have people who are thinking decades ahead rather than two or three years. But if they have liquidity needs, we work with them to get them out." That's what happened in 2012, when Sonos raised $135 million, in part to buy out an early investor.
"Going Public?"
So is becoming a public company through an IPO the next logical step? "We don't have any aspirations to be bought or to be public," said Shelburne. "We have an aspiration to build a great consumer-electronics company and stay independent and continue to thrive. We'd like to continue what we've been doing in a private context because that gives us the ultimate freedom to make hard decisions that are long-lasting." He won't rule out going public with an IPO one day, but "one of the coolest things about Sonos is that we've been going at it long enough to have learned a lot and yet we are still at the beginning of the journey," said Shelburne. "And to do it from Santa Barbara is pretty ideal."
Where Is Sonos?
Founded in Santa Barbara 13 years ago, Sonos currently leases these five downtown properties:
614 Chapala St. •419 State St.
820 State St.•415 N. Salsipuedes St.
25 E. Mason St.
Additionally, the company's international presence steadily grows, with offices and/or studios in the following cities:
Boston • Seattle • Hilversum
London • Munich • Paris
Copenhagen • Beijing
Shanghai • Shenzhen
---