Make Myself at Home
Make Myself at Home: Prominent Perch Hits Market for First Time
A Look Inside 525 Miramonte Drive, Home to the Urton Family Since 1939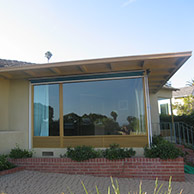 Address: 525 Miramonte Drive
Status: On the market
Price: $1,350,000
The home at 525 Miramonte Drive is full of stories. If you've lived in the Santa Barbara area for more than a few years, you've probably driven by and noticed its sharp angles and huge windows gazing down from its distinctive façade. The house sits on the hill above City College near Loma Alta, a neighborhood marked by vintage streetlights and, as I recently learned, the longevity of its residents.
When I visited last week, there was a steady stream of visitors to the open house. Eavesdropping on snippets of their conversations, I could tell that almost all of them were neighbors, and almost all of them had stories about the home and the family who had lived there all of its life and all of their lives.
The family home of Kenneth and Elaine Urton, the house was designed by Joseph Plunkett, who also designed the Arlington Theatre, the original Santa Barbara Airport, and many other classic buildings. It was built by Kenneth and his father, Charles Urton, the well-known builder of the Granada Theatre. Kenneth and Elaine had moved to Santa Barbara as newlyweds in 1935. Their two daughters were born shortly thereafter. Charles brought Kenneth on as a partner in his business, and they built the home together in 1939. It has been in the family ever since. Elaine was an artist in many media. One of the most striking features of the house is her art studio, which is now a legally permitted guest house plus studio, full of natural light and custom cabinetry.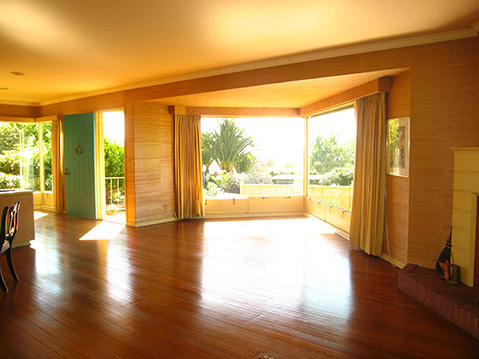 One of the neighbors reminisced that Elaine would dress her young daughters in red so that she could keep an eye on them as they played and scrambled on the hills above their house. The sisters grew up in the house and walked to nearby McKinley School together. Apparently the neighborhood was a somewhat Bohemian enclave, filled with artists, writers, and professors. This mountain-drive-by-the-sea became an area where houses have been passed down through generations, and families tend to stay put. Kenneth died in 2003, and when Elaine passed away earlier this year at the age of 101, the sisters decided it was time to let a new owner take over the house. Having been in their family all these years, it is now on the market for the very first time.
The three-bedroom, three-bath home is still in its original condition, and a new owner will probably want to redo the baths and kitchen. The quirky kitchen boasts colorful patterned wallpaper that has a story of its own. The Urtons were said to enjoy preparing elaborate meals with their friends, including actor Vincent Price. They admired Price's kitchen wallpaper so much that they copied its design for their own kitchen walls. The house also sports custom skylights fashioned by Kenneth and built-in cabinetry in almost every room. Despite whatever details the home's next owner might decide to change, the huge living-room windows of this house will continue to look out over the neighborhood and the harbor beyond and tell the stories of this home for generations to come.
525 Miramonte Drive is currently for sale in Santa Barbara, listed by Linda Mason of Home Realty & Investments. Reach Linda at (805) 698-8335.