Briefs
Mayor Visits Santa Barbara Hillel
Helene Schneider Speaks to Local College Students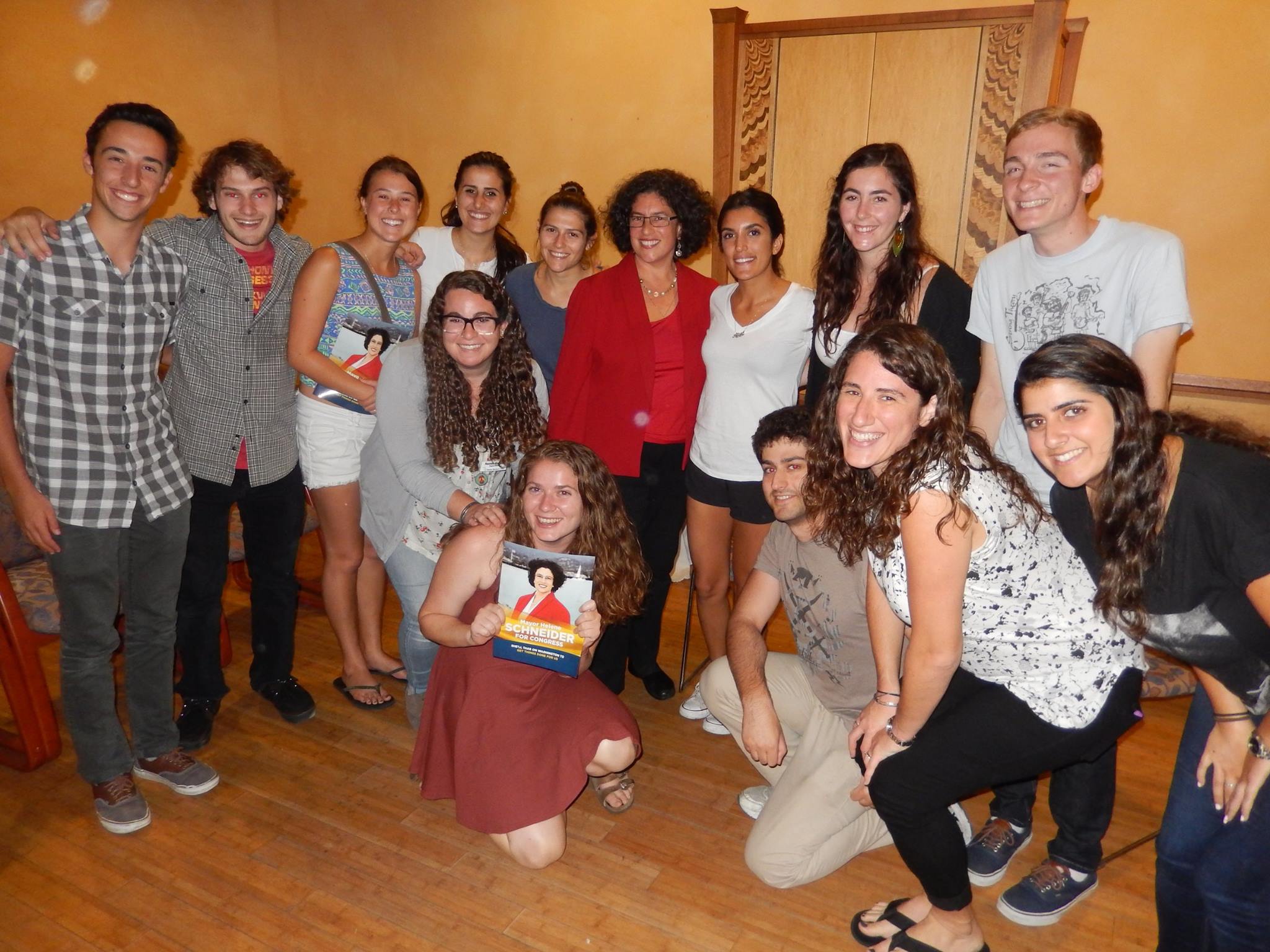 Mayor of Santa Barbara and 2016 congressional candidate Helene Schneider spoke to local college students Tuesday evening, tackling several hot button issues and explaining her diverse personal background, something she claims would be an asset in Congress.
"My dad's Jewish — my mom's Protestant. I have in my family Ukrainian Catholic and Mexican Spanish, and as I said Jewish from Boston, Protestant from Long Island, and some of my step-brothers and step-sisters married people from Germany and Mexico," Schneider said. "My dad would tease at Thanksgiving that it was more like a UN convention," Schneider continued.
Schneider addressed an intimate group of students at Santa Barbara Hillel in Isla Vista. Santa Barbara Hillel is a nonprofit student life organization affiliated with Hillel International, a global Jewish campus organization with chapters at more than 550 colleges and universities.
Santa Barbara Hillel Executive Director and Rabbi Evan Goodman, as well as student president Danielle Cohen, moderated the address. Goodman asked Schneider to address gun control, an issue the Rabbi called particularly "concerning" to the people of the Isla Vista community after the 2014 tragedy.
Schneider, a member of the Coalition Against Gun Violence and Mayors Against Illegal Guns, claimed that gun control finally played a "substantive" role in the Democratic debate last week, something she sees as evidence of the movement becoming more organized than ever.
Schneider pointed to her ten-point plan to reduce gun violence. Highlights include a $10- billion investment into a nation-wide gun buyback program, background checks for all gun sales, and an assault weapons ban. "I think this issue is going to change in the next 10-15 years, like what we saw happen with gay marriage over the last 10-15 years. I really do — I think this is the next big social issue," Schneider said.
The mayor also addressed her history with Planned Parenthood. Schneider served in the human resources management position at Planned Parenthood in Santa Barbara, Ventura, and San Luis Obispo Counties for 11 years. Currently, Schneider sits on the board of the Planned Parenthood Action Fund.
Schneider said that support for Planned Parenthood is not "just about birth control and access to healthcare; it's about how you're able to make decisions about who you are and how you can thrive," Schneider continued "it's about women's equality."
The last of Goodman's questions included Schneider's view on supporting a two-state solution for Israelis and Palestinians. Although not religious, Schneider said that she feels a "strong cultural connection" to the Jewish faith and claimed that the State of Israel is a "cultural center that must be protected." She ended by voicing her support for a two-state solution and the importance of peace in the area.
Schneider is the first congressional candidate to appear at Santa Barbara Hillel in the organization's "Meet the Candidate Kosher Cookout Series." Such events are meant to "promote civic engagement among young voters," even though Santa Barbara Hillel does not support or endorse any one candidate or political party.
Katcho Achadjian, congressional candidate and member of the California State Assembly representing the 35th district, which encompasses San Luis Obispo County and part of Santa Barbara County, will appear next on Tuesday, November 17.