Living
Brave Cycling Co.'s Charitable Dreams
Westmont Grad Bryan Cox Starts Philanthropy-Minded Bike Apparel Company with Brothers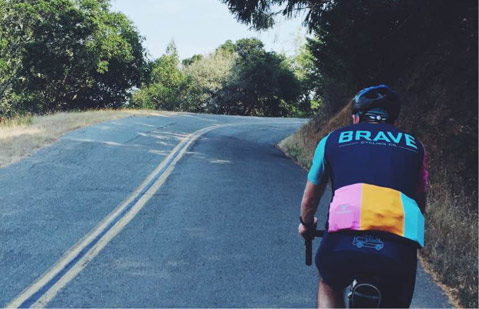 Created back in May 2015 by Westmont graduate Bryan Cox and his two brothers Sean and Alan, Brave Cycling Co. is a brand-new bike apparel company that embodies the ideals of charity and selfless giving by sharing proceeds with nonprofit partners.
"Our hope is that Brave inspires adventure, camaraderie, and moxie on and off the road, all the while remembering why we ride and why we are here," said Bryan Cox, whose first partner is San Francisco's Pedal Revolution, which provides at-risk youth with jobs and internships to help them improve their lives and prepare for the working world.
The Cox brothers created their company out of their shared love for philanthropy and cycling together. As a typical start-up, a lot of their work is done late at night, but in just seven months, they've already developed a diverse selection of soft goods and bike apparel, in addition to four different "kits" to wear.
"We've grown a lot since the release of our early kits," explained Cox, who works at RightScale during the day. "We try to make classic, fun gear for people to ride while giving back along the way."
A community favorite is their Ice Cream Kit, designed in bright pink, orange, and blue and adorned with creams and cones on the inside and an ice cream truck on the back. Two others are their Roads Kit, designed to map out the streets of San Francisco (the brothers' original home), and the Topo // Diablo kit, which features a topographic map of Mt. Diablo. As Brave grows, Bryan and his brothers hope to eventually partner with more nonprofits.
See bravecycling.com.