Bottles & Barrels
Popping Corks on Camera, Again
Jason Wise Talks 'Somm: Into the Bottle,' His Second Wine-Focused Documentary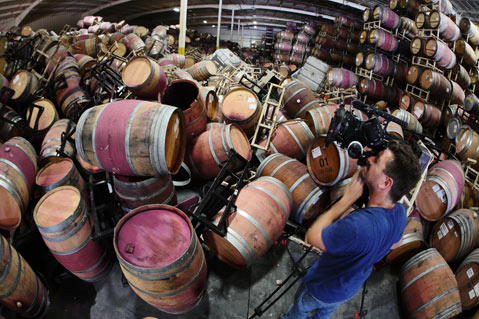 Though one of the most successful wine-related documentaries ever made, Jason Wise's 2012 film Somm really focused on the human drama surrounding four young men studying to pass the notoriously difficult Master Sommelier exam, not so much about the world of wine itself. There was lots of footage of the four hopefuls — including Brian McClintic, who would later open Les Marchands Wine Bar & Merchant in Santa Barbara's Funk Zone — throwing out descriptors like "freshly opened can of tennis balls" and stressing over obscure vinelands, yet very little about where those regions were or why tennis ball funk might actually be a good thing.
"The first film showed that there are these obsessive people, but it didn't show what they were obsessed about," explained Wise, who decided to cover that territory in Somm: Into the Bottle, a sequel of sorts that screens at the Bacara on January 16. "This is the 'wine movie' the first one wasn't."
Broken into 10 chapters, from Winemaker and Vintage to Cost, Barrels, and yes, Somms, the 90-minute, information-packed doc explores the long history of wine (from pre-Roman times through the World Wars into Robert Mondavi and today), the modern process from ground to glass, and many of the trends and controversies in between. It interviews such winemakers as Steve Matthiasson, Jean-Louis Chave (of Hermitage), and Aubert de Villaine (Domaine de la Romanée-Conti, or DRC) as well as Somm's original stars, including Ian Cauble, who was a wreck in the first film. "It's good to watch him as a well-composed, intelligent guy talking about wine, not just having a heart attack on camera," said Wise. "Somm 1 was filmed while people are under duress. Now these people are in the realm of experts."
As an explanatory project, the new film doesn't pack the tension or personality conflicts that made the first one so popular. But Somm: Into the Bottle isn't without drama, either. "I've never seen a wine film that starts with an earthquake and ends with a terrorist being murdered," said Wise, who weaves the 2014 Napa temblor and Osama bin Laden's assassination into the story. "That's insanity."
It's worth a watch for anyone interested in Old World or California history, stellar cinematography of pretty places, or, even remotely, wine, especially those seeking to establish a strong base for quickly learning more. But wine geeks will flip out, if for nothing other than jealousy over the ridiculously rare and expensive wines opened onscreen. "My director of photography and I drank every one of those," admitted Wise with glee. "That '59 Hermitage? I don't say this with any hyperbole: It's the greatest wine I've ever tasted in my life — I'm talking by a marathon ahead."
Throw in the '69 Ruinart Champagne, '66 Mondavi Napa Cab, '62 Domaine Trimbach, and an 1870 Chateau Lafite, and we're talking gratuitous wine porn. But Wise did sacrifice himself at least once, convincing De Villaine, whose DRC is the world's most expensive brand, not to open one of his best wines, because there wouldn't be much to talk about. "I asked him to open up his hardest vintage ever, and he opened the 2004 Échezeaux," explained Wise. "That was the ladybug vintage because they were everywhere, even in the fermenters. I thought it was fantastic."
Just five years ago, Wise didn't even know such coveted cellars existed. The film school grad wanted to explore a film about World War I by entering through Champagne, France, which is why he reached out to his wine-savvy friend McClintic. Upon hearing about McClintic's quest to be a Master Somm, Wise knew that was a more compelling saga. It didn't hurt that wine was going massively mainstream and no one had covered the sommelier angle yet.
"My fear was that we were gonna make a bad movie and not capitalize on what was bubbling," said Wise, who instead made a hit indie doc that got picked up by Samuel Goldwyn for national distribution and spun off into Uncorked, a 2015 Esquire Network reality show. "I'm still astounded now," he said of the runaway success. "I meet people all over the world who know the movie. And the guys in it get recognized all the time."
Somm's success opened doors but not the floodgates of funding, so Wise and his coproducing/writing wife, Christina Wise, who both live in Los Angeles, made this second film on a similarly shoestring budget. "There was a lot of begging, borrowing, and stealing," he admitted. They did, however, have a Goldwyn distribution deal in place from the get-go and were allowed to offer a preorder on iTunes prior to the February 2 release, an option not available for many documentaries.
Both are signs that the sommelier-as-rock-star fad is not fading, even if there's a bit of backlash to their haute-yet-hipster-ish ways. "It's a bum rap that somms have gotten, that they're all jerks," said Jason Wise, who thinks such bashing is a "natural" part of the trend process. "Some aren't the nicest people, and they think what they drink is best, but there are a lot who are excited about getting you to try new and different stuff."
And that, incidentally, is exactly how you feel when you're done watching Somm: Into the Bottle, whose epic Bin Laden–connected conclusion isn't just about international affairs and century-old wine. "What people miss a lot with wine is that it's supposed to be drank," explained Wise of how he chose the dramatic finale. "There was a reason that bottle was opened."
4•1•1
Somm: Into the Bottle will premiere in Santa Barbara at the Bacara Resort & Spa on Saturday, January 16, followed by a Q&A with Jason Wise and Brian McClintic and food and wine receptions. Tickets are $80 and can be purchased at bacararesort.com. Preorders for Somm: Into the Bottle can be made on iTunes, where it will be released on February 2. See somm-film.com. Click here to order.