News
Hot Dog Man Bill Connell Dies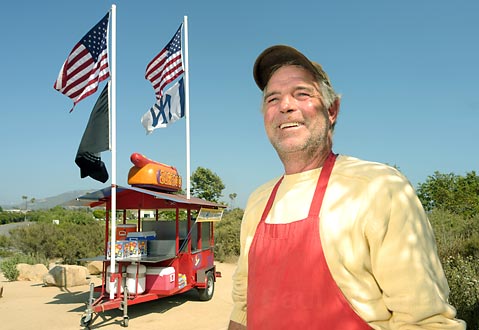 Bill Connell, Carpinteria's eminently likable purveyor of hot dogs, was found dead Friday morning in his home. Close friend Margaret Landreau said Connell, 61, apparently died overnight in his sleep.
Known throughout the area as the Hot Dog Man, Connell served up an array of franks and sausages – with additions such as chili and sauerkraut – at his All-American Surf Dog stand near the Bailard Avenue exit from Highway 101. He started the business 24 years ago because he missed the street vendors that were part of his life growing up in New Jersey and New York.
Connell also was known as an advocate for military veterans. He crusaded for the state to recognize a provision in the California constitution that exempts honorably discharged veterans who work as vendors from paying sales taxes. The legislature affirmed his position in 2009, and a bill was passed in 2014 to compensate Connell and other veterans.
Connell served in the Army during the Vietnam-War era, when he was stationed in Europe. He was a professional fighter from 1977 to 1980, winning 14 of 19 heavyweight bouts in the East Coast. He fought for the New Jersey state championship against Scott Frank, who stopped him in the eighth round. Frank later fought Larry Holmes for the WBC heavyweight title.
An avid conversationalist, Connell put his ability to good use. People who came to his hot-dog stand for the food often stayed for the stories.
Laundreau said St. Joseph Catholic Church in Carpinteria will conduct two services in memory of Connell: a rosary at 7:30 p.m. Friday, February 19; and a Mass at 11:30 a.m. Saturday, February 20.