Food & Drink
Pico Opens in Los Alamos General Store
Will Henry and Kali Kopley Aim to Elevate Wine-Country Dining
It may be the best defense when opening a new restaurant: Walk the floor holding your one-month-old. Who'd be callous enough to say anything even slightly mean to you?
But while Will Henry and Kali Kopley did take turns holding their taking-it-all-in daughter, Winslow, at the recent soft opening of their new restaurant, Pico, they weren't protecting themselves from anything. Instead, the husband-wife-kid trio symbolized just how homey this addition to the burgeoning Los Alamos scene intends to be.
"We want to create a great culinary experience using locally produced vegetables and meats, to make as much of our ingredients in-house as possible, and to pair it with the world's best wines," said Henry in describing the point of Pico, adding that the adjoined Los Alamos General Store will be a "great little retail shop featuring items that tie in the farm, food, and kitchen experience."
The name comes from Salomon Pico, who many believe inspired the legend of Zorro. "He was a debonair gentleman-rancher on the one hand, who ran in high social circles in Los Angeles," said Henry, "and bandit-outlaw on the other."  
If Henry's name rings a bell, that's because he is also co-owner of Lumen Wines, with vintner-legend Lane Tanner, which he launched after years of working for the Henry Wine Group, the wine importer/wholesaler/broker business started by his dad. So with a newish wine brand and a brand-new baby, why would he open a restaurant/wine bar/retail shop?
"For one, in some ways, I feel like I was raised in a restaurant," answered Henry. "My father is a serious foodie, and even as a young kid I was exposed to some pretty incredible dining experiences. We ate out a lot, and my dad studied the Zagat guide as though it were his bible.
"Secondly, as a winemaker, I prefer to present my wines with food, so this seemed like the perfect melding of two passions," he continued. But Henry also wants people exposed to wines of the world. "When we are entertaining at home, we might have a bottle of Lumen along with a white wine from the Loire and an Italian red," he explained. "I mean, why limit yourself? Our dining experience in Los Alamos should be the same way."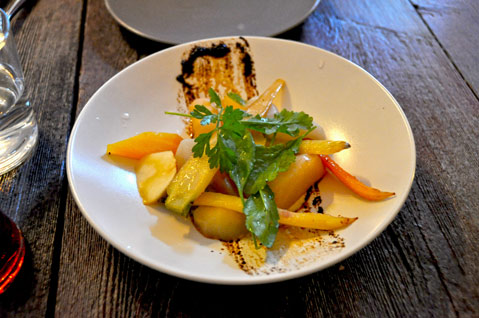 Pico's kitchen is led by the spectacularly pedigreed chef Drew Terp, who was executive chef for barMASA in Las Vegas before running Mattei's Tavern in Los Olivos. "It had just been announced that they were closing for renovations for two years, so we practically ran over there," said Henry. "Drew probably thought we were stalking him. I think he may be the only person I have ever met that is a bigger foodie than my father."
The opening night's menu, which will change with the produce seasons, featured house-cured bacon praline — perfectly crispy with some chew and just enough sweet to earn its name — and a rich rabbit sausage ragout over chestnut pasta, a hearty form of deliciousness. "Drew makes almost every ingredient he uses in the kitchen," said Henry. "The guy is a food animal. He makes his own charcuterie, infuses his own oils and vinegars, and whips up some super creative ice cream flavors. He even makes his own mustard and ketchup, for crying out loud."
And then there is Henry's wife, Kali Kopley, "a talented restaurateur in her own right," he said. "She is owner-founder of Uncorked wine bars and Soupa and Petra in North Lake Tahoe. I couldn't have accomplished this without her, nor without our manager, Tyler Kavanagh."
The Los Alamos General Store and Pico Restaurant are located at 458 Bell Street in Los Alamos. Call (805) 344-1122 or see losalamosgeneralstore.com.