Food & Drink
Zaca Mesa's Modern Movements
43-Year-Old Winery Elevating Rhône Varietals, Still Experimenting, and Now for Sale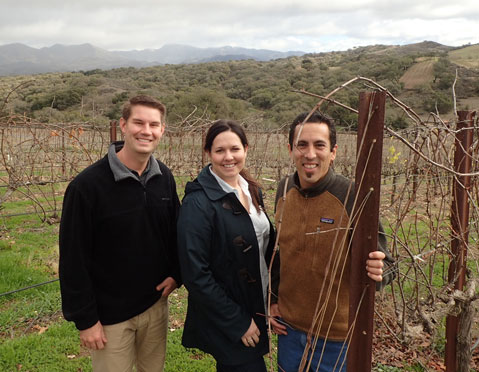 It's the morning after a welcome rainstorm in early January, and through the rows of Zaca Mesa Winery's spindly winter vines, we can see the top of Figueroa Mountain, dusted with snow. As a nearby chainsaw attacks an ancient oak branch that toppled the night before, winemaker Eric Mohseni, associate winemaker Kristin Bryden, brand ambassador Dane Campbell, and I are bracing against the cold as we talk about viognier, roussanne, grenache, syrah, and other grape varietals originally from France's Rhône Valley that do so well on the property.
The Mesa vineyard blocks, where we're standing, are around 1,500 feet in elevation, much higher than most vineyards in Santa Barbara County, and the entire 750-acre property — including the Cushman, Mariposa, Chapel, and Foxen blocks down canyon — straddles the confluence of the Los Alamos, Santa Maria River, and Santa Ynez River valleys, so fog and coolness come from three directions. "In cool years, it's much cooler here," said Mohseni, who's been with the brand since 2001 and took over as head winemaker in 2008. "And in warm years, it's much warmer." Explained Campbell, "That's why the Rhônes work here. They can swing between the extremes."
For Santa Barbara wine country, Zaca Mesa is hallowed ground. Founded in 1973 by a group of investors, it became the county's first place to grow the now-ubiquitous grape syrah when the Black Bear Block was planted in 1978. Its cellars, nicknamed "Zaca U," have also been a training ground for the region's most influential and celebrated vintners: Ken Brown, Jim Clendenen, Adam Tolmach, Bob Lindquist, Lane Tanner, Daniel Gehrs, Chuck Carlson, and Benjamin Silver, to name a few. And it's still owned by one of the original investors, commercial real estate magnate John Cushman, although he put the property on the market last fall for $32 million and patiently awaits a buyer who will continue to respect and elevate the brand.
Not that Zaca Mesa always engendered the respect it has today. Fifteen years ago, when Mohseni joined, the winery was emerging from what he called "the dark years." A Long Beach State grad who worked in wine retail before going into production, Mohseni admitted, "They were some pretty neglected wines." Since 2001, he's been hard at work replanting vineyards with different grapes, clones, and rootstocks; grafting over old chardonnay vines to syrah and other Rhônes, such as mourvèdre and grenache blanc; and studying the results. "We want to create diversity," he said. "But not only clonal, because learning rootstock is incredibly important."
So is consistency in the cellar, where Mohseni is proud to rely on the same harvest crew that's worked there for years, including Ruben Camacho, who started at Zaca Mesa in 1977. From the property's 150 planted acres — 83 acres sit fallow now as a result of strategic winnowing — they make about 35,000 cases of wine a year; the handful of different syrah bottlings lead the pack in production amounts, viognier is most popular on the white wine front, and there's also other single-grape bottlings and red-and-white blends like the Z Cuvee and Z Blanc. Mohseni does sell some grapes to other winemakers, which is a good marketing tool for the brand and a way to keep in touch with the market. "I get more phone calls about grenache than anything — it's very hot these days," he said. "It can make both a rosé and a port. There's not a lot of grapes that can do that."
Experimentation thrives in the winery, much of it prompted by the property's 40-year anniversary in 2013. That includes the Homage series; unlike everything else bottled by Zaca Mesa, which is all-estate and all-Rhône, the Homage pays tribute to grapes once processed by the winery, including pinot noir, chardonnay, pinot blanc, sauvignon blanc, and cabernet sauvignon. Designated as single-vineyard bottlings (Bien Nacido for the pinots and chard; Vogelzang and TTT for the cab; McGinley for the sauv blanc), these excellent, tasting-room-only wines are made by Bryden, who joined the brand in 2011 and is excited about exploring new grapes. "It makes you a better winemaker," she said.
There's also racy grenache blanc aging in concrete tanks, a magnum-only 2013 syrah-cabernet blend to honor a similar 1983 bottling, and talk of planting rare grapes like picpoul blanc and grenache gris. Then, in the category of Old School as Cutting Edge, there's syrah that's been fermented and is aging in clay amphora. "It's a way to capture the fruit as purely as we could," said Bryden of the benefits of clay amphora, which is increasingly popular across the Central Coast. Unlike Zaca Mesa's usual practices of holding syrahs for a few years until release — the current red offerings are mostly 2012s — the 2014 amphora syrah hits the market this month. Expect floral, fruity freshness over bold, brooding savoriness.
As for the historic Black Bear Block, Mohseni is sad to say that those three and a half acres of 35-year-old, own-rooted syrah grapes are "starting to peter out." Even if he must replant someday soon, Mohseni will keep some vines alive, as they may qualify as their own "Zaca Clone" of syrah, according to experts at UC Davis. While he's spent most of his 15 years at Zaca Mesa working on the future, Mohseni remains most concerned about protecting its past. "I want to keep it," he said of the block, which is only producing a lowly half ton an acre now. "So I'm trying to preserve the cuttings."
Zaca Mesa's tasting room is located at 6905 Foxen Canyon Road, Los Olivos. Call (805) 688-9339 or see zacamesa.com.