Living
Ojai's In the Field Sows Area Fashion Scene
Hip Shop Offers Playful, Eclectic California Style
The greater Santa Barbara fashion scene has been privileged by the proximity of Ojai's In the Field (730 E. Ojai Ave., Ojai; [310] 403-4292; inthefieldojai.com), a hip shop whose owners have quickly made it a style haven for artsy surfers and modern mountain gypsies.
"We definitely had incredible faith that there were people here that would understand what we were doing and wanted the same product that we live with," says Bianca Roe, an Ojai tastemaker and former high-end fashion model who co-owns the store with her actor husband, Channon Roe.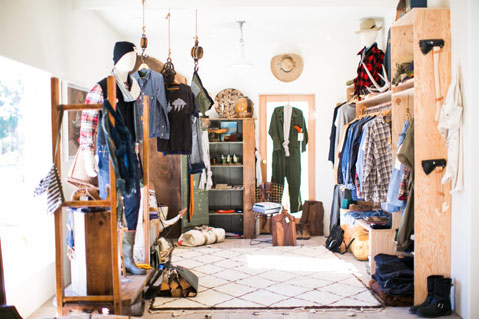 On certain nights, there may even be an insiders' party underway, where connected parents and their styled youngsters show up in the designated party wardrobe — the shop's offerings, which are inspired by the couple's peripatetic adventures — for an open-bar beer by the fire pit. Other partygoers filter through the shop's colorful California-native wool shawls, high-end surfboard selections, or Moroccan vintage pieces while catching up with long-held friends.
"I think people are having an enjoyable experience. They like to feel creative," explains Bianca Roe of her customers' response to the store's selection of eclectic staples such as Ulla Johnson, Raquel Allegra, Black Crane, and hand-picked vintage. "Because of our travels and because we piece together old and new, it has a level of freedom to it."
These days, Roe focuses on bringing her patrons her styling expertise. "Let's have fun with it," she will say as she introduces them to a silhouette they might not expect works on them. "If someone comes in and they don't know what to wear, I have an absolute ball helping them out."
And the men are not snubbed with the token "husband's chair" at the entrance. "Our men's clothing is huge," explains Roe of the many male customers who pilgrimage to In the Field for designers such as Mister Freedom, Apolis, and Birdwell Beach Britches.
Roe adds that in all her buying, she tries to select quality, consciously made lines. "It's actually incredibly important to the community," she says. "It takes a lot more discipline, but we are really trying hard to keep manufacturing mindful."
One visiting customer seems to prove that the extra effort is paying off by summing up her affection for the Ojai shop. "I just come here to be happy," she says.