Briefs
Celebrated Sheriff's K-9 Retires
Gango Honored After 7 Years Service.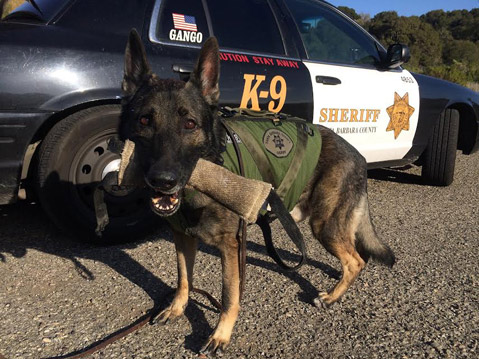 Sheriff's K-9 Gango was honored Monday with a retirement certificate and a rawhide bone after more than seven years of service to the Sheriff's Office. Gango boasts a career history that includes tracking down carjacking, drug trafficking, robbery, and burglary suspects, as well as finding lost children and seniors suffering from Alzheimer's and dementia.
Memorably, Gango located a stranded biker — a deaf teenager — whose scent he traced from her bike helmet and shoes. He once sniffed out a handgun, hidden underneath a vehicle, which had been used to commit a crime.
A certified patrol canine with specialty certification in explosive detection and hard surface tracking, Gango has investigated bomb threats in buildings all around Santa Barbara County. He has met many notable dignitaries, including the Dalai Lama and the Clintons, while providing security by searching banquet theaters, hotel rooms, motorcades, planes, and boats.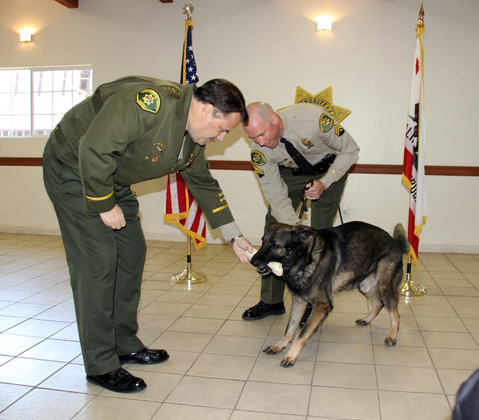 Gango Vom Salztalblick was born in Hesse, Germany in 2007. He comes from a line of Schutzhound 3 dogs, the highest level of sports agility dog, who hold advanced tracking degrees. In 2009, Gango joined Sheriff's Office ranks and was partnered with Senior Deputy Patrick Hayes.
"As the saying goes, 'Dogs are a man's best friend,' but Gango has far exceeded that. He has always had my back and because of the tight bond that we share," said Hayes in a Sheriff's Office press release. "In a split second, without any reservation, he would give his life to protect mine. Gango truly has loved his career in law enforcement as much as I am enjoying mine."
Gango now retires to live at home with the Hayes family. "The Sheriff's Office is in the process of purchasing another K-9 to join the Sheriff's Office family," read the press release.