Capitol Letters
Trump Tunnel
How The Donald Reprised the Immigrant Experience at GOP Convention
The site where the Secret Service smuggled Donald Trump into the California Republican Party convention turned into a tourist attraction, less than 24 hours after the clandestine operation.
Agents furtively spirited the GOP's likely presidential nominee inside last weekend's meet-up to evade anti-Trump protesters massed in front of the Hyatt Regency hotel, near San Francisco International Airport: Suddenly stopping his motorcade on the 101, they hustled the great man down a drainage ditch, through a hole they hastily cut in a fence, and up a windswept embankment, then led him into the building's back entrance and through a kitchen with just one stop: Trump halted his entourage at an employee break area mirror, according to an eyewitness, to adjust his windswept coif.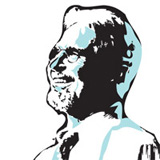 There were no other injuries.
The next morning, following widespread coverage of the esca‑
pade, at least one local resident swerved onto the highway shoulder to check things out. He shooed three kids from his car and marched them to the gap in the green fence for a couple of cell phone pics.
"They're kind of liberal," he told two reporters who were piecing together Trump's trek. "It's important for them to see this."
Next stop: the Lincoln Memorial.
UNITY, OR NOT: The irony of Trump, scourge of those who sneak across the Mexican border, skulking into his own party's convention using comparable methods, was so rich that not even he, notoriously heedless and humorless about his own foibles, could miss it.
"This was not the easiest entrance I've ever made," he told 600 people in the banquet hall upon his late arrival. "We went under a fence and through a fence, and, oh boy, it felt like I was crossing the border, actually."
Alas for Trump, the one-liner was about the only highlight of his convention speech. In a 20-minute reprise of his standard shtick of narcissism and cheap insults, he managed not only to slander his GOP rivals (Texas Senator Ted Cruz as "Lyin' Ted" and Ohio Gov. John Kasich as "disgusting") but also to disparage Republican loyalists, volunteers, and activists who've kept things going through years of political privation.
"There should be and there has to be unity," Trump said at one point, before quickly adding: "Would I win, can I win without it? I think so."
Repeating his hollow call for solidarity, he later expressed contempt for Cruz and Kasich, saying he has neither desire nor need for their support — nor, presumably, for that of millions of Republicans who have voted for them.
"Ideally, we're going to be together," he said later, "I think we're going to win even if we're not together. There are some people I honestly don't want their endorsement."
WILSON'S GAMBIT: Cruz dropped out of the race May 3 after getting stomped by Trump in the Indiana primary. A few days earlier, however, he was the favorite of the state convention crowd and his state strategists have harbored long-shot hopes that the congressional district-by-district process of delegate selection would help his superior grassroots organization blunt, if not overcome, Trump's polling lead by the June 7 primary. Now, however, California will be merely a mathematical end game for the front-runner to clinch the last of the 1,237 national convention delegates he needs.
Still, it was notable that Cruz during the weekend coaxed an endorsement from 82-year-old ex-governor and senator Pete Wilson, dean of the California GOP elite and the last Republican who fashioned a successful statewide career in California.
He is best known for his 1994 campaign for the anti-immigrant Proposition 187, which inflicted long-lasting damage to his party among Latino voters, and his nod to Cruz is consistent on that issue. It is often forgotten, however, that Wilson governed primarily as a moderate, who was pro-choice on abortion rights, imposed higher taxes to fix the budget, supported environmental protections, and embraced bipartisan compromise, all positions loathed by Cruz.
So Wilson's move also demonstrates the desperation the state's Republican establishment feels about the reality TV star's nomination.
Trump's hateful bombast on immigration (in a state where polls show a large majority believe those here illegally should be allowed to stay), slurs against women, and volatile personality are all likely to undermine recent efforts by state GOP chair Jim Brulte to lead his party out of the wilderness by moderating its positions on cultural issues and cooling its harsh rhetoric on immigration.
It is certain that California will stay deeply Democratic. If and when Trump returns to the state, he may be sneaking in again.