Briefs
Where in Santa Barbara Will Hillary Clinton Be?
Presidential Candidate Scheduled to Arrive Saturday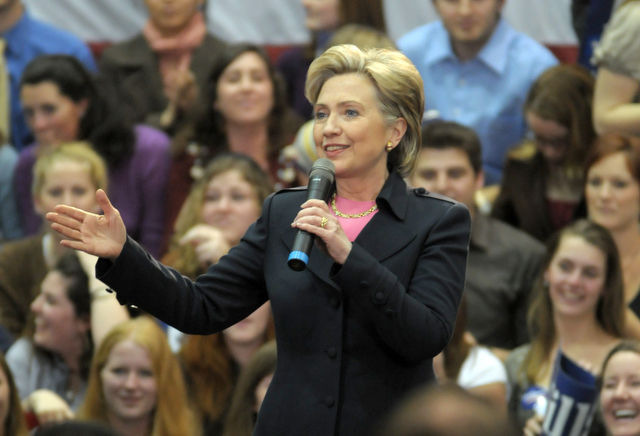 [UPDATE] Less than 24 hours before Hillary Clinton is scheduled to arrive, the presidential candidate's campaign has confirmed she will convene a conversation about women, families, and the economy at the restaurant Jill's Place on Santa Barbara Street. Before that, at 1:45 p.m., Clinton will be in Oxnard at Hueneme High School.
[UPDATE] With just 24 hours before Democratic presidential candidate Hillary Clinton is scheduled to blow into town, local party big wigs remain in the dark — and a little exasperated — they still don't know what kind of event Clinton's national campaign organizers hope to hold, where, and what kind of a crowd to organize for. With Clinton running neck-and-neck in the polls with her Democratic Party challenger, Vermont Senator Bernie Sanders, Clinton is blazing a catch-up trail across the state, inhaling the fumes of the Sanders' now famous Red Bull campaign that took place last week. (Clinton, however, enjoys a substantial lead in recent polls when respondents are restricted to likely voters.)
Among the local political cognoscenti, a lot more is known about what isn't going to happen than what is. After Clinton and her plane are said to land in Santa Barbara about 3 p.m. Saturday, word is that a rally and small press event will be held. To date, none of the high-ranking Democratic electeds who have endorsed Secretary Clinton know what that actually means.
One report suggests Clinton will attend a very small gathering to discuss women's economic issues. Given that Clinton has reportedly not held a press conference in the past 186 days, it's all but certain there will be no thrust-and-parry with reporters. Speculation, as a result, has been rife and rumors rampant. Whatever happens, it's clear, will not rival the sheer mass of the Sanders speech and rally at City College last week.
[ORIGINAL STORY]
Late Saturday afternoon, Hillary Clinton is expected to drop into town. Rumors initially abounded Clinton would hold an event at De la Guerra Plaza, but that has been denied. Political insiders speculated Clinton's camp would choose a space much smaller than SBCC's West Campus Lawn where an estimated 6,000 Sanders enthusiasts turned out early last Saturday morning. According to the Los Angeles Times, Hillary and Bill Clinton are scheduled for more than 30 campaign events in California beginning Thursday.
The notion that SBCC and UCSB are both considered "Bernie territory" has also nixed the college campuses as potential spots. Police sources indicated Clinton is expected to land at the Santa Barbara Airport at 3:30 p.m. Saturday and stay for three hours. City Administrator Paul Casey confirmed Secret Service agents notified City Hall late Wednesday afternoon that Clinton was coming to town Saturday. It is unclear if the actual event will take place at the airport, and Casey said no one made inquiries about the airport being used for an event.
"As of 5 p.m., we don't know where it's going to be," he said. "All we know is it's still evolving."
City officials say no specific location for an event has yet been identified, but a restaurant in the city has been listed as a potential site.
In sharp contrast to her Democratic contender Bernie Sanders — whose so-called "Red Bull" California tour dates were published days in advance — details surrounding Secretary Clinton's visit have been scarce.
The first notice City Hall got from the Secret Service for Sanders was about a week in advance, Casey said. Obama and Clinton have both spoken at SBCC in the past. At SBCC, the fire department was deployed around the perimeter to block sniper views.
The latest polls show Clinton and Sanders are very close five days ahead of the June 7 primary election.