Make Myself at Home
Make Myself at Home: 'The Pagoda House'
A Look Inside 707 East Valerio Street: 'The Pagoda House'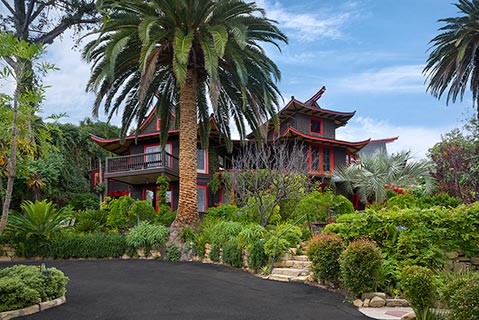 Address: 707 East Valerio Street
Status: On the market
Price: $2,795,000
Santa Barbara has more than her fair share of legendary abodes. In addition to the Mission and other historic houses, there are standout homes in just about every neighborhood. While they may not make the history books, these homes are unique enough that locals use them as landmarks. Everyone knows the bright pink Victorian on the corner of Micheltorena and De la Vina streets. The Ablitt House and other Jeff Shelton–designed homes are recognized even though they were built relatively recently. Up above the Eastside, spanning the block between Prospect and Grand avenues on East Valerio Street, is an iconic residence known as "The Pagoda House." Anyone who's passed by this remarkable home has noticed it, and any self-respecting Santa Barbarian who's lived here any length of time will probably recognize it by the name alone.
I've loved this house for years. Its lower Riviera locale was my neighborhood for one year almost 30 years ago. Every time that I either walked or drove by this distinctive home, I admired its fusion of craftsman-meets-Asian architectural style. The house is beautiful yet a bit quirky. It is grand both in scale and in presence, but it is fun and welcoming at the same time.
When I heard that The Pagoda House was on the market, I was excited at the prospect of being able to see inside it rather than continuing to stalk the house from afar. I couldn't wait to learn more about this striking home that has been one of my favorites all these years.
As it turns out, my eagerness to get to know this home gave me even more insider info than I had hoped for. I was one of the first people through the door of the open house. As I was on my way in, the home's owner, Maggie Gallant, was on her way out. She had her little dog tucked under her arm and was gathering the rest of her things to clear out of the way of the impending visitors. But when I expressed interest and told her how much I admired her home, she gladly delayed her departure long enough to give me a quick personal tour.
The house has entrances from both Prospect below and Valerio above. I entered from Valerio and chatted with Gallant on a bright, welcoming flagstone patio. I learned that this patio, which leads into the dining and living rooms, is one of the features that Gallant has added to the house in the five years that she has owned and been renovating it. It also turns out that Gallant is a treasure trove of information about the house. She has a scrapbook of newspaper clippings and historic photos that she was happy to share.
The house was constructed in 1902 by a wealthy widow, Bertha Manning Parmele, who moved to Santa Barbara from her native Chicago to join her parents and siblings sometime after her husband died in 1890. Speculation is that she may have visited the World's Columbian Exhibition in Chicago in 1893 because The Pagoda House strongly resembles the Japanese Pavilion constructed for that event. The home has only been owned by three other families in the ensuing years. The most recent former owner bought the house in 1985 and rented out many of the rooms. Gallant bought the house in 2011 and has made renovating it to its original splendor a labor of love.
The most distinctive external feature of this home is its roofline and upswept eaves. The edges of the roof, detailed with red zigzag trim, curl up to expose the rafters and bright yellow undersides, lending a playful, colorful edge to its classic craftsman exterior. Walking through the house for the first time, I was delighted to see that the expansive foyer and grand living room lead to a balcony whose view of the red-tiled roofs and city landmarks below is framed by this unique roofline.
But the view outside is rivaled by the magnificent craftsmanship and character of the interior of the home. The ceilings are made of redwood paneling, with curved surfaces and detailed trim. Balanced with the hardwood floors and oversized beams and banisters on the central staircase, the overall feeling is both natural and somewhat nautical. At more than 4,500 square feet, The Pagoda House is large and feels even more so because each of its main rooms is spacious. This main level consists of the living and dining rooms, plus a huge master bedroom and bath on the left side. Even the claw-foot tub in the master bath is spacious at more than six feet long, providing a rarely found combination of modern size and period authenticity.
The kitchen is relatively modest for such a grand house, but it is impeccably detailed in period style. It sports original black-and-white-tiled flooring, all updated appliances, and an absolutely unrivaled view. Standing at the kitchen sink, one could wash dishes for days and get lost in the vista beyond. Linked to the kitchen is an adorable breakfast sunroom that is another one of Gallant's additions. This light-filled room provides a more casual meal-time option to the formal dining room; I imagine it would be an often-used gathering place.
There are two more bedrooms on this floor, with another bathroom in between. Down a hallway and up an almost hidden staircase is a lofty fourth bedroom. With the same coved redwood-paneled ceiling plus a skylight and a decorative doorway that leads nowhere but the roof, this bedroom feels like a private tree house and would undoubtedly be a favorite kids' room or private guest room.
Beyond the refurbishing that's evident to the eye, recent upgrades to the house include new plumbing and electric and heating systems. Maggie also added a new roof and drainage system throughout the property.
In addition to the main house, there is another entire level to The Pagoda House down below. The lower level consists of two separate apartments. Each has its own kitchen, living room, and bedroom. These units were designed to be stand-alone rentals where you can enjoy a serene, private setting. A secret bookcase doorway from the main home's downstairs entry foyer is the only shared space. It appears to be a whimsical feature from the past, and it locks in case there is any doubt.
The downstairs apartments enjoy proximity to what is arguably this home's finest feature. The gardens are more than half an acre of rare-specimen plants, sculptured stone walkways, and delightful seating nooks. Although this space is now a beautifully landscaped haven, Gallant describes the gardens that she took on five years ago much as she describes the house itself from that time: "It was a complete shambles," she laments. Fortunately for the home's future new owner, Gallant's labors for the past five years have left both the exterior and interior of The Pagoda House restored and polished, allowing the original beauty to shine through.
This home is still the Santa Barbara landmark that it has been for more than 114 years, enjoying an iconic hillside setting and flaunting its quirky character with newly polished splendor. Now that I've gotten to admire it both inside and out, The Pagoda House is an even more beloved Santa Barbara landmark.
707 East Valerio Street is currently for sale in Santa Barbara, listed by Randy Glick of Berkshire Hathaway HomeServices California Properties. Reach Randy at (805) 689-7167 or randy@randyglick.com. Historic details from the owner were compiled by historian Betsy Green at betsyjgreen.com.