Dance
DANCEworks Presents Vim Vigor
'Future/Perfect' Revealed at the Lobero Theatre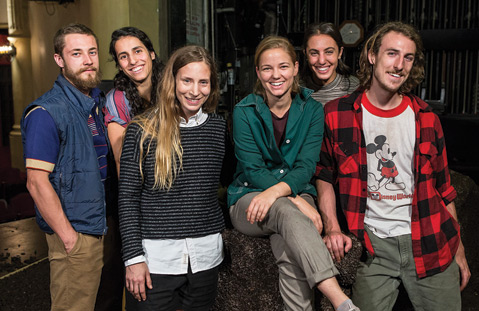 For the past month, there's been something strange going on in the Lobero Theatre. Visitors to the venue during the day, including members of the DANCEworks Friday Club, have encountered a very realistic campsite covering most of the stage, including tents, sleeping bags, and a Christmas tree. The most authentic element of the set, however, is also in a way the least natural because the luscious six-inch layer of dark brown earth the whole thing sits on is not dirt but recycled rubber mulch. Three tons of it. The NuPlay product was created to keep kids safe on playgrounds; it has one of the highest shock-absorption ratings of any playground covering. Put down six inches of this stuff, and your hyperactive 4-year-old can safely dive from a height of 16 feet — it's that resilient.
But this is no playground, or if it is, it's a playground of a very different sort. Shannon Gillen, the choreographer and founder of Vim Vigor Dance Company, was chosen by Dianne Vapnek for this year's DANCEworks residency at the Lobero, and she was the one who ordered up this exceptionally fall-friendly and bouncy surface because it's a great match for the setting of her piece Future/Perfect, which takes place at a campsite in the woods, and because she knew that her dancers would have a ball using it as a trampoline, a safety net, and an all-around aid in defying gravity. The mulch "amplifies the story," according to Gillen, and although she means that its resemblance to soil makes the wilderness setting look more genuine, she's also alluding to the outsized daring its forgiving physical properties encourage in the performers. The five young dancers in the company — Laja Field, Martin Durov, Jason Cianciulli, Emma Whiteley, and Rebecca Diab — are leaping, rolling, diving, and sliding around in this stuff in ways that they could not safely do on any other surface.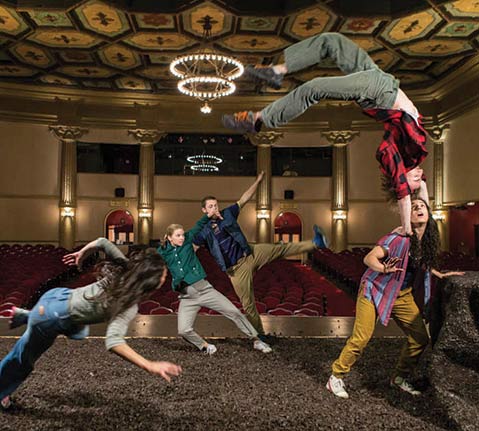 Vapnek created DANCEworks in 2009 to see what happens when innovative choreographers are given a shot at the one thing they almost never get: a chance to work in rehearsal on the same stage on which they will perform. The vast majority of dances are created and rehearsed in studios that bear little or no relation to the spaces in which they will be shown to an audience. Dancers must imagine what it will be like when they finally get onstage, and choreographers must count steps and measure movements against an image in their heads of where that stage actually begins and ends. Ask any experienced dancer, and they will tell you the same thing: "It's never the way you pictured it," and "There are always last-minute adjustments."
As the eighth artist to hold the DANCEworks residency at the Lobero, Gillen represents both the cutting edge of what's happening in contemporary dance today and a strong sense of continuity in relation to the seven choreographers who have come before. Her influences include film and the contemporary dance theater scene in Europe, particularly in Germany, where she was a member of the Johannes Wieland company based at Staatstheater Kassel. The style she has developed combines all these ingredients with a healthy dose of Gillen's own wonderfully idiosyncratic personal vision. Her considerable talent as a dancer in this remarkable idiom is the tool through which she communicates what she wants to see from the cast. In rehearsal she moves as much, and as wildly, as anyone, even though she's not in the piece. It's this process of demonstration, experimentation, and repetition as much as anything else that defines the intensely personal nature of her artistic expression. And, of course, don't forget about all that bouncy shredded rubber. I walked on it, and it felt amazing, like a living being that returns the impact of your weight as a gentle lifting force.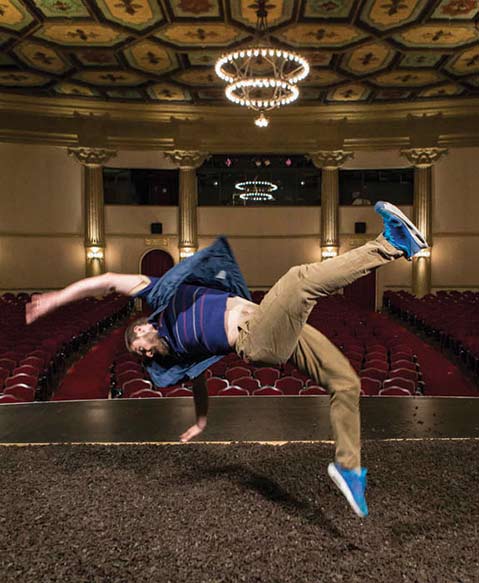 The story of Future/Perfect follows a group of people mostly in their twenties thrown together on a camping trip. They talk, they flirt, they hang out around the campsite, and sometimes they even pair off and disappear inside the tent for a while. At one of the Friday open rehearsals I attended, the atmosphere during these acted sequences reminded me of a horror movie, and there are some deep resonances with that genre. These characters will all eventually confront a numinous presence that will change them irrevocably, and when they do, they are going to show that transformation through the ecstatic movement of their bodies. There are touches of hip-hop in the athletic floor work of the Vim Vigor dancers, and there's plenty of the precision required to safely catch and release the hurtling body of a high-flying partner — the kind of heart-stopping grace that you only really see in trained, committed career dancers. Beyond that, the work is harder to categorize, except perhaps to say that there's an emotional release in the gestures and poses that's much closer to great acting than it is to the steps of a conventional chorus line.
When Gillen teaches these movements by doing them herself, she engages the dancers in exchanges that may involve as many as three repetitions of a particular segment in the space of one minute, and in extended one-on-one sessions that may go on for an hour or longer. "We stack and accumulate intimacies," said Gillen to the audience assembled for the open rehearsal series known as the DANCEworks Friday Club. "The overarching theme of Future/Perfect is how we engage walkabouts," she continued, adding that the work explores "how we sometimes perceive signs from the universe" that have the power to tell us that we must change our lives. When asked how she felt about the progress that was being made, Gillen paused and then admitted that creation is always at least somewhat "painful and stressful" because she is "never satisfied," but that she and her team are determined to "push it." "We are constantly asking ourselves how can we elevate and open what we do to the audience so that they fall into this world the way that we have fallen into it." And, with such a heavenly soft landing surface waiting for us, we can all look forward to taking this plunge.
4·1·1
The DANCEworks presentation of Vim Vigor's Future/Perfect takes place Friday-Saturday, September 23-24, 8 p.m., at the Lobero Theatre (33 E. Canon Perdido St.). For tickets, call (805) 963-0761 or see lobero.com.