Cover Story
Race for the 3rd District Supervisor in Santa Barbara County
Joan Hartmann and Bruce Porter Fight for 3rd District Seat on S.B. Board of Supervisors
Two weeks ago, Terry Baxter began an unusual get-out-the-vote campaign in Isla Vista. While Democratic Party volunteers were handing out official county voter-registration forms all over I.V. and the UCSB campus, Baxter, an experienced conservative operative, was handing out warnings: Stranger danger! Don't fill out those paper forms, she cautioned students. Register on your iPhone. You are giving your identity to a stranger.
This was a new twist on an old fight: the race for the 3rd District seat on the Santa Barbara County Board of Supervisors. For almost half a century, those elections have been divided between a progressive-leaning candidate, often living in the south of the district, and a conservative-leaning one, living in the north. The 3rd District covers the largest area of the county, spanning from Isla Vista over the mountains to the Santa Ynez Valley and up to Guadalupe. This year, the two candidates vying to replace outgoing Supervisor Doreen Farr both hail from northern cities: Joan Hartmann, the progressive, lives in Buellton, and Bruce Porter, Baxter's candidate, resides in Santa Ynez. But the political divide remains the same, and the fiercest battleground centers in Isla Vista.
Isla Vista has been the hotbed of county politics since 1971, when 18-year-olds got the right to vote. That radioactive climate has only intensified since UCSB's population grew to more than 23,000 students. Today, more than a third of the votes in the 3rd District rest in I.V. That supervisor's vote often determines policy on the county board. Today the board is divided between two liberal supervisors representing the 1st and 2nd southern districts and two conservatives from the 4th and 5th in the north. The 3rd District seat tilts the majority.
Joan Hartmann vs. Bruce Porter
A native of Wisconsin, Joan Hartmann spent her career in academia and law, graduating from the University of La Verne and later Claremont Graduate University before going on to teach public policy and environmental studies at Claremont and Oberlin. She had a stint at the Environmental Protection Agency, living in Philadelphia before she worked on a wetlands recovery projects in Southern California.
Fifteen years ago, she moved to Buellton with her husband, Jim Powell; the couple has horses and cats and dogs and chickens. She has the hands of an active gardener. In 2008, she emerged in valley politics, coauthoring a successful ballot measure that requires a vote of the people to expand Buellton's boundaries. Four years later, Farr appointed Hartmann to the county's Planning Commission, where she served for three years. She joined CASA (Court Appointed Special Advocates) and served on boards for nonprofits such as the Environmental Defense Center and the Wildling Museum.
On the Planning Commission, where the rubber meets the road for development in the county, she has a reputation for asking detailed questions and being exhaustively meticulous in her research of the issues. But Hartmann is far from behaving like a natural politician. In public, she comes across as soft-spoken and polite. At a recent Isla Vista campaign event, Hartmann told a crowded room of students, "I think it is very important you get engaged." Yet Hartmann appeared more comfortable in front of this crowd than she did when she announced her candidacy a year ago; she ended her talk with a fist pump and an enthusiastic "Let's go!"
Bruce Porter grew up a military brat all over the country and overseas. He got his first taste of civic life as a teenager in 1971 when he served as a page for Arkansas senator John McClellan. He graduated from West Point in 1976, later earning a master's degree in computer science and civil engineering. He worked for more than 25 years with the U.S. Army Corp of Engineers. He served as a combat engineer in Desert Storm, was awarded a Bronze Star, and left with the rank of colonel. He retired from the army in 2001 and moved his wife and three kids to the Santa Ynez Valley, where he works at Edward Jones as a financial advisor. He joined pro-business organizations such as the Central County Coalition and the Buellton Chamber of Commerce, as well as several youth-related ones including the Boy Scouts and the aquatics foundation. He is usually well dressed and appears formal yet polite.
In 2008, Porter led an effort to recall the Santa Ynez Valley Union High School District school board after they mysteriously fired the popular principal Norm Clevenger. The school board never disclosed a reason, even though Clevenger gave his consent. This infuriated Porter, but he never filed the 13,000 signatures collected for the recall because Clevenger was hired at San Marcos High School. That same year, Porter successfully ran for the school board, where his term expires at the end of this year.
Radioactive
Hartmann's campaign and the Democratic Party have been at loggerheads with Baxter, not only because of her stranger-danger tactics, but also because, according to Democratic Party Chair Daraka Larimore-Hall, she has been suggesting to students that they can register back home in other counties. This maneuver, he claims, is an outright attempt to stop young, potentially progressive voters from casting ballots in the 3rd District.
For his part, Porter defended the warnings on his flyers  ​— ​ "Beware of pop-up voter registration tables that fail to protect sensitive information about you." "If you walk up to a Democratic registration table," he complained, "they are going to say, 'Register here, and I hope you register Democrat, and let's sit down and talk about our candidates.' Well that's not legally wrong. But if they are leading people to believe they have to register here because they live here now, that's wrong." The law gives college students discretion to register back home or in their university town. Asked if he hoped more students registered in their hometowns, Porter said, "I want them to know they have a choice."
Porter's appointment of Baxter to lead his I.V. campaign also stunned Democrats because of her history in an earlier Isla Vista voter-registration fight. In 2008, she worked for former supervisorial candidate Steve Pappas, a conservative independent who won the endorsement of UCSB's student newspaper, the Daily Nexus, and lost by just 806 votes to Farr. Pappas refused to concede, challenging the results in a court battle that lasted for three years and cost half a million dollars, primarily financed by Santa Ynez conservative Nancy Crawford-Hall.
Baxter served as a chief witness in that case, which sought to throw out some 9,000 votes cast at 18 of the Isla Vista precincts. The judge finally threw out the case instead, ruling that "there has been a complete failure of proof as to any type of voter fraud, illegal voting or any other type of intentional misconduct whatsoever. …the Court can only conclude that these allegations were frivolous and tantamount to an intentional misleading of the Court." It seems Democrats never forget, for on the wall of their I.V. headquarters is a laminated photograph of Baxter with the following warning: "Unless she is here to apologize … don't answer her harassing questions."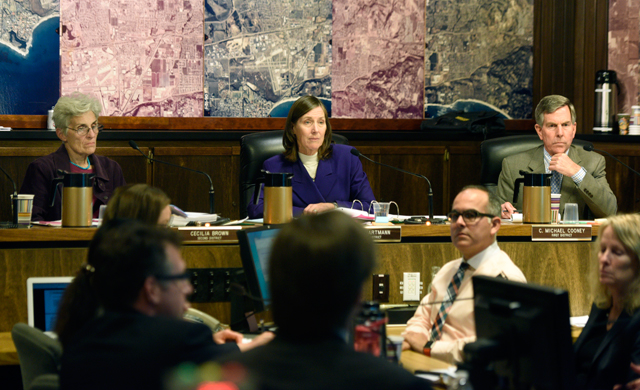 Big Oil, Union Money
Some of the biggest issues Porter and Hartmann face are where their money comes from, how it will influence their decision-making, and how they will be influenced by party politics when the board itself is a nonpartisan body.
Porter has gone to great lengths to cast himself as an independent, middle-of-the-road guy, though, according to voter files, he is a registered Republican and the Republican Central Committee is backing him; that group, however, is sparse, is plagued with infighting, and has few young people engaged. Asked about their support, Porter said they have given him little or no money.
Where Porter has gotten substantial money is from Keep Santa Barbara County Working, a group funded by the oil industry. Answering questions about his opinions on oil development in the county, he said that given our dependence on oil, he'd rather it come out of Santa Barbara County  ​— ​ "which has the strongest regulations in the world"  ​— ​ rather than shipped 9,000 miles from the Middle East. "Tell me why that's better than drilling out of 100-year-old oil fields in North County. Which one is more environmentally responsible? Which is more fiscally responsible? Which is better for the families of Santa Barbra County? Don't tell me it's oil versus the environment," he said. "Shame on people who wave the green flag because they are just making it worse."
Last week, Keep Santa Barbara County Working ​— ​which is funded by Vaquero Energy and the California Independent Petroleum Association ​— ​reported spending $16,500 on a poll for Porter, bringing its total amount raised for Porter to $60,000. As of press time, his other contributions include $20,000 from pro-business group Buellton First, $10,000 from County Supervisor Peter Adam's Adam Bros. Farming Inc., $9,000 from developer Michael Towbes, and $40,000 from the Deputy Sheriffs' Association.
When Hartmann was asked if she would essentially be a stooge for the Democratic Party, she said, "I don't feel constrained that I have to vote a particular way," adding her values are already in line with the party's. "I think what is expected and what any constituent deserves is for me to study it [the issue] hard and talk and hear and listen and debate and explain my decision," she said. "It's a process, not a specific outcome."
As for her funding sources, a lot of her money has come from union organizations operating in the county. As of press time, she has received $70,000 from two chapters of the Service Employees International Union.
Asked if that could be problematic, Hartmann said of labor union members: "These are domestic workers who are caring for people in hospice or people who are disabled. They are making minimum wage. They have contract negotiations occurring, but they are pooling their resources. Hundreds of people are pooling their $5 and $10, and they have a committee and are saying, who should we direct it to? That's very different than Dr. [Jim] Buell giving $24,000 [to Porter]." (Buell has donated tens of thousands to Buellton First.)
Her other donors include $10,000 from Rinaldo Brutoco, founding president of the World Business Academy; $5,250 from Kim Kimbell, an attorney and environmentalist; and $10,000 from Peter Sperling, billionaire and longtime benefactor to Das Williams. Williams, an outgoing assemblymember elected in June to the Board of Supervisors, also gave Hartmann $20,000 from his campaign coffers.
Which Way, Santa Barbara?
Before the primary election, 2nd District Supervisor Janet Wolf sent out an email underscoring the importance of electing Hartmann. Most important county issues boil down to a three-two split, with the liberal progressives representing the south (Salud Carbajal, Wolf, and Farr) and the conservatives in the north (Peter Adam and Steve Lavagnino).
With the current liberal board majority, the supervisors adopted the state's strictest emissions standards (1,000 metric tons of carbon dioxide per year), which would mandate noncompliant pay offsets. They blocked development on the Gaviota Coast, including Naples and Las Varas Ranch, and allocated money for the Gaviota Coast Plan several times. They funded the Children's Health Initiative, which insured undocumented youth, and they adopted a climate action strategy.
The majority plays an equally critical role during budget hearings, when three votes are needed to fund things such as mental-health programs in juvenile hall. Wolf wrote in the email, "I dread the thought of what our county would be like if we lost that third vote."
Conservatives naturally disagree. Andy Caldwell, president of conservative watchdog group COLAB (Coalition of Labor, Agriculture, and Business), claimed a Hartmann victory "would be the most extreme board majority in the 25 years I've been [with COLAB]," he said, adding that she is a "heavy-handed regulator."
Unlike Porter, who has had little to no official experience in countywide issues, Hartmann has a record with the Planning Commission, and attacks such as the one by Caldwell can be checked against her actual votes. Is she an elitist with a South County mentality who has sided with the South County planning commissioners on 100 percent of the 20 split votes? It is true that Hartmann voted with the two South County commissioners 15 times, according to her campaign's analysis, but she voted a total of 133 times, most of which were unanimous. Also telling, she voted 12 times against at least one of the South County commissioners.
Asked in what instances she agreed with at least one of the North County commissioners, Hartmann included the Santa Ynez zip line project that she supported, the Rice Ranch development plan, and the Eastern Goleta Valley Community Plan. She also noted she opposed unpermitted recreation on agriculture land in Lompoc, which would have impacted the controversial Jim Mosby recreation project, complete with paintball and car tracks.
Hartmann also voted for the Isla Vista Master Plan, which would have increased density and failed to adequately address community concerns about parking. When asked, Hartmann said she approved the plan because staff had pushed hard to advance it to the California Coastal Commission. But once she realized the plan had become outdated ​— ​"We can't have a community plan that the community hates," she said ​— ​she encouraged the Board of Supervisors to send it back for more public input.
Where Hartmann lets her liberal South Coast flag fly centers on development on the Gaviota Coast. She expressed great concern that 4th District Supervisor Adam has advocated for development on the coast. For what? she asked. Orange County–like hotels to bolster the county tax revenues?
Adam often complains that the North County region is treated as a colony where its desire for development is thwarted by slow-growthers from South County. He once even called for a split between the north and the south. Hartmann takes exception to this logic. "Colonies are exploited," she said. "But here it is going the other way."
Ten years ago, the county initiated a study on what the financial costs would be if there were to be a split. It found there was a $30 million difference between discretionary revenue generated in the north versus the amount it spends on public county services. Hartmann speculated that the North County elected representatives would eventually become more liberal. "We just need to get people registered," she said. "[The conservative] Santa Maria City Council is not reflective of the population that lives there."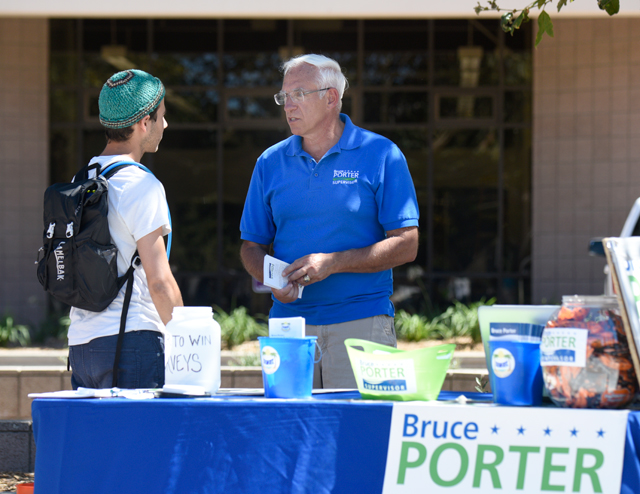 The Split
One issue that clearly divides Hartmann and Porter centers on oil revenues since last May's oil spill, which effectively shut down Plains All American Pipeline's Line 901. Three school districts receive funds from oil revenues. At a Goleta Chamber of Commerce forum several months ago, Porter cited that the Santa Ynez high school district board had just voted to distribute pink slips. The other two school districts affected by this include Goleta and Vista del Mar, which he said have had to consolidate grades and faced difficulty with their preschool programs.
Hartmann, on the other hand, argued a drop in oil revenues is due to the fact that oil prices tanked after a relatively high spike in 2013-2014. "Absence of a working pipeline has had very little to do with county revenues overall," she said. Where Hartmann noted Vista del Mar could file a claim for damages against Plains, Porter questioned, "Even if they sue, when are they going to get those dollars back?"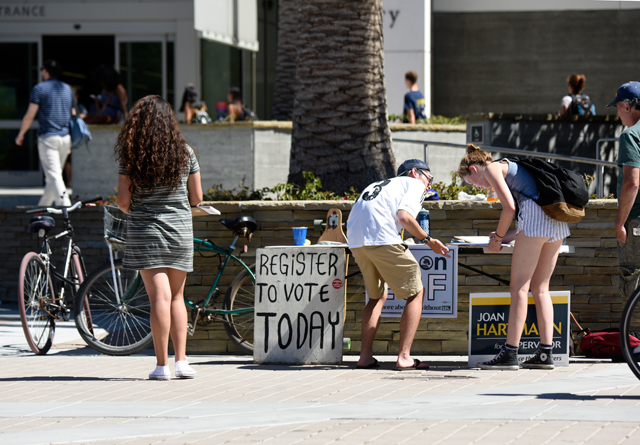 Back to Isla Vista
Perhaps indicative of their fundamental political differences, Porter has opposed Isla Vista's 8 percent utility user tax, known as Measure F, which accompanies Measure E, the establishment of a community services district. Porter called the tax "regressive" and a "double taxation for the things the county should be doing right now anyway." Porter said he supports Measure E on its own because it could establish a municipal advisory council, which would create a committee of I.V. residents to advise the Board of Supervisors. He added it would go hand in hand with his proposed Isla Vista 2.0 plan, which would establish a quasi-governing structure in Isla Vista at no additional cost. He would bring existing county employees to I.V. to create a "tool … for residents to create their own vision and then find a way to achieve it."
Many people, including Hartmann, question the effectiveness of a community services district if it lacks funds to operate. Hartmann dismissed I.V. 2.0 as a "crock." "It is sort of like the Army Corp of Engineers going into Iraq, saying we are going to re-station our guys there and we're going to run this," she said. "I don't think it evolved organically out of Isla Vista."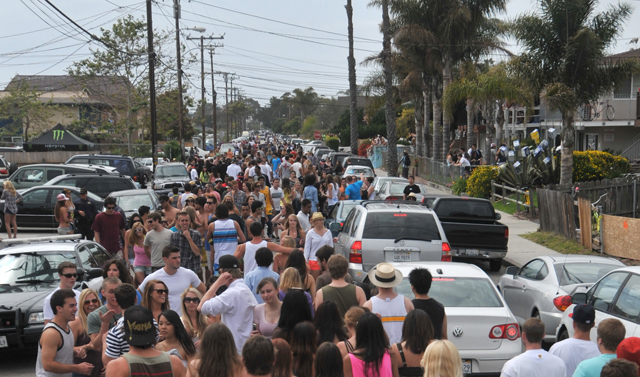 Counting the Ballots
Both candidates moved to Santa Barbara County about 15 years ago. Porter takes pride in the fact that he beat Hartmann by 20 percentage points in Buellton in the primary election."She didn't get even a third of the vote in her own town," he said. "They know her and the policies and the way she thinks, and they reject that." Asked if its conservative leaning could be the reason, Porter said, "Let's face it. In the valley, they tend to vote on personality." But Hartmann, who beat Porter by nine percentage points in the primary election, carried Guadalupe, Goleta, and Isla Vista. One of the three remaining candidates in the primary was Jay Freeman, a left-leaning technology entrepreneur, who won 12 percent of the overall vote, a considerable chunk of it from Isla Vista. The other two were Bob Field and Karen Jones, both from North County and each of whom got about five percentage points.
In the primaries, Porter emerged as a polarizing figure. His pro-business remarks were well received by the wine industry and the chamber of commerce, but Jones and Field were adamantly opposed to Porter. Jones, a far-right-leaning, Kinky Friedman–quoting known valley eccentric, entered the race to attack Porter every chance she got. Her beef, among other things, was that Porter had supported a school facilities bond in 2012 that was bankrolled by architecture and law firms. Asked about his active support for the bond, Porter acknowledged such contributions seemed "a bit unseemly" but were "certainly not [illegal]." He was not technically a member of the campaign committee. Field is known for being staunchly antidevelopment and also entered the race to prevent Porter from winning outright in the June primary. Both Jones and Field have since endorsed Hartmann.
In the end, the battle for the 3rd District returns to the familiar ground of Isla Vista, where it is an undeniable truth that campaigning and registering voters go hand in hand. Overall the district now has 15 percent more registered Democrats than Republicans, with 27 percent registered as independents. As college students tend to lean left, the Democratic Party succeeds at this contest. By the October 24 deadline, the party hopes to register 13,000 new voters.
That is daunting for the Porter camp because Hartmann got more than six times the number of I.V. votes that Porter did in the primaries. That success can, in part, be attributed to the copious resources of the Democratic Party — foot soldiers, phone banking, flyers, buttons, posters, and, of course, pizza.
Porter's saving grace, conservatives emphasize, could be that Isla Vista residents preferred former presidential candidate Bernie Sanders over Hillary Clinton at a ratio of eight to one; given that polls show millennials feeling lukewarm about Clinton, they may not turn out to the same degree in November. Still, with the legalization of recreational pot on the ballot — as well as issues such as the death penalty, plastic bags, and criminal justice reform ​— liberal Democrats are not expected to stay home.
Given the dependable student vote during a presidential year, it is Joan Hartmann's race to lose.