Voices
Kill California's Death Penalty
Vote Yes on Prop. 62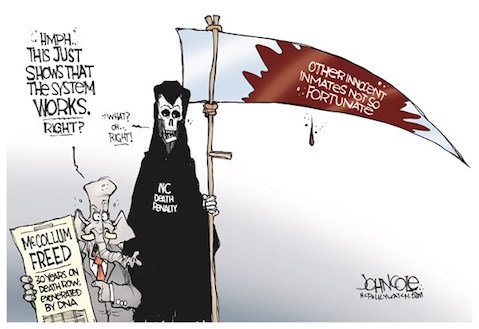 Crossing the Richmond Bridge to San Quentin State Prison, the fog-shrouded compound looks ominous. It is the biggest, most expensive death row facility in the Western Hemisphere.
As I walk the long walk from the entrance of the prison to the condemned visiting block, a sign reads, "Walk, Don't Run." I walk slowly. "Halt,", a guard yells, holding up his right hand. I stop, heart pounding. A phalanx of guards with automatic weapons walks across my path to the guard tower. I am signaled to go on. I walk past the death chamber on my way to see "J." That was over 21 years ago. J was 27 years old, the same age as my eldest son.
After my first visit with J, I felt sick to my stomach. I ventured to a bar in the City in Little Italy, took a couple shots of Jack and felt a little better. I still get a bad a feeling when I visit death row; you don't get used to it.
On November 8, California voters will decide between two competing ballot measures: Proposition 62, which will end the death penalty and replace it with life without parole, or, Proposition 66, which will move to speed up the executions and shorten the appeals process for condemned inmates.
Since 1967, California sentenced over 1,000 defendants to death, spending over four billion taxpayer dollars to execute 13 condemned men. There are now 747 condemned inmates on death row; 352 inmates are waiting for an attorney to be appointed on their state habeas appeals, most wait an average of 12 years before habeas counsel is appointed. The number of death-sentenced inmates without habeas counsel increases annually because the appointment of qualified counsel cannot keep pace with the increasing judgments of death. California added 14 convicted men to death row in 2015, 27 percent of all death sentences meted out in the country last year.
The California Supreme Court has trouble finding qualified attorneys willing to take on such appointments. There are only 332 active criminal law specialists in California. Many specialists do not have the requisite skill set and training to represent capital defendants in death penalty appeals.
Prop. 66 advocates speeding up the appeals process by relaxing the standards and qualifications of appointed counsel, requiring experienced Court of Appeal panel attorneys to accept death penalty appointments or be removed from those panels. Numerous panel attorneys have said they will resign from the appointment panel rather than be coerced into taking a death case. The defense bar lacks the manpower to deal with death cases.
The U.S. and California Constitutions require that death sentences be carefully reviewed by the courts. Our robust system of post-conviction review of death sentences is not a quick casual process, and only three persons have been exonerated from death row since 1981.
It takes at least 15 to 25 years for these cases to be reviewed by the California Supreme Court and the federal courts. There is now a backlog of over 150 fully briefed capital appeals and habeas petitions before the court. Death penalty appeals and habeas petitions cannot be done in five years as proposed by Prop. 66.
There are not enough qualified lawyers, court resources, or money to make the death system work; it cannot be done on the cheap and it is not a process that can be fast tracked.
Assuming the proponents of Prop. 66 could expedite executions at a rate of one execution a week, it would take over 14 years to kill the 747 inmates now on death row. During that same time, California will add at least another 200 condemned inmates.
Executions by lethal injections have been prohibited in California by the federal courts for the last 10 years. Any resumption of executions in California is years away, because the litigation over newly proposed protocols for the drugs that will be used and the procedures to administer the lethal injection has not made its way through the state and federal courts. The proponents of Prop. 66 want to allow the state to procure lethal drugs secretly and eliminate court oversight of the protocols in administering the lethal drugs during an execution.
Regardless of one's moral views on the death penalty, there is a consensus that California's death penalty system cannot be fixed. California Supreme Court Chief Justice Tani Cantil-Sakauye has said, "The choice for voters [is] not whether you believe in [capital punishment] anymore, rather, the 'effectiveness and costs' of the system."
United States Supreme Court Justice, Stephen Breyer, recently criticized California's costly administration of the death penalty, citing its unreliability, arbitrariness in application, and unconscionably long delays.
J's case is now on hold because the Supreme Court has not reimbursed his attorneys for work performed back in 2011. Delays in funding death penalty litigation are not unusual, as California struggles to find the necessary resources of an already stretched state budget.
Since I first met J over 21 years ago, his father, mother, brother, and sister have died. I send him birthday cards, books, magazines, and colored drawing pencils.
J will be 49 on his birthday this November. When I look at the drawings he sends me, I wonder how many more years I will be able to make the trip across the Richmond Bridge, I'll be 70 soon. I'm sick and tired of the trip.
The Justice That Works Act of 2016, Prop. 62, will end California's death penalty and replace it with Life Without the Possibility of Parole, saving the taxpayers about $150 million annually.
No capital defendant sentenced to life without the possibility of parole has ever been released from custody.
It's time to stop the bleed of billions of taxpayer dollars to pay for the dirty, grisly business of state killings. California's death penalty system is a multibillion dollar failure, broken beyond repair.
Robert F. Landheer is a member of the United States Supreme Court Bar and is a Criminal Law Specialist certified by the California Board of Legal Specialization, who has represented death cases in the trial courts and on appeal for over 30 years.