Arts & Entertainment
Neko Case Brings American Noir to Campbell Hall
Avant-Pop and Country Artist Faces Shadows Head-On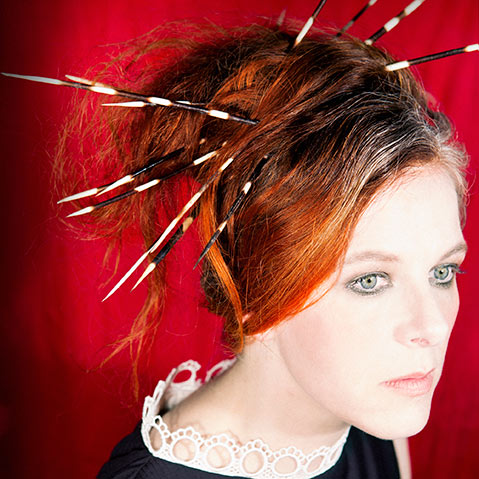 There have been few better chroniclers of American darkness within the last half century than avant-pop and country singer/songwriter Neko Case, who comes to Campbell Hall on Friday, November 18. With her voice of wild woe and surreally sorrowful lyrics, Case has performed as a poet of pain and personhood, grappling with subjects no less weighty than environmental destruction, the challenges and triumphs of womanhood, gun violence and the nightmarish shadow side of American dreams, and the void of depression itself. Yet in her fearless tackling of heavy subjects — with a voice that could shift the course of rivers and part massive mountains — she has shown herself to be a symbol of courage, strength, independence, and musical innovation, a vital artist now more than ever.
Case released her first album, The Virginian, just shy of 20 years ago, and soon after, she went on to work with indie-rock critical darlings The New Pornographers. Even as a group member, Case's stark individualism stood out — one she has emboldened ever further across the course of her country-noir career.
Though an awareness of gloom runs through many of her tunes, there is equally a strong sense of powerful self-determination and self-fulfillment, with Case as a frontierswoman of the 21st century. Musically, she continues to forge pioneering paths with her fellow female artists, too. The year 2016 saw the formation of case/lang/veirs, the supergroup she formed with k.d. lang and Laura Veirs, and the release of their eponymous debut earlier this year when lang proposed that the three record an album together. Case says it was a learning experience to work with such distinctively individual artists. "There are things, completely innate, that I can't learn. Like k.d. has such a pitch, for example, and a natural genius of production, and Laura is a fucking incredible guitar player, and both have incredibly strict work ethics," she said. The work-ethic difference, in particular, was a new approach, with the two being more schedule-oriented — structural Scorpios, Case said — in contrast to her own more free-form and organic creation process. "I want to unravel the big mystery — it's fun, the mystery of it," she said of songwriting.
Natural imagery fills her work, with the picture dictionary of her mind defined by a Pacific Northwestern upbringing. "My home state of Washington is always very much a part of what I do — Douglas fir trees, gray skies," she said. "I think about the songs as little movies." Case went to Vancouver's Emily Carr University of Art + Design prior to gaining fame as a songwriter, and there is certainly a visual artistry to her sometimes cryptic lyrics. However, in 2013's The Worse Things Get, the Harder I Fight, the Harder Things Get, the More I Love You, she stares down some tragic themes rather bluntly, like in "Nearly Midnight, Honolulu," addressed to a young girl she observed at a bus stop enduring verbal abuse from her mother. "Well, I just want to say that it happened. / 'Cause one day when you ask yourself, / 'Did it really happen?' You won't believe it, but, yes, it did. / And I'm sorry, and I'm sorry. / 'Cause it happens every day," she sings.
While many may attend the concert still under the oppressive malaise of recent American decision-making, Case's willingness to face her own sorrow comes as timely guidance. With her last full-length inspired by a grievous depression that followed many deaths, Case found healing through acceptance. "I just wasn't functioning well. I was just really sad. I had to give in. I fought it for a long time, but when I gave into [it], then it started to unclog itself," she said. "I clocked into that shitty job every day, and it paid off eventually."
Join Case in facing that darkness, and a light may begin to rekindle.
4∙1∙1
Neko Case plays at UCSB's Campbell Hall on Friday, November 18, at 8 p.m., presented by UCSB Arts & Lectures. For more information, visit artsandlectures.sa.ucsb.edu.