Film & TV
A Revolution in Four Seasons
Director Jessie Deeter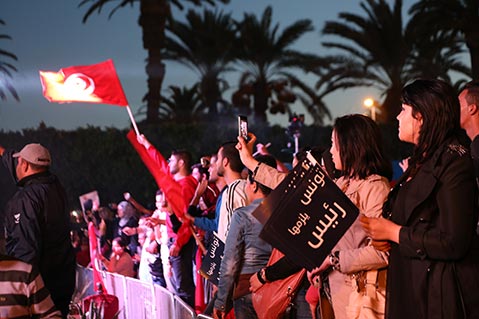 Over the course of five years, this documentary traces the lives of two women, Jawhara and Emna, who are involved in opposing political parties in Tunisia as the country tries to establish democracy after the Arab Spring in 2010. Two weeks apart, the women both give birth to baby girls, and must navigate motherhood in a shifting place. Filmmaker Jessie Deeter, a UCSB grad from 1992, answered the following questions. See revolutioninfourseasons.com.
You went to Tunisia as a Fulbright Scholar before you decided to make this film. What initially drew you to the country? 
I was familiar with the region from working as a Peace Corps volunteer in Morocco in the 1990s when my now husband, then a friend, was a volunteer in Tunisia. For our Fulbright experience, it was important for us to return to the places we where we already had a connection and knew the language, so Morocco and Tunisia were obvious choices. Tunisia already held a special place in my heart, and I wanted to show it to our children as I researched what was meant to be a film about women and food as a Fulbright Scholar. When the Tunisians threw out President Ben Ali, the idea of the film I wanted to make changed dramatically.
As a documentary filmmaker who had spent years living and working in the MENA region, I felt fabulously fortunate to happen to be back in the country that was experiencing what I thought was the most powerful story in the world at the time. There was this country that had experienced a revolution and the most interesting question to me, the one I knew Tunisians would be grappling with for years to come was: Then what? What happens to all these Islamists, whose party was outlawed under the former dictator? How do we incorporate them in a democracy?
You spend quite a bit of time following the two women, who both juggle their politically engaged careers with motherhood. Why did you find it was important to tell their stories? 
Many Westerners think that women in the MENA region are relegated to conservative/traditional roles. In Tunisia they actually hold great influence in building/driving culture from a leadership perspective (ironically, the same is not always true in the West). I also think that the way a culture treats its women is hugely indicative of the sort of society it wants to be.
We initially started following Bassem as main character, but over the course of the five years of filming it became increasingly clear that Emna's story was going to be more compelling than hers.
I really wanted an Islamist perspective because, to me, one of the most important questions Tunisia was facing after its revolution was how to handle this disenfranchised population who had been over the years the most real opposition to Ben Ali. I went to Ennahda (the Islamist party) and asked if they knew any women with a unique personal story we could follow. They introduced us to a handful of young women, and of those, Jawhara was the most forthright and open with us. At the time she was an English teacher and youth organizer for Ennahda. When we chose to follow her we had no idea she'd run for parliament, which wound up being the first of several of the film's "happy documentary accidents."
In the making of documentaries like this one, where you are following real characters and real events as they unfold you every now and then get fortunate enough to have what we call "happy documentary accidents," such as Emna and Jawhara getting married the same summer, then pregnant and then finally giving birth to two girls two weeks apart. For the purposes of our film, we couldn't actually have planned it better, as the layers of the film just kept getting deeper and better. The simultaneous pregnancies were painfully wonderful, contrasting their personal and professional struggles, as the women were both heavily pregnant in the summer of 2013, when Emna was outside the parliament protesting Jawhara's Ennahda-led government on the inside, trying to finish writing the constitution. As Jawhara says in the middle of it all, "My personal situation is inseparable from the general situation in the country."
Although I had initially wanted to be done with the film in a couple of years, once our characters both got pregnant I knew we had to stick with them through the journey of having children, as the stakes for both would necessarily radically increase. In a stroke of good timing I could have never planned, our heroes gave birth a couple of weeks apart to baby girls named Lina and Leila. They then both faced the additional and universal challenges of all women who have to figure out how to balance work and family.
I found the stories of Jawhara and Emna became more poignant after they had both given birth and were struggling to figure out when and how to go back to work, and under what circumstances. It also increased the stakes of their investment in their country as, for example, Emna and Bassem were considering whether having a daughter increased the likelihood of the chances that they would want to flee the democracy they had been fighting to achieve.
Tunisia was the only country to emerge from the Arab Spring transformed into a democracy. Why do you think so? 
One of my favorite American experts on Tunisia, scholar Dr. Larry Michalak, currently finishing his book about Tunisia's informal commerce, sets the stage for the answer to this question, noting, "Although its awakening surprised many, Tunisia has long been the Arab country most suited for democracy. As a semi-autonomous Ottoman province, Tunisia was the first country in the MENA region to adopt a constitution (in 1861) and the first to start a modern secondary school (College Sadiki in Tunis in 1875). Under the French Protectorate, which began in 1881, the Tunisian elite were quick to imbibe the principles of the Enlightenment and to call on their colonial rulers to apply their own values in granting Tunisia independence."
Tunisia had several conditions that made it especially conducive to the development of democracy including a high level of education, a large middle class, a relatively healthy civil society, respect for women's rights, and a homogenous society, lacking the ethnic and religious divides of some of the other Arab Spring countries that weren't able to establish even the beginning of a proper democratic society.
Did you face any particular difficulties creating this film? 
There were many challenges in the making of this film, as with all good documentaries. Although we were living in Tunisia when we began filming, we weren't able to stay in Tunisia over the course of the film  —  so there was a lot of back and forth with a fair amount of gear that required some significant planning to transport.
Due to financial and other constraints, we were often operating with a very small crew, which was definitely an asset in terms of gaining the trust and access of our characters. My husband and I shot a fair amount of the footage ourselves. But when I agreed to shoot Jawhara's wedding alone in the deep South — in the height of summer heat, with a gimpy tripod, trying to keep track of what was happening in my mediocre Arabic  —  I very much wished I'd had at least one other crew member with me.
The Tunisian National Dialogue Quartet won the Nobel Peace Prize in 2015 for building democracy in Tunisia. What are your thoughts about the country's future?  
I admit that Tunisia is still struggling to make good on the hopes and promises of the Revolution and still faces challenges of eradicating corruption, engaging marginalized populations in its interior region, getting people productive jobs, and translating reforms into tangible results for all Tunisians. Nonetheless, I hope that the Tunisians and others who see the film are heartened by all that Tunisians have managed to accomplish in such a relatively short period of time.
They negotiated a peaceful transfer of power from a transitional government to a democratically elected coalition government and drafted a new inclusive constitution that protects the freedom of assembly, the freedom of the press, and the freedom of religion, upholds human rights, guarantees equality for men and women. They cast ballots in a free and fair election, choosing from more than 100 political parties.
It sounds trite for an outsider to preach tolerance, patience, and peace, but I think that those were takeaways for me from the making of this story. And considering our current political climate in the United States and some European countries, there will hopefully be lessons in this film that resonate on a global level.
It is easy in today's climate to be afraid that Tunisia will not be able to maintain its forward momentum, but I was there filming for the last elections, in 2014, when all of the characters in my film were truly happy and cast their votes with the conviction that they would be counted, individually, and help shape their country's future.
Upon casting her vote, Jawhara said, "This is one of the gifts of the Revolution. We have to cut off this mentality of one person in a position forever."
Driving to his polling station, Bassem told us, "It's so amazing that Tunisians have so many options, so many choices. It's a great day."
Jawhara's husband Kais, a fairly conservative Islamist, not only allowed but encouraged his wife to spend long days and nights working to create Tunisia's new constitution. "What happened in Tunisia and the Constituent Assembly was far bigger than all of this (the difficulties the family may or may not have suffered due to the nature of Jawhara's work). There were milestones that we were living, and sometimes we were at the very heart of them. When Jawhara went to the Assembly, this went beyond a personal feeling of sacrifice or of what ought to be."
Even Emna, who was skeptical about the overall results of the Revolution acknowledged that things had changed for ordinary Tunisians. "Everyone was touched by the Revolution and its consequences. Before nobody cared. We didn't even know the ministers' names. Me included. Now, everyone knows who's governing, that there's an Assembly. We're much more interested in what's going on in this country."
I think that's a start. Tunisia has done something pretty incredible over years since the Revolution but very few people outside Tunisia seem to know it. Democracy is a wonderful ideal but is also messy, clumsy, dynamic, terrifying and sometimes boring process that is, as our title is meant to suggest, not achieved overnight. That the country is still struggling to make good on the hopes and promises of the Revolution is no surprise. What is surprising is the fact that, of the six countries that experienced an Arab Spring, Tunisia is the last democracy left standing. Overall, I would describe myself as cautiously optimistic and very hopeful.