Arts & Entertainment
Itzhak Perlman Plays Klezmer Concert
Lauded Violinist Celebrated 22nd Anniversary of 'In the Fiddler's House'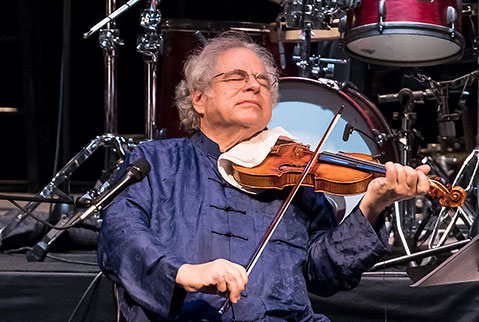 Lauded violinist Itzhak Perlman played a sold-out show at the Granada Theatre last Monday, celebrating the 20th anniversary of his klezmer album In the Fiddler's House. Accompanied by talented members of Brave Old World, the Klezmer Conservatory Band, and The Klezmatics, Perlman put on a one-time concert that included a spontaneous set of lively music from the Hasidic culture.
Featuring melodies pulled directly from the Sabbath and traditional klezmer medleys, the concert included a vibrant, high-energy montage that Perlman himself performed at his daughter's wedding. With Andy Statman shredding on the mandolin and Frank London demonstrating mad trumpet skills, Perlman bowed with such passionate speed that the audience formed an impromptu grand-scale hora. Klezmer Conservatory Band's clarinetist Ilene Stahl delivered a powerhouse performance so emotive that the audience gasped and applauded her formidable sound.
Quick-witted and humorous, Perlman's charming demeanor facilitated an evening of pure enjoyment for all, representative of the klezmer's purpose of bringing people together in celebration. While capable of playing Mozart and Beethoven to perfection, Perlman proved his true flair exists in the rich sound of klezmer music.