Film & TV
SBIFF: Day 6
Criminal Doings and the Dangers of Going Home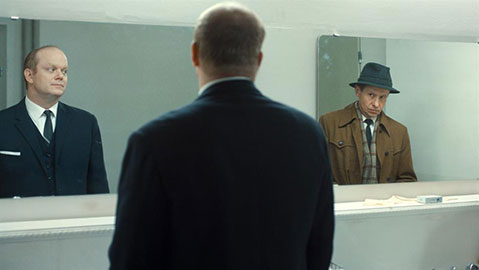 Crime pays with several of this year's SBIFF crop, thanks partly to the "Crime Scenes" sidebar, an extension of earlier sidebars. Film noir-ish tendencies and crime-based narratives state their case in this group of films, in different accents and varying degrees of criminality and aesthetics attached thereto.
By Accident, for instance, simmers and keeps us guessing, rather than going explosive. French director Camille Fontaine nicely conveys a tale of a humble Algerian family — of which the father is undocumented — in the hills of France, drawn into the crosshairs of social scorn and the courts by an auto accident. The sassy and sneaky Angelique (guardian angel or fallen angel?) appears as a witness to clear the mother's wrongdoing, and implicates herself into the family's world, in ways both generous and suspicious. Apart from a fairly ludicrous finale, which undercuts what comes before it, By Accident deftly draws us into its world of seductions and a range of possible deceptions and fuzzy facts.
Another grittier bit of business, with artistic brushstrokes and chilling moral codes attached, is the Spanish film The Fury of a Patient Man, which literally, bracingly opens with a bank robbery gone bloody. From there, the plot in Raúl Arévalo's stylishly made film, thickens and fans out into a thriller with some surprising turns, of character, plot and dastardly scheming. Along with this year's SBIFF film from Norway, Revenge, Patient Man (and, say, Fargo and Irreversible and countless other films throughout history), represents the time-honored tradition of cinema fueled by the stealthy machinery of vengeance, as plot energizer and structural guidepost. Plus: nasty fun, when done well.
Crime takes a more political and ominous dimension in the Austrian film Codename: Holec, Franz Novotny's delightfully quirky yarn about strained (and sometimes bawdy) relations between Vienna and Prague in the late '60s, building up to the infamous Russian invasion of Prague in 1968. It's communist Czech vs. capitalist Austria, and art film standards of purity vs. sell-out populist compromise, among other tensions along the semi-comic path. Somehow mashing up cartoony Cold War chic, Austin Powers-y high jinx, film-about-film themes, and real chills concerning life under totalitarian rule, Codename: Holec defies easy categorization, and delivers a giddy charge despite its not exactly solving all its own artistic problems.
Two years ago, the SBIFF harvest brought us the darkly hilarious (or hilariously dark?) film Wild Tales, easily one of the best films of that year. This year at the festival, comic winds from Argentina return, but now in the subtler form of impressive film about fame, the perils of going home again, and high hopes turned sour, director Andres Duprat's The Distinguished Citizen, certainly one of most engaging and inventive films at this year's fest. From the outset, we get a sense of our protagonist Daniel Montovani (Oscar Martinez, in one of the strongest performances of the festival), a world-renowned novelist accepting his Nobel Prize with barely more graciousness than Bob Dylan did last year. His writer's block and/or lofty artistic ideals are tested when he accepts an invitation to his small town in Argentina that has supplied him with a career full of characters. Recriminations and sexual and social faux pas abound upon his going home, to comic and poignant ends.
Sometimes, one needs a break from the darker and more serious energies of the SBIFF — and not just the obligatory frothy comedy fare. Take, for example, the loopy, literally dreamy Sleepwalk, a cheesy-pulpy number you might expect to find on late-night TCM programming or old school drive-in fare more than a film festival. But wait: Sometimes, overwrought cheesiness can morph into the stuff of cultish art, or a facsimile thereof. In director Elliott Lester's film, presumably about a woman (who seems to shop at J.C. Penney), whose grief over her husband's suicide has loosened the shackles of identity and reality, there are dreams within dreams, twists tucked into twists and caution cast to the wind.
It's really a modern-day wannabe B flick, which is necessary to denigrate the thing. In these self-consciously kitschy circumstances, we lower our expectations, in terms of acting, production values and script logic. Really, though: What's logic got to do with it.