Food & Drink
In the Kitchen with Laurie Zalk
Former Owner of Our Daily Bread Now Leads Cooking and Baking Classes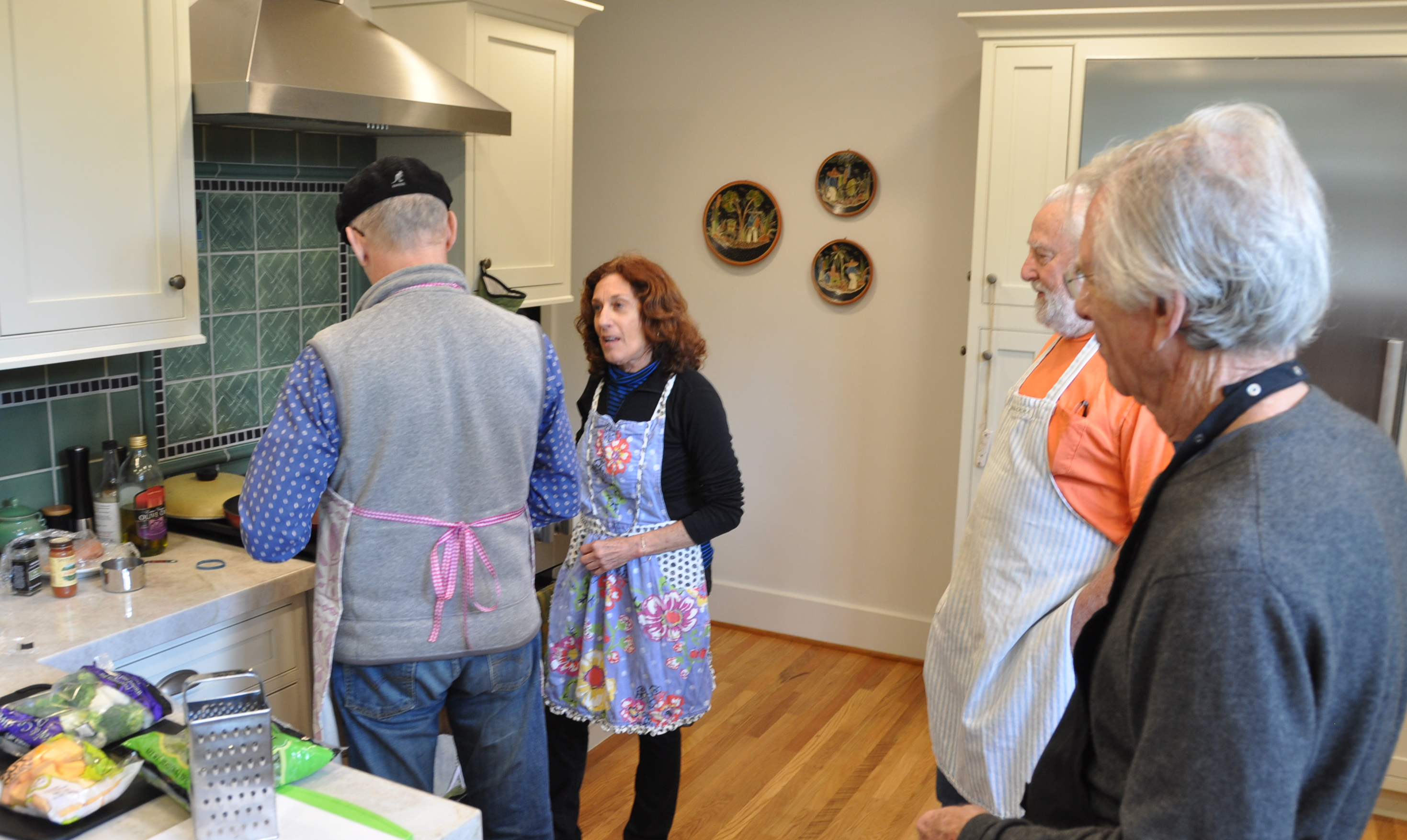 Laurie Zalk, the former longtime owner of Our Daily Bread and a brave, brave soul, has her work cut out for her. She's leading a group of six middle-aged guys in an afternoon she's billed Men Only: There's Nothing to Eat in the Fridge.
As a large pan of everything from red onions to green beans and yellow peppers to multicolored carrots cooks, this bakery owner turned cooking coach says, "When sautéing vegetables, there's almost nothing you can do wrong."
Not missing a beat, one of the wisenheimers pipes up, "Is that a challenge?"
The good news is that beyond the wisecracks, nothing is much of a challenge with Zalk in the kitchen. After all, she ran her beloved Santa Barbara business for 35 years before selling it in January 2016. "I'm a good teacher," she realized soon thereafter. "I've been teaching employees all those years."
So she's started Cook and Bake with Laurie: You go to her house, or she comes to yours, and you get to throw a little cooking party. You learn, it's fun, and you eat the lesson. Imagine anything from mother-daughter marzipan cakes to kids' birthday parties where they bake and frost their own cupcakes.
And then there's the Men Only class. "It's for someone who looks into the fridge and says, 'I don't know what I can put together that's nutritious, yummy, and won't take too much time,'" Zalk explained. On this particular Saturday, she helped the culinary-challenged gang chop up veggies (luckily, Trader Joe's precut packages populate the fridge she's helped pre-stock), pick the right order to cook things, thaw and pan fry some chicken tenders, and whip up a pot of basmati rice.
But even with something as simple as rice, Zalk sneaks in helpful tricks of the kitchen trade, such as sautéing it in a bit of oil before adding the water. Then she teaches how to learn to cook by smell, passing the nutty-scented pan around. She also adds a bay leaf, paprika, and salt, giving the rice a more savory edge than a plain ole starch.
Afterward, the guy gang seems far from puzzled while happily eating, and that's the point. "I usually put a little booklet together for my classes, with an explanation of how the meal comes together, the recipes, pages for notes," Zalk said. "But I don't for this one, as the point is that it isn't a recipe." It's more about teaching strategies, both physical and, it turns out, psychological.
When one man half-jokes, "I just want the food without work," Zalk is quick to reply, "If you're thinking it's work, yeah, but if you're thinking it's therapy. …"
4·1·1 Cook and Bake with Laurie by calling (805) 689-2416 or visiting cookandbakewithlaurie.com.