Society Matters
CADA Holds Exquisite Amethyst Ball
Event Raised $350,000 for Alcohol and Drug Abuse Programs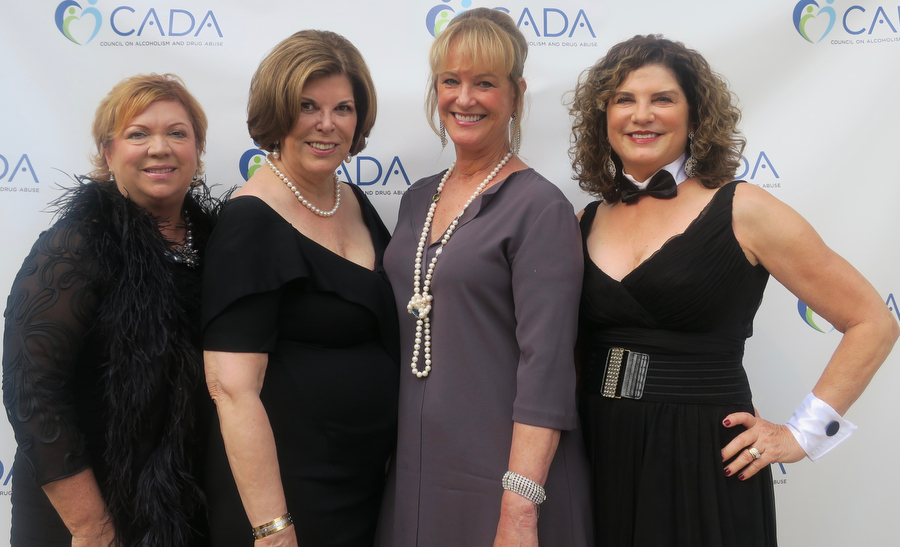 On April 22, The Council on Alcoholism and Drug Abuse (CADA) held its 31st annual Amethyst Ball at the Bacara Resort & Spa, which it estimates raised a whopping $350,000. This year's theme, "Oh What a Night," nicely summed up the exquisite affair.
During an extended cocktail hour on the picturesque ballroom terrace on this warm Saturday evening, nearly 400 guests mingled and listened to the tunes of Martini Run. Guests then adjourned to the ballroom, which Merryl Brown Events had draped in a stunning copper chiffon with an overlay of golden-hued starburst imagery. Copper and bronze table linens and tasteful accents completed the elegant supper club look. The L.A.-based dance band Walk Like a Man fabulously performed the music of Frankie Valli and The Four Seasons throughout most of the evening.
The limited program included a short but poignant story by Board Chair Kristen Parrish of the loss of her brother to drug addiction. In a short video, a few CADA participants shared the transformative effect CADA has had on their lives, including two youth who participate in the CADA Mentor Program. This program matches vulnerable 3rd-8th grade students who need academic, emotional, and/or social support with adult mentors who meet with them for a minimum of one hour per week. CADA currently has about 100 mentoring relationships and a waitlist of both male and female youth seeking mentors.
Another person in the video shared the tremendous benefit he derived from CADA's Project Recovery Treatment Center, which he figures saved him from going to prison. He emphasized how drug addiction and alcoholism do not just impact the individual, but also everyone around that person as well, and that his alcohol and drug abuse was heartbreaking for his grandmother who raised him. CADA's outpatient treatment program provides a primary counselor who develops a treatment plan and links patients to the full-range of services needed for recovery.
The evening had some nice surprises, including two alpacas joining auctioneer Andrew Firestone on stage to introduce a tour of the Canzelle Alpaca Ranch in Carpinteria and dinner for 10 at the ranch, which fetched $20,000 (total from two bids). Strong shows of support came from Men's Committee Co-chair Peter Hilf, who presented a $75,000 check from his family's foundation and Olivier Laclercq, who bid $12,000 for a $10,000 shopping spree at Bryant & Sons Jewelers (donated by one of Hilf's Co-chairs, Bob Bryant). Montecito Bank & Trust Board Chair Janet Garufis made a $10,000 donation in honor of Michael Towbes, a longtime supporter of CADA. CADA dedicated the evening to Towbes.
As the largest organization in the county for the prevention and treatment of alcohol and drug abuse, CADA has 23 programs for youth and adults. With a $5.6 million budget last year, CADA served 8,600 people. In January, it added a 28-day adult residential treatment program for those needing intensive services prior to transitioning to Project Recovery. For more information, go to cadasb.org.
Send invites to Gail at society@independent.com.