Theater
Capitol Steps at the Lobero
Comedy Troupe Pokes Fun at Politicians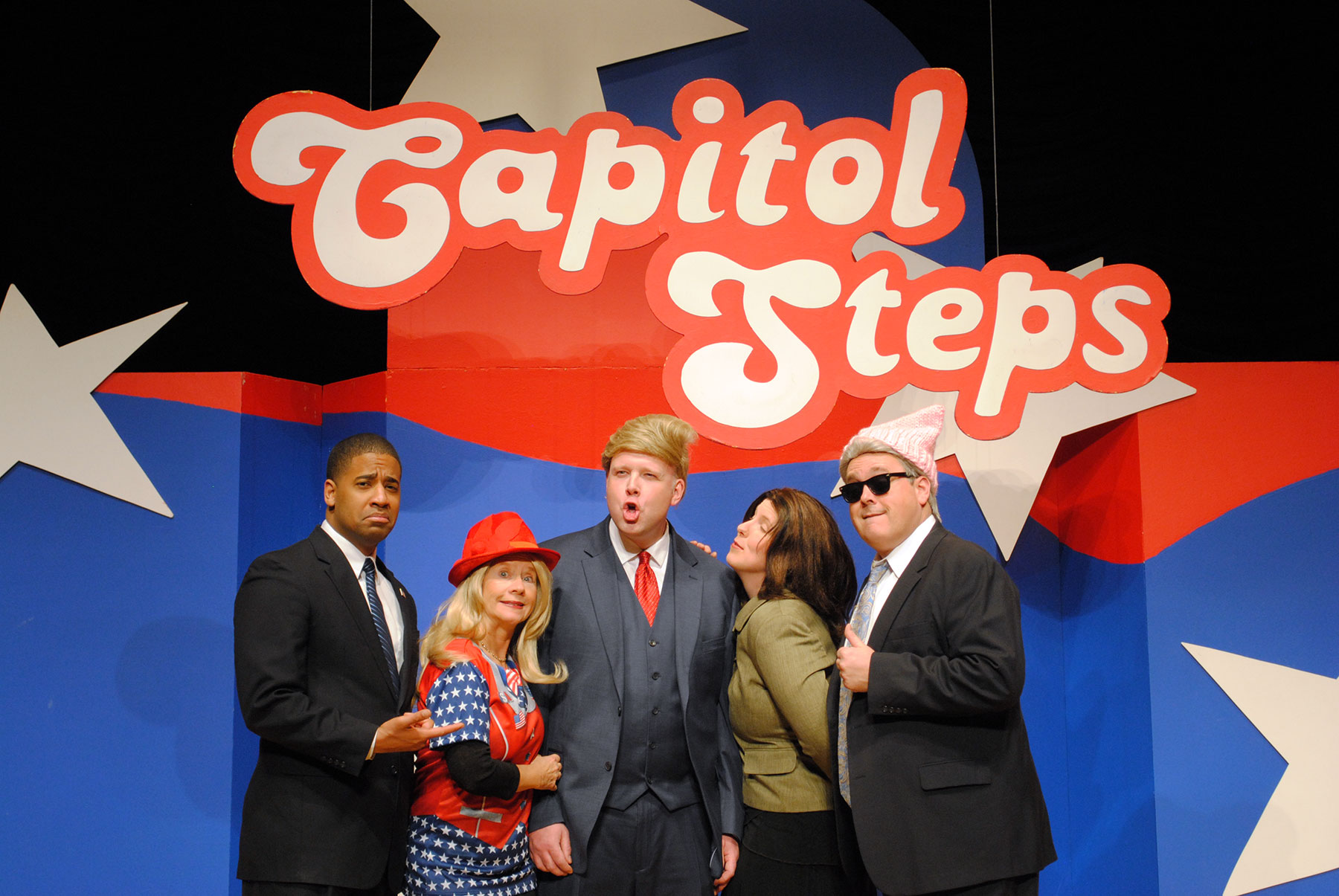 The Capitol Steps political satire musical group ("We Put the MOCK in Democracy!") will be appearing at the Lobero Theatre on Monday, May 8, at 8 p.m. I recently had the chance to speak with the troupe's cofounder/producer/writer Elaina Newport. Below is a bit of our interaction.
With the boring Trump regime in power, how can you come up with lively material? Like much of America, we are still pinching ourselves every time we hear the words "President Trump"! And since comedy is based on exaggeration, it's hard to stay ahead of this guy. When he first ran, I wrote a joke for the Donald Trump character in our show to deliver. We had Trump say, "I never kiss babies on the campaign train. Babies are LOSERS," which I thought was an exaggeration at the time, but then he really did get into it with a baby at a campaign rally. And ever since, whoever plays Trump in our show basically has to be fearless and willing to learn stuff on very short notice, based on the latest tweet. Once, I even texted a joke to our Trump character as he was waiting backstage to go on!
There are some consistent themes. For example, right now we have Melania in our show singing "I Want a Man with a Small Hand" (to The Pointer Sisters' "Slow Hand"). Unless Trump's hands grow, that'll work for a while! The other thing is that we try to keep our show bipartisan, which is harder when one party is in power. So we're glad that Bernie Sanders and Elizabeth Warren and Nancy Pelosi are still making noise. That helps a lot! I like to say that our show is the only place you can see Trump sing a rock song, Bernie sing a show tune, and Vladimir Putin dance (shirtless) all on one stage!
How do you get away with those song satires? Do you get secret legal advice from Attorney General Jeff Sessions? We do not get secret legal advice. And especially not from Attorney General [Jefferson] Beauregard Sessions. Since we have a song about him in our show, he's had to recuse himself.
Do you actually perform on the steps of the Capitol? Is that legal? No, it is not legal to perform on the steps of the Capitol! You can't even take a photo there without risking your name being added to the no-fly list — which, by the way, we risk every time we travel. You should see how some TSA agents react to our props! You can't blame them for wondering why we would need a Kim Jong-un costume.
Do you think President Trump might appear in one of your shows? I never rule anything out with this guy! But given that he's skipping the White House Correspondents dinner, and that he often shoots off an insulting tweet at Alec Baldwin, I kind of doubt it. But he's welcome to come to our show — we like to think he would enjoy it bigly. And if he needs a ticket, I'm sure he could get Mexico to pay for it.
4·1·1 Capitol Steps plays Monday, May 8, 8 p.m., at the Lobero Theatre (33 E. Canon Perdido St.). Call (805) 963-0761 or see lobero.org.