Food
Foodie Awards 2017
The 'Santa Barbara Independent' Presents Its Eighth Annual Ode to Eating Out
When we started the Foodie Awards back in 2010, Santa Barbara felt as if it were on the verge of exploding with edible opportunity. Long a forerunner in the farm-to-table game, our seaside city was then burgeoning with creative culinary experiments usually reserved for cities with much bigger populations.
Seven years later, the epicurean explosions continue, with some of the most exciting restaurants opening in the past year alone. And these ventures are increasingly adventurous, as modern diners from near and far become ever more enamored of the lives of chefs, continue growing comfortable with obscure ingredients, and appreciate that real food prepared properly doesn't come cheap.
So here's a big "Cheers!" to the following 10 restaurants for keeping Santa Barbara food lovers satisfied in every season.
Pico at the Los Alamos General Store: Worth the Drive Award
Just when the two-block culinary wonder that is Los Alamos seemed to reach peak food, along came Pico. It starts as home base for the return of wine legend Lane Tanner, making Lumen Wines with Will Henry, who owns Pico with his wife, Kali Kopley. But then it goes and pushes farm-to-table to delicious extremes ​— ​many of their eggs, for instance, come from hens in their backyard (where there's a delightful patio).
Then there's chef Drew Terp, with a Michelin-star résumé. "Such an interesting and intelligent person. And he works harder than anyone I know," Henry claims. "This is the first restaurant where he has had complete creative freedom, and it seems to be working better than we could have ever expected. He makes absolutely everything in-house: the charcuterie, the condiments — even the bacon is house smoked."
Oh yeah, that bacon. It will ruin you for anyone else's piggie product. Now with a full liquor license, Sunday burger night, and cooking classes, Pico is a one-stop culinary shop. "We are all creative people, and creative people never stop, well, creating," Henry says. "We want Pico to be an experience, not just a restaurant."
458 Bell St., Los Alamos; (805) 344-1122; losalamosgeneralstore.com
Corazón Cocina: Ceviche y Mas Award
Ramón Velázquez is the only chef to have won two Foodies: first at the original version of Cielito, and now at Corazón Cocina. He's gifted the Santa Barbara Public Market with glorious tacos, from al pastor to white shrimp to cauliflower, redolent of all the flavors of Mexico yet crafted with the skill of a sushi master (he did his time at Arigato). Not surprisingly, the ceviche is also an often sold-out hit.
"I know it sounds funny and cliché to say this, but we do cook our food with our heart and passion," Velázquez says. "Like my grandma used to say, 'If you cook with your heart, everything tastes better.'"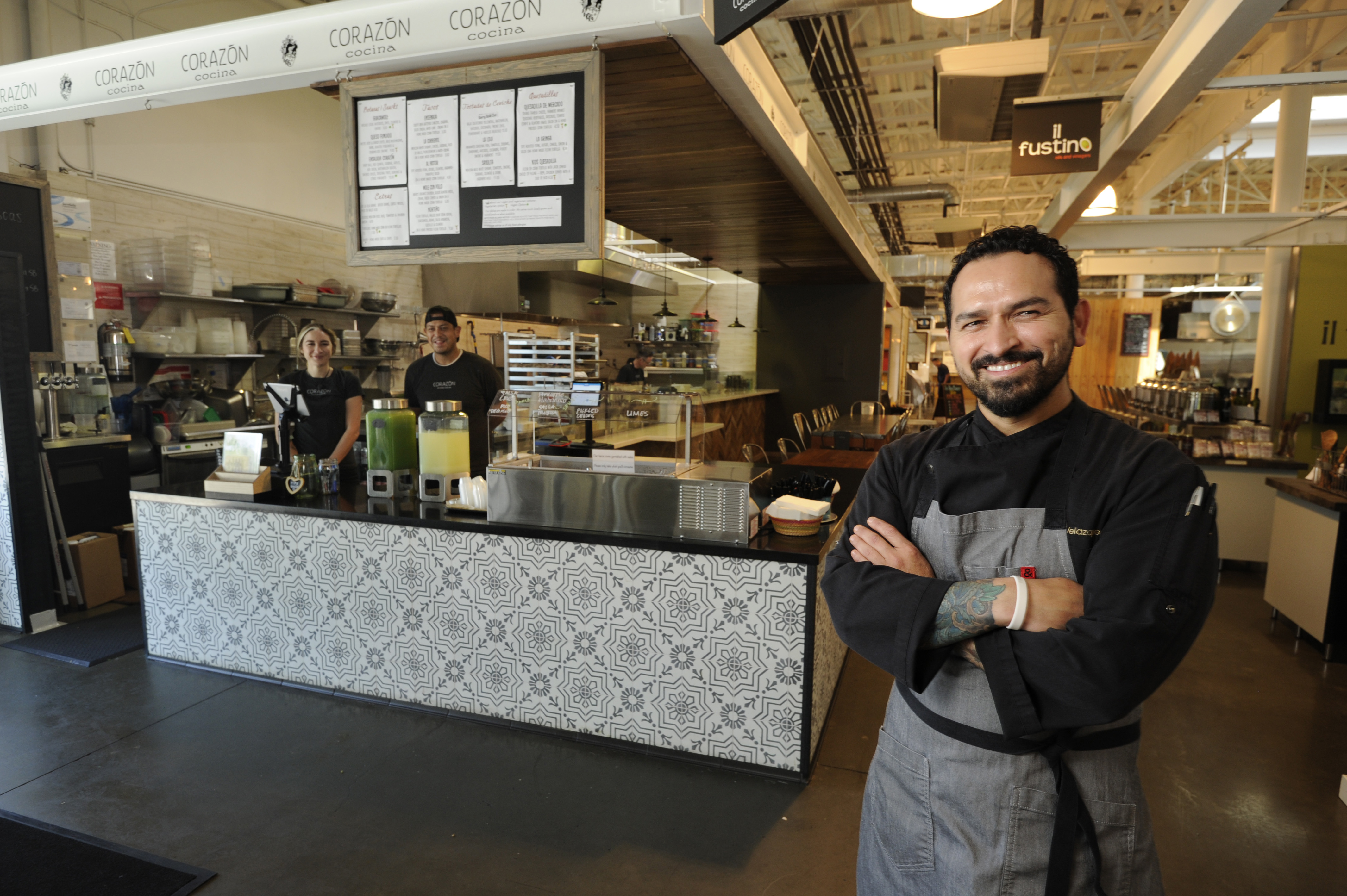 We're talking gorgeous food that attracts gorgeous people ​— ​Charlize Theron and Natalie Portman have graced CC's counter ​— ​but Velázquez is most excited about the support of L.A. superchef and Mozza co-owner Nancy Silverton. You will have to wait in line, but as Velázquez promises, "We hear over and over from people, 'It's well worth it.'"
"Stay tuned," he advises. "Corazón is going to get better, and we are growing."
38 W Victoria St.; (805) 845-0282; sbpublicmarket.com
The Honey B: Hidden Veg-Friendly Gem Award
Just read website comments (trigger warning!) and you'll learn mighty fast vegetarianism still freaks many folks out. Of course, they'll die an unhealthy death sooner than lean, green others, but what's worse is cantankerous carnivores will miss the fantastic pleasures of a spot like The Honey B, which currently offers a 90 percent vegetarian menu.
"As a vegetarian, I wanted to create a menu with the foods that I knew best," says owner-chef Katie Belanger. "I've always loved plant-heavy meals because they leave you feeling satisfied and energized."
And so tasty! This is the spot where you get to delight in a blueberry BBQ sauce that's more piquant than sweet; it just happens to come on walnut–black-bean sliders. Sure, there are bowls with curry and kimchi, but there are also envelope-pushing cornbread waffles with chipotle-garlic jackfruit.
Best of all, from her aerie above Antioch University, Belanger is sort of in the attic of the farmers' market. "I love having access to all the fresh produce basically at our doorstep on Saturday mornings," she says. "I'm constantly creating new specials with the bounty of seasonal produce."
602 Anacapa St.; (805) 895-4248; thehoneybkitchen.com
Woodstock's Isla Vista: Kids Who Care Award
Fine, get all froufrou with your pizza. The rest of us will all be chowing down at Woodstock's in Isla Vista, where it's been since 1982. It's racked up 24 consecutive Best Pizza awards in UCSB's Daily Nexus ​— ​you try pleasing students for over two decades.
So sure, the new seasonal pizza features the dopily druggy name Too Loaded So Baked (creamy garlic sauce, tater tots, bacon, green onions, and a sour cream drizzle). But then there's also the great care they take with a 14-tap rotating beer selection, supporting regional breweries and the best of the rest (think M.Special, Firestone Walker, Pizza Port, Oskar Blues). Plus, while in I.V. and staffed mostly by students, it's run surprisingly well. Help is nice, pleasant ​— ​heck, helpful.
"The main thing is having fun. We are just making pizza. Why can't it be fun?" says Jeff Willis, Woodstock's marketing rep. "If the employees are having fun enjoying their job, it rubs off on the customers who then have fun themselves."
928 Embarcadero del Norte, Isla Vista; (805) 968-6969; woodstocksiv.com
Via Maestra 42: Italy in Your Neighborhood Award
When you name your restaurant after the address where you grew up, you better deliver. And that's exactly what Renato Moiso has done for almost 17 years at this beloved San Roque spot. He has helped bring to his cozy establishment the deliciousness of Piedmont and the rest of Italy for decades, from sandwiches on fine focaccia ​— ​the Modena with mortadella is no mere bologna ​— ​to pasta like ravioli zuccotto ​— ​filled with pumpkin and slathered in sage brown butter. Those with a sweet tooth won't be able to pass up the gelato case, or the torta della nonna, no doubt as good as the one Moiso's grandma made. "I try to keep everything authentically Italian, from the silverware and dishes to the waitstaff and music streamed live from Torino," Moiso told the Indy in 2016. "I want a feeling of comfort here, like my home. I want to give my customers that much." He gives us so much more, what with a deli case of delectable takeaways to the catering that wins raves.
3343 State St.; (805) 569-6522; viamaestra42.com
Loquita: Spain in Santa Barbara Award
There's always been a slight disconnect between Santa Barbara and its strategically curated Spanish past, which is often conflated with our Mexican roots as well. So when Sherry Villanueva of The Lark (Foodie Award winner in 2014) announced that her next Funk Zone restaurant would be Spanish style, people weren't exactly sure what that meant.
But almost exactly a year to the day since its opening, everyone knows that Loquita thrives as a delicious and dazzling postcard to modern Spanish cuisine. The buzzing restaurant, where gin 'n' tonics and anchovy pintxos flow into Priorat blends and squid-ink-soaked paella, is finally giving Santa Barbara a tangible bite of San Sebastián, Barcelona, and Valencia.
"It's Spain, but in a California kind of way," says Villanueva. "We're trying to tap into what everyone loves about Santa Barbara, which is that Spanish influence, and do it in the most elevated, authentic, and highest-quality way."
The impeccable team service is knowledgeable and friendly, the food is meticulously sourced and leave-no-morsel-uneaten irresistible, and the setting is stylishly sleek but warm. "We push excellence with everything we do," explains Villanueva. "We talk about it every single day in every single meeting. How are we pushing excellence in our food, in our service, in our space? That's what we're all about."
202 State St.; (805) 880-3380; loquitasb.com
The Black Sheep: Casually Gourmet Award
The overwhelming trend in American dining is toward inventive fare served in a casual setting, and the Perez family's Black Sheep has been nailing this formula for Santa Barbarans since May 2014. The experience is like stepping into the vibrantly colored living room of your cooler, artistic cousin and then being served dish after dish of palate-tantalizing fare, from rich bone-marrow bruschetta and crispy duck confit to bright scallop crudo and salty boquerones.
"We're a Spanish-Asian-French gastropub," says Ruben Perez, whose dad, Robert, runs the kitchen. The family took over this corner when it was Seagrass back in 2010 and continues evolving the offerings, most recently closing the adjacent Oveja Blanca to make more room for Black Sheep. A craft sake cocktail bar is next in line.
"We definitely want to be considered a neighborhood hangout gem. Come as you are and enjoy ​— ​the pretentious stuff can stay at the door," says Ruben Perez, who considers his regular clientele family. "We show appreciation for those guests who come through the door and do whatever it takes to make sure they leave happy."
26 E. Ortega St.; (805) 965-1113; theblacksheepsb.com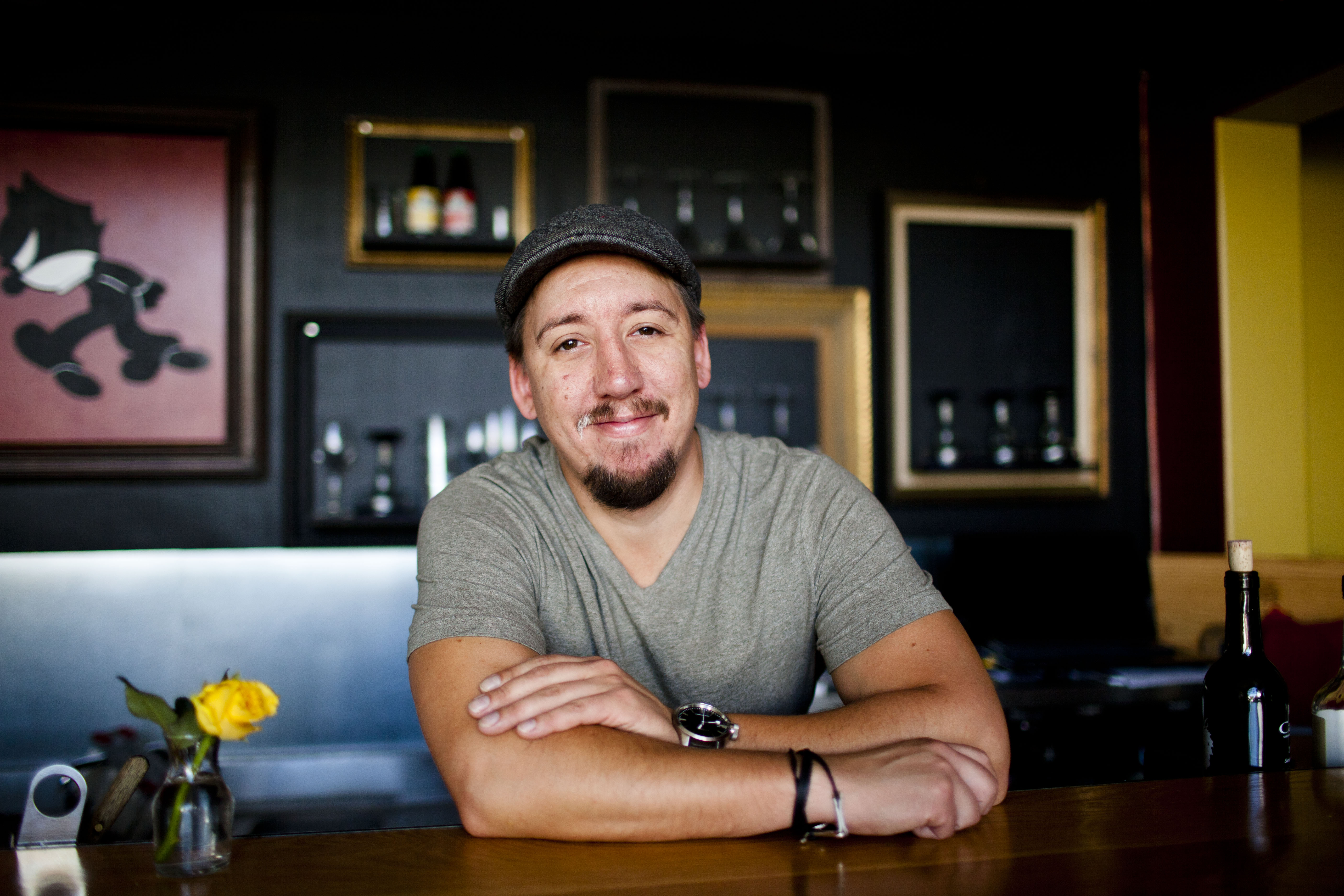 East Beach Tacos: Taquería Gone Loco Award
Though creative tacos are on menus everywhere these days, they caused quite the Santa Barbara buzz in late 2013 when East Beach Tacos started serving ahi poké, bánh mì, and Korean barbecue concoctions on tortillas. That they were served for affordable prices and next to the only batting cages in town only added to the mystique, and four years later, the quality and consistency of Michael Anderson's tiny taco stand are as sharp as ever.
"I wanted to create a menu that was diverse and catering to everybody, not just a certain type of person," says Anderson, whose menu also plays off the batting cage connection, with the Triple Play (three-taco combo for $9), Home Run (cheeseburger), Fowl Ball (chicken sandwich), and Bases Loaded (hot dog). There's also standard carne asada and carnitas as well as the popular spicy shrimp, battered cod, and grilled fish options, quite the spread for such a confined space.
"It was such a small kitchen, we didn't have room for a lot of ingredients," says Anderson, an Ojai native whose previous experience was on the beverage side of restaurants from Santa Monica to New York City. "But it's a good thing because we get deliveries every day, and we keep everything fresh. That's what our customers appreciate."
226 S. Milpas St.; (805) 770-2761
Dutch Garden Restaurant: Schnitzel and Suds Award
In an age of health-obsessed eating, cutting-edge ingredients, and tradition-busting techniques, the Dutch Garden on State Street remains a bustling bastion of classic German cuisine, from bratwurst, weisswurst, and smoked liverwurst for lunch to jaeger schnitzel, pork knuckle, and rouladen at night. Add to that authentic sides like tangy potato salad and spaetzle, soups from homegrown ingredients like Jerusalem artichoke, and the greatest German and Belgian beer list in possibly all of California ​— ​thanks to the owners of Global Beer Network being regular customers ​— ​and there's little wonder why the leafy outdoor patio and low-ceilinged, hunting-lodge-like interior are filled with diners of all ages every day and night.
"Two words: comfort food," says owner Ken Luetjen, who took over the historic restaurant in 1984 with his wife, Laurie, after cooking Japanese, French, and other food in Los Angeles for years. "And owner-operated consistency. Those are the key things."
Though meat dishes dominate, Luetjen explores fresh fish every day, from the steady trout entrée to a rotating cast of regionally sourced specials, recently including swordfish, salmon, and white sea bass. He's also frequently at the farmers' market when his own garden's herbs and veggies aren't enough. Most of all, though, success comes from his own enjoyment. "I just like the kitchen," he explains. "I just like cooking."
4203 State St.; (805) 967-4911
Restaurant Roy: 'The Izzy' Lifetime Achievement Award
For nearly a quarter century, Santa Barbara's theater crowd, concertgoers, and contemporary art lovers who crave carefully crafted and freshly sourced meals into the later evening hours have found solace in Restaurant Roy. Since 1994, chef-owner Roy Gandy ​— ​who first opened Espressway Café on Chapala Street in 1989 before moving to Carrillo Street four years later ​— ​has served "bistro-style Americana" dinners in a neon-enhanced, mid-century setting until midnight Tuesday to Sunday. He writes the menus by hand, hosts a new art installation every month, and frequently brings up-and-coming musicians in to entertain the legions of diners who know that this is the only late-night, sit-down place to eat downtown.
"You get known for what you do, and we're a late-night place," says Gandy, whose 10 p.m. to midnight hours have always been a steady part of his business. "It's easy for people to get into their heads," says Gandy, who's watched others try but fail to break into the late-night scene. "I stuck it out; that's all."
Gandy hails from Buffalo, where his family ran a restaurant from 1919 to 1982. "I was born into it," he says. "I started working when I was 13 or 14 years old. It really has been a lifetime."
7 W. Carrillo St.; 966-5636; restaurantroy.com
Foodie Award Honor Roll
Here's a list of all past winners of the Foodie Awards, which we started back in 2010.
2010
Fish Out of Water Award: Buellton's A-RU Sushi
Culinary Heights in the Valley Award: Budi Kazali @ The Ballard Inn & Restaurant
Heaven Scent Bakery Award: Bella Dolce Bakery's Scones
Service Masters Award: bouchon/Wine Cask
Farm-to-Fork Award: Buttonwood Winery's All Farm Dinner
Rock of Sages Award: Ca'Dario's Ravioli al Burron e Salvia
Post-Farmers Market Double Dip Award: C'est Cheese and Our Daily Bread
Chef Does Shell Award: The Cultured Abalone by Michael Hutchings
Breakfast of Champions Award: D'Angelo Bread's Poached Eggs and Toast
Super Sommelier Award: Eric Maldanado @ Lucky's Steakhouse
Resurrected Room with a View Award: The Harbor Restaurant
Ale to the Chef Award: Hollister Brewing Company's Beer Dinners
Classy Candy Award: Jessica Foster Confections
Kill Your Hangover Award: Judge for Yourself's Bleu Cheese and Bacon Omelette
Livin' La Vida Loca Award: Restaurant Julienne
Perfect Pair Award: Opal's Perfect 10 Martini with Chile-Crusted Filet Mignon
Vegetarian Goes Gourmet Award: Plow & Angel's Marinated Tofu
Luscious Spain Without Wallet Pain Award: Santa Barbara Museum Café's Tapas Menu
Naturally from Scratch Award: Sly's in Carpinteria
Inaugural Lifetime Achievement Award: La Super-Rica Taqueria's Isidoro Gonzalez
First Farm on the Menu Award: Tom Shepherd's Greens
2011
Late, Great Dining Award: The Blue Owl
Tops in Tapas Award: Cádiz Restaurant & Lounge
Embracing the Past Award: Cold Spring Tavern
The "Izzy" Lifetime Award: Downey's Restaurant
Sassy, Classy Service Award: Esther Lau @ Hollister Brewing Company
Reason to Pull Off Highway Award: Full of Life Flatbread
Half-Off Doubles Happiness Award: The Hungry Cat's Happy Hour
Pizza Night for Adults Award: Olio Pizzeria
Family-Friendly Feast Award: Petrini's Restaurant
Onion Pancake and a Hug Award: Red Pepper Restaurant
Perhaps This Is Paris Award: Renaud's Patisserie & Bistro
The Lazarus Award: Three Pickles in Jimmy's Oriental Gardens
Eco-Cool Award: Wine Cask's Wine-on-Tap Program
2012
Upping the Antojitos Award: Cielito Restaurant & Taquería
A Walk in the Woods Award: Santa Barbara Wine Festival
Mad Men Award: Tee-Off Restaurant & Lounge
Friendly Faces on State Street Award: Pace food+drink
Grateful Brunch Award: Scarlett Begonia
Steady Service Award: Zacc Young @ The Brewhouse
Frozen to Perfection Award: Here's the Scoop
All the Meat Fit to Eat Award: Lilly's Taquería
Worth the Drive Award: Bell Street Farm
Lifetime "Izzy" Award: The Hitching Post II
2013
Worth the Drive Award: Sides Hardware and Shoes Los Olivos
Fist of Fin and Feather Award: Arigato Sushi "Gold Shot" Sea-Urchin-with-Quail-Egg Shooter
Pop-Up Kings Award: Spare Parts Bistro
Lifetime "Izzy" Award: The Isla Vista Food Co-op
Farm-to-Bar Award: Patrick Reynolds
Cook Comes Home Award: Ron True @ Arlington Tavern
A Chef for All Seasons Award: Alessandro Cartumini @ Four Seasons Resort The Biltmore Santa Barbara's Bella Vista
Sensational Salsa Award: Taquería la Colmena
Toes in the Sand Award: Shoreline Beach Café
2014
Behind-the-Scenes Baker Award: Ethnic Breads
"The Izzy" Lifetime Achievement Award: Rose Café
Gutsy Game Changer Award: Santa Barbara Public Market
Line Around the Corner Award: Cajun Kitchen
The Upbeat Beans Service Award: Beth Flett @ Good Cup on the Mesa
We All Scream for Ice Cream Award: McConnell's Fine Ice Cream
Funk Zone Epicenter Award: The Lark
Haute Hipster Award: Sama Sama
Old Town's New Classic Award: Goodland Kitchen & Market
Milpas Moves Up Award: The Shop Café
Worth the Drive Award: S.Y. Kitchen
Coastline Creativity Award: Toma Restaurant & Bar
2015
Cook's Cook Award: Justin West at Julienne and Wildwood
"The Izzy" Lifetime Achievement Award: Paradise Café
Goleta Goes Hipster: The Goodland Hotel
Raising Regional Award: Barbareño
Way Worth the Drive Award: Industrial Eats
Patio Salvation Award: Benchmark
Veteran Service Award: Harry's Plaza Café; Ruben Rosas and Renee Donati
Putting the "To" in Farm-to-Table Award: Harvest Santa Barbara
Vanguard Veggies Award: Mesa Verde
2016
"Izzy" Lifetime Achievement Award: The Habit Burger Grill
Worth the Drive Award: Bob's Well Bread
Two Centuries of Service Award: Veteran Staff of Joe's Café
Savvy Street Food Award: Empty Bowl Gourmet Noodle Bar
Funk Zone Favorite Award: Mony's Mexican Food
Good Eats for Great Causes Award: Kyle's Kitchen
Quietly Killing It Award: Petit Valentien
No Need for Lunch Award: El Zarape's Breakfast Burrito
Secretly Vegan Award: Five & ¼
Reinvented Seafood Shack Award: Kanaloa Seafood
Foodie Award Ceremony
You're invited to join the winners for a casual award ceremony at the Wine Cask (813 Anacapa St.) on Monday, October 2, at 5:30 p.m., when they will be presented with their plaques and say a few words about the honor!