S.B. Questionnaire
The S.B. Questionnaire: Amy Isabella Chalker
Talking Artisan Eats, Zero-Waste Products, and Authenticity with the Creator of Isabella Gourmet Foods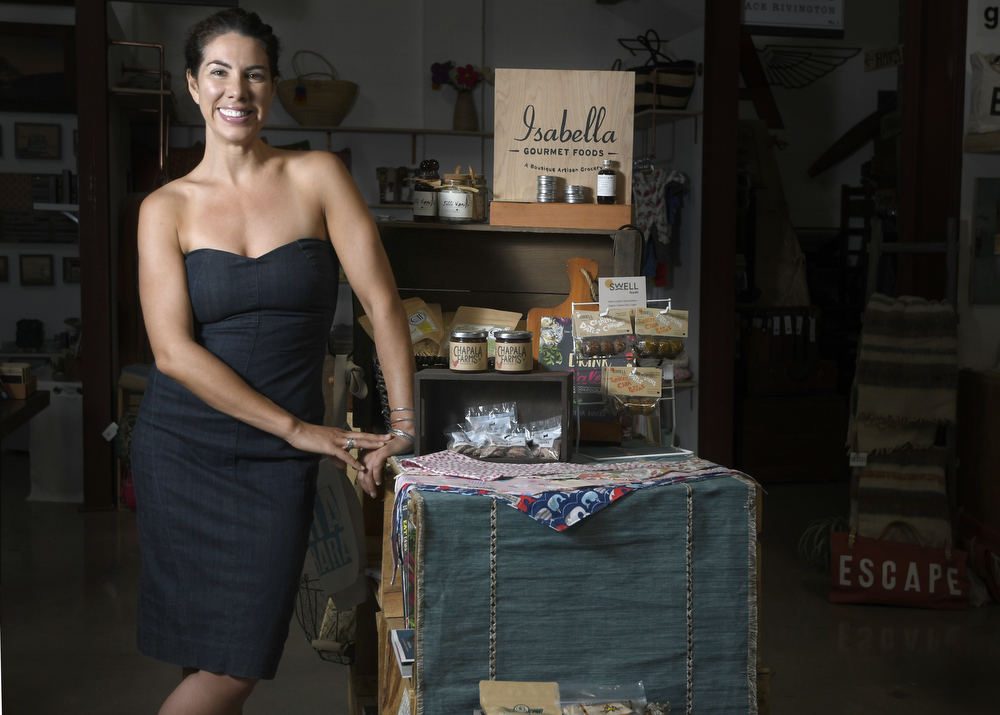 When I meet food entrepreneur, curator, and nutritionist Amy Isabella Chalker at El Encanto for drinks, she points out the coincidence that she'd started her career in Santa Barbara as a hostess at this hotel until it closed for renovations.
She lovingly recalls having her first celebrity sighting there, when she spotted Hayley Mills, star of The Parent Trap, a childhood favorite. It was her introduction to the Santa Barbara lifestyle.
Amy was born in Cape Cod, Massachusetts, which she calls the Santa Barbara of the East Coast. She was accepted into Barnard College in New York City, but 9/11 happened 11 days after she arrived, so she transferred to Simmons College in Boston to major in nutrition and food science. "That's when I discovered yoga," she remembers. "I started a journey of health and wellness."
She became a registered dietitian, so needed to fulfill a dietetic internship at an accredited institution. Following her roommate's advice, she chose Santa Barbara for those nine months of accreditation. Her ultimate goal was to work at the Canyon spa in Massachusetts, one of the only destination spas with an on-site nutritionist. Lo and behold, her dream came true and she was offered the job — but when it came time to leave Santa Barbara, she couldn't do it. "It did what Santa Barbara does," she tells me about her decision to stay in our city. "It's like a vortex."
Besides, from a young age, Amy knew she wanted to be an entrepreneur. She opened her own practice as a nutritionist after also getting a massage therapy license. She did that for six years, all while dreaming of opening her own gourmet food shop.
"My father was a fisherman," she tells me. "I was a clammer in the summertime. I thought Santa Barbara could use a gourmet shop." So she opened Isabella Gourmet Foods on Figueroa Street.
It was well received, and the storefront became a launching pad for a lot of artisan food businesses, such as Santa Barbara Popcorn Company, Tesora candies, and Vegan Mario's Bread. Unfortunately, the location proved to be challenging, for it wasn't on State Street. She decided to close the store and instead focus on pop-up shops.
She currently has two. One is inside The Honey B at Antioch University, where she sells locally made products, including from Twenty-Four Blackbirds Chocolate, Chapala Farms, Santa Barbara Popcorn Company, and Tesora. Her second shop is at The Guilded Table in the Funk Zone, and it's more gift-oriented, selling cookbooks and other products produced in the region.
"I'm about to open a third one right next door to the Natural Café," she shares excitedly. "It will be a seasonal store called The Blue Christmas Collective, an eco-friendly collective including Isabella Gourmet foods and 15-20 other zero-waste artisan products."
She also does marketing consulting for brands, including Viva Oliva in Montecito, and recently curated the concession stand at the Santa Barbara International Film Festival's newly remodeled Riviera Theatre, where she features locally sourced movie goodies.
When I ask her about using the name Isabella as her brand, she explains, "I always thought if I did something of note, it would be using my middle name.
There's something about the name Isabella that is timeless."
Amy answers the Proust Questionnaire.
On what occasion do you lie?
I read a quote recently that suggested humans have evolved to practice denial when confronted with the unacceptable/intolerable. I'm sure this applies to me as well: When we feel challenged by something that confronts a core belief, we lie/deny to protect it/ourselves. I do that, though I've spent the last decade or so slowly challenging many of those beliefs. So hopefully I lie less now!
What do you consider your greatest achievement?
Beginning my life in Santa Barbara: Not knowing anyone initially but ultimately establishing myself as a contributing member of the community. The small East Coast town where I grew up was incredibly close-knit, and it's not easy to give that up and re-form your version of it somewhere completely foreign. You're sort of re-forming yourself at the same time.
Who do you most admire?
Anyone who, despite all signs pointing to "no," says "yes" and works to make things happen. To find drive, creativity, and ultimately success amid all the "no's" is such a resilient, strong trait that speaks to people's deepest motivations.
What is your greatest fear?
Financial destitution, and also hitting a personal wall. I suppose the former is, in part, the Santa Barbara voice talking — we all know the price we pay to live here! The latter is more about those moments I feel personally "stuck" and down.
I also fear accidentally touching that material on hangers in department stores. It's like nails on a chalkboard!
What do you like most about your job?
I appreciate being outdoors most of the time, even if I'm working on the computer or in a meeting. And the possibility of creating something new all the time; I crave variety and novelty (some might call that ADD), but I call it curiosity!
What is your idea of perfect happiness?
A life spent doing work that I'm so passionate about that it doesn't feel like work, moving my body, eating sushi and chocolate, traveling, reading everything, learning, being by the ocean, true human connection.
What is your greatest extravagance?
Travel. I try to take one to two bigger trips a year to reset and recharge, but also to challenge myself. It's easy to stay complacent and sort of "coast" in a city as idyllic as Santa Barbara, but travel forces me out of that lane and always highlights some new part of myself that I wasn't aware of.
What is your current state of mind?
Contemplative, curious, eager. I feel like I'm ushering in a new phase of my life that's more about taking care of myself rather than working myself to the bone. It definitely quiets my mind and makes me look forward to approaching new projects from a somewhat more grounded place.
What is the quality you most like in people?
Authenticity — the willingness to examine themselves, question their patterns, and do deep work. And to do it with some humor and lightness is even more attractive and admirable.
What is the quality you most dislike in people?
Superficiality — speaking without listening, and imposing unsolicited perspectives on others. We all do this to some extent, I suppose, but it takes thoughtfulness and restraint to just listen and feel whatever comes up.
What do you most value in friends?
Empathy — the ability to just hold space and really be there without giving advice or direction. It's not easy!
What is your most marked characteristic?
I get along with a wide variety of people in a wide variety of settings. Not assimilating necessarily, but really listening to where people are coming from to try to understand them.
Which words or phrases do you most overuse?
It probably used to be "wicked" when I lived on the East Coast (as an adverb, not an adjective!), but I've adapted to West Coast lingo, so probably "right?" I mean, right??
Which talent would you most like to have?
Professional ballerina. I danced for 13 years of my youth, right through college, and it never really leaves you. In my next life, perhaps …
If you could change one thing about yourself, what would it be?
Overthinking! I like to consider all angles of something and essentially beat a dead horse. Usually it's to avoid feeling something I don't want to feel or seeing something obvious that I'd rather not acknowledge, so I try to be aware of why I do go down that path when I do.
Where would you most like to live?
Multiple places simultaneously! New York City, Spain, Santa Barbara — tricoastal? Is that a thing? As I said, I crave variety, and that extends to my surroundings. A weekend in the city, followed by a quiet country trek, topped off with a day at the beach sounds just about right!
What is your most treasured possession?
My two cats — they're my longest relationship! I got them from ASAP 10 years ago as kittens. Went in for one, came out with two. Luckily I have a great landlord!
And my planner — I just can't bring myself to keep a schedule on a mobile device. It's all old-school!
Who makes you laugh the most?
My closest friends. They just know me, and since humor is one of my most favorite qualities in people, I'm certainly drawn to witty, comical, generally fun people!
What is your motto?
To be yourself, in a world that is trying night and day to make you like everyone else, means to fight the hardest battle you've ever fought and never stop fighting. (Paraphrased from e.e. cummings)
Which historical figure do you most identify with?
When I was young, I learned that Helen Keller shares my birthday, and so I've always been sort of fascinated by her life. Obviously I can't identify with her physical limitations, but her pursuit of a full life in spite of those massive limitations is inspiring to me.