Cover Story
Celebrating Santa Barbara's Environmental Victories and Anticipating New Challenges
Our Annual Ode to the State of Our Planet
There's no doubt about it: The planet is in a perilous state. And with so many environmental crises on so many fronts, hope can feel dangerously futile. Luckily, good news does exist. Differences are being made. This year alone, right here on the Central Coast, plans for a controversial oil train were defeated, the Carpinteria Bluffs were permanently protected, Diablo Canyon—California's last nuclear power plant—was ordered to shut down, a new commuter rail service chugged into reality, and the Carrizo Plain was preserved as a national monument. In our 2018 Earth Day issue, we celebrate more of these silver linings without forgetting the challenges we still face.
Below, you'll find previews of two deep dives into a pair of quiet environmental revolutions in Santa Barbara County, followed by a roundup of the great environmental battles of the last year.
The Amazing Ability of Pasture Grass to Sequester Carbon
by Jean Yamamura
A buzz has been generating in California agriculture circles over the possibilities of carbon ranching. It's not about producing carbon, as it might sound, but about putting more carbon back into the ground, naturally, through grasses. The theory goes like this: Native grasses send roots as deep as six feet underground, breathing in carbon dioxide as they breathe out oxygen. At a number of test acres across California, including at the Ted Chamberlin Ranch near Los Olivos, adding a thin layer of compost has created more topsoil, which feeds the microbes below ground, which enrich the grasses, which draw more carbon dioxide out of the atmosphere and hold it in their roots deep in the soil. Add cattle to the mix, and voilà! Carbon ranching. … (Read on.)
Educating the Next Generation of Environmentalists
by Matt Kettmann
For decades, the environmental movement focused on despair: the next extinct animal, the latest eco-disaster, the uphill plight to save a threatened landscape against big money and bought-off politicians. That mentality can't help but persist in this era of climate change, ocean acidification, and the last white rhino, but there is a new wave of environmental leaders working to bring hope and forward motion back to the equation. … (Read on.)
Seven Unfolding Stories That Are Shaping Santa Barbara's Environmental Legacy
by Indy Staff
Desal, the Double-Edged Sword
Even though intense winter rains and the Pineapple Express wreaked unholy havoc on the South Coast earlier this year, Santa Barbara still remains firmly in the clutches of one of the worst droughts ever recorded. The good news is that the City of Santa Barbara now has a functioning desalination plant to help us squeak by should meteorological conditions not change.
The bad news, of course, is that the facility requires ungodly quantities of electricity to work. That makes it a major producer of greenhouse gases. Those into bitter irony have noted that the desalination plant's emissions will exacerbate the very climatic conditions that made the plant necessary in the first place. Others are pushing behind the scenes for after-the-fact mitigations to offset the impacts of such emissions.
In the meantime, the Montecito Water District and the City of Santa Barbara have restarted negotiations to operate the facility in a regional fashion. This approach might seem too obvious for words, but given the highly fraught history of prior negotiations, it's anything but. Right now, the desal plant is run as an emergency backup supply only. Montecito is looking for a new source of water to meet daily, ongoing needs.
But does it make sense to use emergency water produced by Santa Barbara so Montecitans can keep their fabled landscaping green and lush? Such thorny questions aside, the facility could provide the key infrastructure footprint needed to develop the next new major water supply: treated sewage water. Where water is concerned, the future is flush with opportunity. —Nick Welsh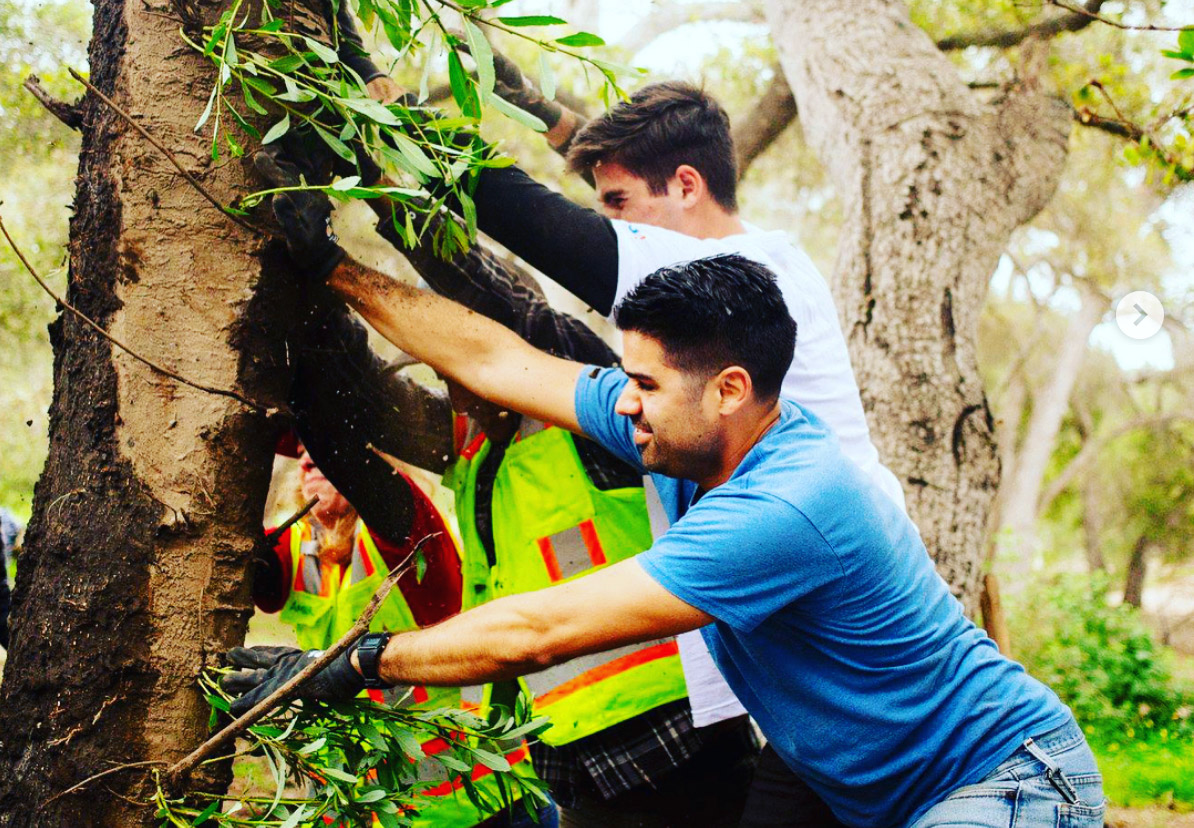 Saving Trees and Trails
More than 200 volunteers from half a dozen corporations geared up with garden gloves, N95 masks, shovels, and wheelbarrows to join the Santa Barbara Bucket Brigade's ongoing mission to dig out Montecito homes, trees, and trails inundated by the 1/9 Debris Flow. The event, held on April 12, was hosted by Oregon-based Conservation Alliance for its Backyard Collective environmental-action day ​— ​now in its 11th year ​— ​for volunteers from Deckers, Toad&Co, College Outside, Patagonia, REI, and All Good. "We're not just helping the environment," said Deckers CEO Dave Powers, giving a pep talk as volunteers headed to cleanup sites in a destroyed neighborhood off East Valley Road, "but also helping families rebuild their community. We're dedicated to giving back. It's our obligation."
While a small team focused on digging through a family's mud-filled home for buried keepsakes, most of the volunteers were dispatched to the oak woodland along San Ysidro Creek between East Valley Road and San Leandro Lane, a public open space established in 1997 as part of the Ennisbrook subdivision. Crews cleared debris from trails and removed mud from around the trunks of trees to prevent fungal disease. Much of the woodland is also littered with household items and trash lumber from upstream homes that were torn apart by the January flood.
Bucket Brigade cofounder Abe Powell explained to first-time volunteers that the magnitude of the destruction could be overwhelming but reminded them of how much their contribution ​— ​one shovelful at a time ​— ​means to both the helped and the helper. "This is as much a spiritual mission as it is a physical endeavor," he said. —Keith Hamm
Housing, and More Housing
When Santa Barbarans argue about "sustainability," typically what they're really fighting about is housing. As in how much, how high, and in whose neighborhood. That's been the case since 1976, when a team of eco-minded sociologists from UCSB penned "The Effects of Urban Growth" ​— ​perhaps Santa Barbara's single most important planning manifesto — and it's still true today.
Given Santa Barbara's screamingly expensive housing prices, the push for increased densities coupled with fewer parking requirements has become all but irresistible. Thanks to the city's awkwardly acronymed AUD (Average Unit-Size Density) program, developers are building rental housing like never before. It remains to be seen how affordable these new rental units will be, and neighborhood preservationists have reacted with outrage at what they term loss of community character.
Typically, a fight of this magnitude might leave City Hall paralyzed, but the issue might well be out of City Hall's hands. Last year, the state legislature passed a raft of housing bills that strip local governments of their ability to say no. Hold onto your seatbelts; what's been proposed this year in Sacramento is way more radical still. —Nick Welsh
Following Up on Oil Spill Fallout
ExxonMobil hopes to get people back to work in Santa Barbara soon. After Plains All American's pipeline ruptured in 2015, Exxon was forced to shut down its operations and lay off about 200 employees. Some were reportedly relocated to Texas and others to the Middle East. Now, they are one step closer to coming home.
County energy staff recently deemed Exxon's proposal to truck oil complete. To move forward, it needs the approval of the Planning Commission, which will likely consider the application early next year. Regardless of the decision, it is expected to be appealed to the Board of Supervisors.
According to the application, Exxon proposed a "phased restart," which includes installing a crude-oil truck loading facility at Las Flores Canyon. It has the capability to load up to four trucks at a time and up to eight trucks in any hour, the proposal states. As many as 70 trucks would be permitted to leave the facility every day. The next step is for the county to accept bids for environmental review, explained energy expert Errin Briggs.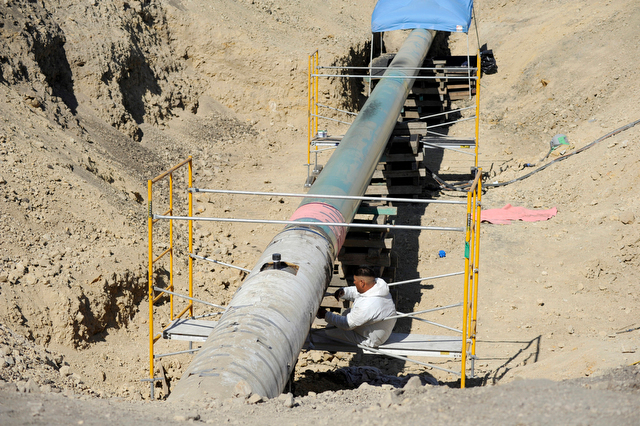 Meanwhile, Plains' proposal ​— ​to rebuild the ruptured Line 901 and the connecting Line 903 ​— ​is expected to be deemed complete by county energy staff this week, Briggs said. If approved by county officials sometime next year, Plains plans to build a smaller pipeline that would be what they described as "thicker than required," particularly along the coast. The new pipe would range from 12 to 20 inches in diameter rather than the old pipe's 24 inches. The environmental review process is expected to take about a year and be ardently opposed by environmental activists.
Venoco was not as lucky as deep-pocketed Exxon and Plains. That company filed for bankruptcy and announced last April it would shut down its operation ​— ​coincidentally the same day that Secretary of the Interior Ryan Zinke was in town to speak at the Reagan Ranch Center. Two of the three State Lands commissioners ​— ​Betty Yee and Gavin Newsom ​— ​had publicly stated they would deny Venoco's plans to alter its offshore Platform Holly. An effort to plug and abandon Holly is slowly underway, Briggs explained.
Later this year, the county supervisors are expected to consider applications for more than 750 unconventional oil wells at Cat Canyon, an Orcutt oil field. Environmental activists have already promised to put up a fight. Here are the companies and the number of wells they are proposing:
ERG: 233 cyclic steaming wells
Aera Energy: 296 steam flooding and cyclic steaming wells
PetroRock Energy: 231 cyclic steaming wells
—Kelsey Brugger
Commuter Rail Arrives
After years beating her head against a seemingly impenetrable brick wall, State Senator Hannah-Beth Jackson won a small but major victory in the struggle to bring commuter rail service to the thousands of daily commuters from Ventura to Santa Barbara. Jackson ​— ​and about 100 other stalwart faceless bureaucrats ​— ​got Amtrak to change its early-morning train schedules this April. The new service has experienced more than a few initial hiccups, but those appear to be getting better.
In other train-related news, oil company Phillips 66 was forced to abandon efforts to launch a new oil train carrying 6.6 million gallons of crude oil a week to its treatment plant in Nipomo. Environmentalists up and down the coast waged a three-year battle to stop the 80-car train. Given the thickness of the crude, potentially explosive diluents would need to be added to get the oil in and out of the train cars. Environmental critics likened the train to a mile-long Molotov cocktail. The San Luis Obispo county supervisors rejected Phillips's proposal by a narrow 3-to-2 vote. The company toyed briefly with filing a legal appeal, but threw in the towel in October. —Nick Welsh
Plugging In to Renewable Energy
Less than a week after Donald Trump first indicated his intent to withdraw from the historic Paris Climate Accord, the Santa Barbara City Council adopted the goal of meeting all of City Hall's energy needs with renewable energy by the year 2030. The council chambers were packed. Most striking was the generational breadth of those advocating the policy. Not long after, the City of Goleta followed suit. History has yet to determine whether these were yet more feel-good resolutions or ones with teeth. Sigrid Wright of the Community Environmental Council insists they give advocates a big sledgehammer when pushing for solar, wind, and battery storage alternatives to electricity produced via natural gas. In fact, last year, the Public Utilities Commission (PUC) denied three major regional energy proposals that relied on natural gas, in Oxnard and Moorpark and at Ellwood.
Santa Barbara's old energy infrastructure is located at the tail end of Southern California Edison's grid system. To upgrade system reliability, serious changes have to be made. But the two city council resolutions ​— ​coupled with the PUC rulings ​— ​give environmental advocates a major leg up arguing for renewables. Earlier this year, the PUC approved plans to shut down the nuclear Diablo Canyon Power Plant, which, it turns out, could not compete economically with all the cleaner renewables now available. With the plant's licenses set to expire in the next few years, Diablo Canyon's owner ​— ​PG&E ​— ​opted to pull the plug rather than endure the protracted agonies of relicensing. That's huge. ​—Nick Welsh
Bike Sharing, More Lanes Hit Santa Barbara
The most obvious manifestation of Santa Barbara's new Bicycle Master Plan ​— ​many years in cogitation ​— ​is the mile-long stretch of protected bike lane that now runs along Cota Street from Milpas to Chapala streets. Plastic bollards give riders a three-foot buffer, at a total loss of 36 on-street parking spaces. Some restaurant owners did complain they might lose lunch customers, but the backlash has not been intense. Another move forward happens this June courtesy of UCSB, when 600 new bikes will show up on campus and the streets of Isla Vista. The university contracted with a bike share company, CycleHop from Santa Monica, which charges fees as low as 50 cents a ride. The bike share concept could also help commuters using Amtrak's early-bird train service from points south to Santa Barbara and Goleta get to their work and move around town easily.
Less immediate but perhaps more dramatic, the City of Santa Barbara has all but secured funds to build a Class I protected bike lane from the base of Modoc Road (by the Vie Obern trail) to Las Positas Road to the beach and finally all the way up to Cliff Drive. When built, this will be the first Class I pathway Santa Barbara has built since the 1970s. Also, the city has found funding to install "bike boulevards" on the Eastside along Alisos Street, creating a safer route to Milpas Street, and on the Westside. In addition, bike advocates are teaching bicycle safety techniques to kids in about 20 elementary schools as part of the schools' physical education curriculum. "A lot of people don't believe behavior change is possible," said Ed France of the Bicycle Coalition. "But we're now teaching kids by the thousands how to ride safely." A lot of those kids, France added, have never before ridden bikes. Now they have. —Nick Welsh