Film & TV
'Babylon Berlin' Is a Seductive, Gritty, Film-Noir-Basted Wonder
Netflix Original Series Explores 1929 Germany's Weimar Republic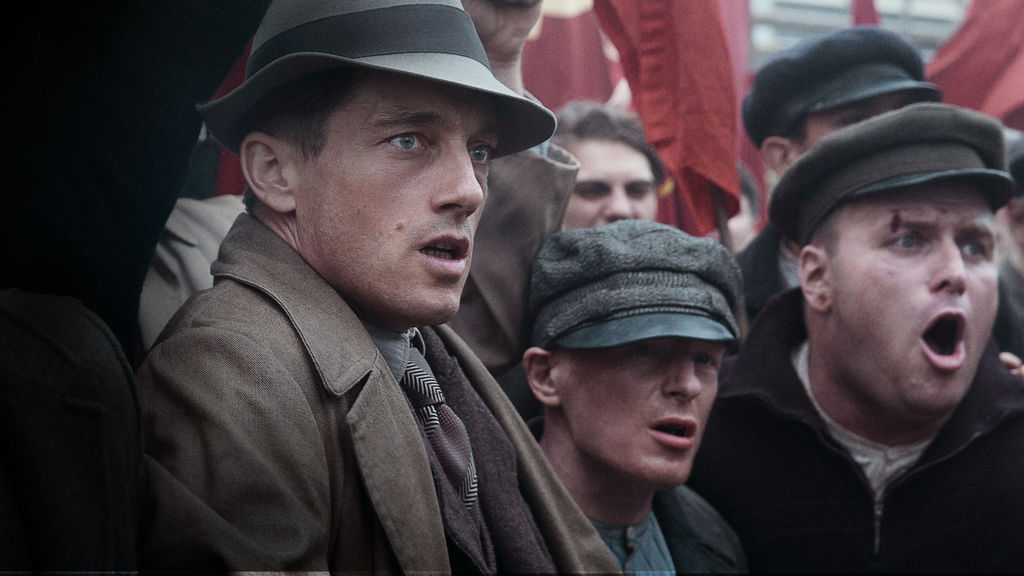 Back in the day, long before the TV attained its current lofty status, filmgoers sometimes caught a prophetic taste of television worthy of a big-screen experience. Some three decades ago, for instance, a faithful throng filed into the old Victoria Street Theater to catch five three-hour segments of director Rainer Werner Fassbinder's brilliant television series Berlin Alexanderplatz, a fittingly sprawling adaptation of Alfred Döblin's 1929 novel about Berlin during the fragile but culturally fertile Weimar Republic.
Now, courtesy of Netflix, we are able to see the nearly as long, equally as fascinating Babylon Berlin, Tom Tykwer's (Run Lola Run) bold adaptation of Volker Kutscher's novels set in 1929's Berlin, at home. The New York Times cited Tykwer's masterful series as one of the most "binge-worthy" of the season, an apt appraisal. A seductive, gritty, film-noir-basted wonder, this is a powerful triumph for Tykwer's triumphant achievement with the blessing of television — at $40 million, it's reportedly the most expensive German television production ever. (Tykwer's frequent composer collaborator, Reinhold Heil, lived and worked in Santa Barbara for several years, FYI).
At the heart of Babylon Berlin's complex, sometimes dizzying, multicharacter narrative are two protagonists whose own backstories are knottily complicated. Inspector Gereon Rath (Volker Bruch), a dogged detective who gets implicated in volatile criminal actions on many scales, is a World War I veteran suffering from PTSD and guilt and finding some refuge in morphine. Charlotte Ritter (the coolly captivating Liv Lisa Fries, who is deserving of wider recognition on screens small or large) is from the poor area of Wedding and plays your not-so-basic, feminism-fueled aspiring homicide detective, and sometime prostitute to pay the bills, enduring abuse but teeming with can-do fortitude.
Meanwhile, there is violence in the streets, as with the May Day communist party protest that results in oppressive attacks by police and murderous fighting over a presumed gold-filled train car. A dirty cop, Bruno Wolter (Peter Kurth), is in a dastardly alliance and thinks little of killing a fellow officer for his cause. The era's fragile socioeconomic-military balance — teetering in multiple directions in the flashpoint year of 1929 — between communists, the slowly building shadow army known as the Black Reichswehr, and general unrest in Germany between the wars is somehow conveyed on Tykwer's epic canvas. We palpably sense the festering tension in a city that will soon enough morph into Hitler's evil masterplan for Germany.
While historical accuracy is an important and driving factor in the rambling story, there are also touches of latter-day, postmodernist remodeling, with trace elements of the mash-up aesthetics of Moulin Rouge or Cabaret. Suave rock idol Bryan Ferry, known for his obsession with '20s-era music, even shows up as a nightclub singer, a man out of time but perfectly in sync with Tykwer's vision of the piece.
Babylon Berlin is, on the macro scale, a portrait of a city, nation, and world on the precipice of something supremely horrific. But the series keeps us tuned in and binging via its magnetic and empathetic focus on the tales of woe and triumph involving two intrepid Berliners seeking truth and justice. Rath and Ritter are ready to take on sinister forces and innately unprepared for the sea change to come. But that story needs no introduction.