Best Of
Best of Santa Barbara® 2018: Out & About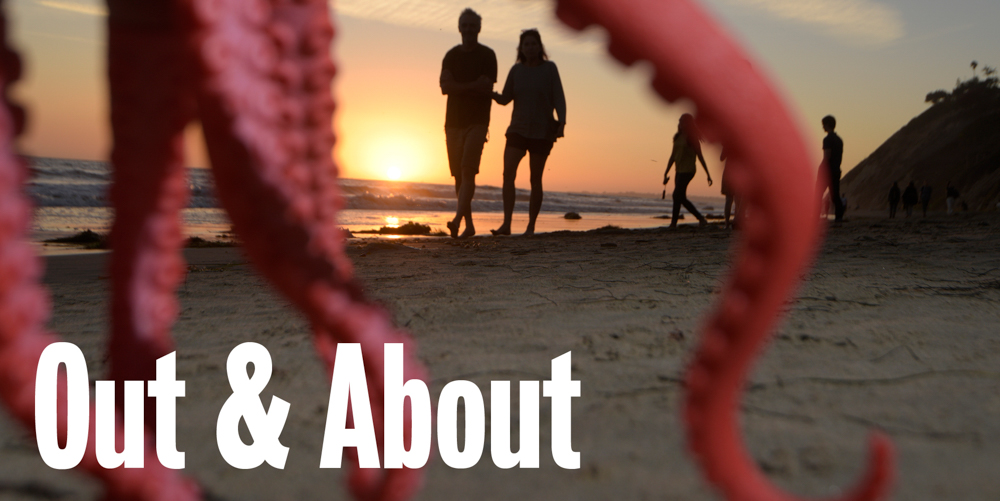 Dance Club ● College Night
Wildcat Lounge
15 W. Ortega St.; 962-7970; www.wildcatlounge.com
There is no better place in town to shake your tail feathers than the high-spirited and widely loved Wildcat. Iconic for its all-around-good-time crowd, the "Kitty" may be the last place in town where you can twerk your heart out without being kicked out. This fabulous and quirky club attracts all types of dancers, from those just breaking out of their shell to the crazy-insane. While the Kitty is sure to be crowded, there is always just enough room to bust your moves.
Runner-Up (Dance Club): SOhO Restaurant & Music Club

Runner-Up (College Night): Baja Sharkeez
Place to Hear Live Music
Santa Barbara Bowl
1122 N. Milpas St.; 962-7411; sbbowl.com
The stars come out at night both literally and figuratively at the Santa Barbara Bowl. The gorgeous, 4,500-seat amphitheater was carved into the hillside in 1936 and is the perfect outdoor music venue. Its location gives attendees million-dollar views of our beloved town and coastline while they listen to the best artists from across the music spectrum. A smaller, intimate size, the Bowl offers an unforgettable experience from every seat, especially when you're surrounded by a good crowd, perfect weather, splendid views, and your favorite music.
Runner-Up: SOhO Restaurant & Music Club
Gallery
Sullivan Goss, An American Gallery
11 E. Anapamu St.; 730-1460; sullivangoss.com
This is the kind of place that should probably be in a bigger city and that Santa Barbara should count its blessings to have. For more than 30 years, Sullivan Goss has showcased such contemporary American art giants as Hank Pitcher, Nicole Strasburg, John Nava, Meredith Brooks Abbott, and Angela Perko. The gallery has also cultivated a thriving market for the work of a remarkable roster of historically important figures, including Lockwood de Forest, Colin Campbell Cooper, Leon Dabo, and Anya Fisher. Longtime gallery employee Nathan Vonk recently took over the business that Frank Goss and Patricia Sullivan Goss brought here from its original location in Sierra Madre in 1994.
Runner-Up: Waterhouse Gallery
Museum
MOXI, The Wolf Museum of Exploration + Innovation
125 State St.; 770-5000; moxi.org
Newsflash: MOXI ain't just for kids, and that's why it's quickly risen to the top of Santa Barbara's competitive museum pack, winning this award for the second year in a row. Science and technology for all ages are intertwined into the educational, hands-on exhibits, and MOXI can throw quite an adult party on its deck, too. "We are part of a vibrant educational ecosystem, serving as a hub not just for families and tourists to visit for a day, but also for educators, makers, and innovators from throughout the region," said CEO Robin Gose. "MOXI has proven to have mass appeal because it engages the 'kid' in all of us. The only limitation is your imagination, curiosity, and willingness to play and have fun."
Runner-Up: Santa Barbara Museum of Natural History
Dance Company
La Boheme
This wonderful and colorful group of dancers adds sass and shine to all events at which they perform. Formed in 2014 by Indy Local Hero Teresa Kuskey Nowak, the dance company has quickly become a favorite for folks to both dance with and watch. Believing in the power of dance and creativity, Nowak welcomes all, no experience necessary. Company members range in age from 10 to 70 and come from all sorts of backgrounds and levels of experience. Even with a wide array of dancers, the Cabaret Fusion Performance group is described as bringing the "wow!" factor to events. That's due to their high levels of energy and their having the most elaborate and sparkly costumes of any area dance group.
Runner-Up: Santa Barbara Dance Arts
Theater Company
Ensemble Theatre Company
33 W. Victoria St.; 965-5400; ensembletheatre.com
Following an outstanding season that included an Indy Award–winning production of The Invisible Hand, Ensemble Theatre Company has returned to the New Vic stage with another slate of fascinating and timely plays. For Artistic Director Jonathan Fox, being the best means "striving for artistic excellence, choosing material that challenges us, and creating productions that are innovative." Fox cites the fact that the Santa Barbara community is "smart and sophisticated, and deeply appreciates and supports the arts" as a major factor in the company's success. He's also a fan of the fact that arts organizations here collaborate, which he said leads to "some very exciting work."
Runner-Up: The Theatre Group at SBCC
Classical Ensemble
Santa Barbara Symphony
898-9386; thesymphony.org
The Symphony turns 65 this season, and they've got an extraordinary range of music scheduled for their weekends at the Granada. Executive Director Kevin Marvin said he was "grateful that patrons have found us to be worthy" of the title of S.B.'s Best Classical Ensemble and cited last January's benefit concert as the highlight of the previous season. In addition to raising a significant amount of money for relief efforts in connection with the Thomas Fire and the mudslides, the performance brought the community together for the first event in the Granada following the disasters. Look for more firsts this year as the group moves in multiple new directions, including a new holiday pops concert and a New Year's Eve symphonic tribute to the music of Motown.
Runner-Up: Quire of Voyces
Karaoke
The James Joyce
513 State St.; 962-2688; sbjamesjoyce.com
Along with Guinness pints, darts atop billiards, and salty peanut shells all over the floor, karaoke became a tradition at The James Joyce a dozen years ago, says Tommy Byrne, an Irishman from Galway who opened the bar on July 5, 1996. "We would just like to say that we are happy that we have been chosen as the number one place to sing karaoke this time around," said Byrne. "And we'd like to thank all those that voted for us."
Runner-Up: Tiburon Tavern
Funk Zone Spot
See Drinking: Beer Selection On Tap
Restaurant/Bar to Watch Sports
The Garden
38 W. Victoria St.; 770-7700; sbpublicmarket.com
The Santa Barbara Public Market's evolution took a critical stride in the summer of 2016, when owner Marge Cafarelli converted the front of the space from a market into a buzzing beer bar with tons of TVs. With 41 beers on tap, five big TVs (including one that can be four screens), and food from all the Public Market's restaurants, The Garden is the go-to for sipping suds while gazing at games. "It's a comfortable, open, and inviting space with great beer and wine on tap and great TVs," said Cafarelli. "We want people to have fun and get great value. We think we do that."
Runner-Up: Hollister Brewing Company
Whale-Watching Tour
Condor Express
301 W. Cabrillo Blvd.; 882-0088; condorexpress.com
It may be possible that the Condor Express knows cetacean-speak. Why else would the whales — be they blue, gray, humpback, orca, or otherwise — come to the surface with such regularity when the Condor is on the hunt? Of course, we know that's really due to the maritime mastery of their captains. "The Condor Express is an educational, environmental, and community icon," said president Hiroko Benko, whose late husband, Fred, took on the service full-time in 1985 after working in the harbor since 1973. "Parents and children get knowledge about the ocean and sea life for generations of people locally and internationally." The staff's favorite part is "seeing their happy faces when they spot the whales and dolphins!"
Runner-Up: Double Dolphin
S.B. Tour Company
Land and Sea Tours: Land Shark
99 W. Cabrillo Blvd., 683-7600; out2seesb.com
Heads turned when the Land Shark started amphibious tours that cruised from the Old Mission down to the sea-lion-crusted buoys back in 2003. And the two-trick pony format — with a second Shark launched in May 2015 — continues to amaze the more than 60,000 people who ride the bus-boats each year. "Our narrated tour provides a great view from an elevated perspective to experience the best of Santa Barbara on land and at sea in a short period of time," said owner Andre Manoux, who personally loves captaining the private charters. "Just last weekend, there was a marriage proposal, a bachelorette party, a 10-year-old birthday, a 90-year-old birthday, and a company employee appreciation party, and we had dolphins swim with us on nearly every event — all spectacular. It just can't get any better than that for me."
Runner-Up: Taste Santa Barbara Food Tours
Beach • Dog Park • Place to Watch the Sunset
Hendry's Beach (Arroyo Burro Beach)
2981 Cliff Dr.; countyofsb.org/parks/day-use/arroyo-burro-beach.sbc
A triple threat, Hendry's Beach brings together several of Santa Barbara's favorite things — dogs, sand, ocean, and incredible sunsets. Definitely more of a locals' beach because of its tucked-away location, Hendry's is a favorite among all ages. With dogs allowed off leash just east of the creek and with access to free-of-charge beach wheelchairs, you can enjoy splashing in the surf and watching Santa Barbara's most breathtaking sunsets with all your loved ones.  
Runner-Up (Beach and Place to Watch the Sunset): Butterfly Beach

Runner-Up (Dog Park): Douglas Family Preserve
Stargazing Spot
Lizard's Mouth
W. Camino Cielo
Up in the inky maw of Lizard's Mouth at night is a pedestal meant for visiting the heavens. With little to no city light creeping in, the terrain is perfect for a stargazer. This time of year, meaning early fall, is a good time to see a number of notable constellations, including the zodiac constellations of Aquarius, Aries, and Pisces and the constellations in the Perseus family: Andromeda, Perseus, Cassiopeia, Pegasus, Triangulum, Cetus, and Cepheus. Or just find the Big Dipper and trace its cup to the North Star.
Runner-Up: Knapp's Castle
Family Fun Spot ● Kids' Summer Camp
Santa Barbara Zoo
500 Niños Dr.; 962-5339; sbzoo.org
"Thank you for showing your support and recognizing the efforts of everyone on the zoo team," said Rich Block, chief executive officer of the Santa Barbara Zoo, after learning Indy readers named the organization best for family fun and summer camp. Combining excellent educational programs, delightful hands-on events, a stellar conservation program, and heaps of cool animals to learn about and see — elephants, fennec foxes, giraffes, black swans, Amur leopards, Humboldt penguins, river otters, condors … the list goes on — it's no wonder the zoo is one of Santa Barbara residents' favorite places to visit time and again. As for the future, Block said, "Our team continues to explore new ways in which to engage visitors in caring for nature. Look for new programs and opportunities for guests, improvements to and replacement of exhibits, and the continued expansion of our conservation program."
Runner-Up (Family Fun Spot): MOXI, the Wolf Museum of Exploration + Innovation

Runner-Up (Kids' Summer Camp): Martial Arts Family Fitness
Movie Theater
The Arlington Theatre
1317 State St.; 963-4408; thearlingtontheatre.com
"Being the best is being able to translate the magnitude of this historic venue and pass on the overall experience to the people who visit the Arlington," said Karen Killingsworth, Arlington Theatre manager. Deservedly voted the best movie theater in town by Indy readers, the venue is amazing not only for its delightful interior design — what other setting gives audiences the feeling of sitting in a Spanish-style courtyard with a starry sky above? — but also for the variety of art and entertainment it hosts. From blockbuster movies to A-list musicians to New York City dance troupes to popular comedians and lecturers, the Arlington offers something for everyone. And then there's its role in the annual Santa Barbara International Film Festival — the glamorous centerpiece bejeweled with the red carpets unfurled, blazing klieg lights, and Hollywood glitterati.
Runner-Up: Riviera Theatre
Annual Event
Old Spanish Days Fiesta
962-8101; oldspanishdays-fiesta.org
"Having won this award solidifies why we continue this 94-year tradition of celebrating Santa Barbara's heritage, culture, and traditions," said Denise Sanford, 2018 La Presidenta of Old Spanish Days, in response to the celebration being chosen as the Best Annual Event. With one of the largest horse parades in the country, myriad flamenco dance shows, and a slew of delicious food and drink at the mercados, it's no wonder Fiesta is readers' favorite. "As Santa Barbara has gone through so much during the beginning of 2018, it is heartwarming to know we, as an organization, brought our best to our community," said Sanford.
Runner-Up: Summer Solstice Celebration