Public Safety
Santa Barbara's Reimagined Fire & Police Commission Opens with First Meeting
New Lineup of Commissioners Begin New Era for Civilian Oversight with Public Meetings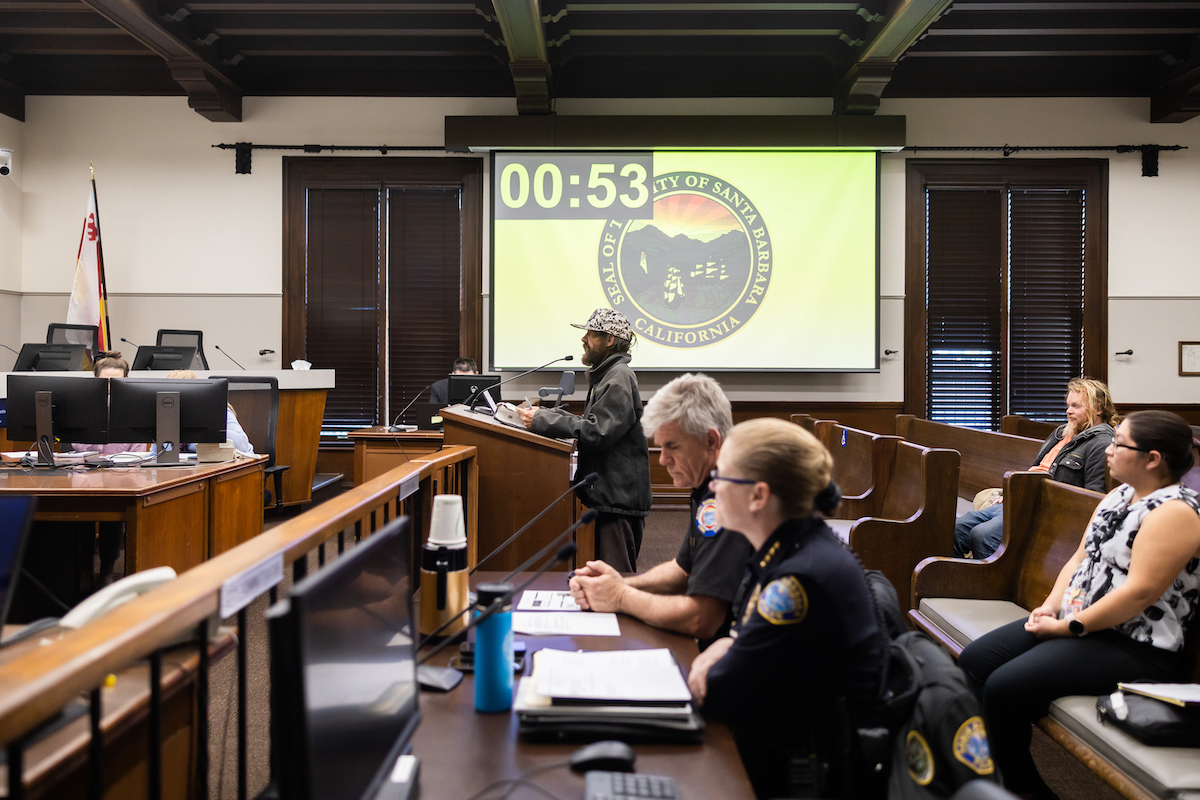 In the wake of the murder of George Floyd by a Minneapolis police officer in 2020, advocates around the country pushed for police reform and civilian oversight over law enforcement agencies. Here in Santa Barbara, the city put forward efforts to rethink the local oversight model and come up with a new-and-improved way of governing police.
And although the outcome may not have been exactly what was asked for by members of the Community Formation Commission — the subcommittee originally suggested an independent "civilian oversight board," but the City Council instead followed city staff recommendations to reconstitute the existing Fire & Police Commission with new members and powers — the new, more transparent, public-facing commission and its group of five new commissioners marks an important milestone for police oversight in Santa Barbara.
On Thursday, the newly reconstituted commission held its first meeting in City Council chambers, with its full agenda available to the public and a livestream broadcast for the first time in history.
"This is really exciting," said Commissioner Lizzie Rodriguez, who will serve as the commission's chair until a full-time chair is appointed in February. "Every milestone that we've reached in getting to this point of our very first meeting has been a small celebration, and so I feel like today this is a big celebration."
Rodriguez, who has previously served on the city's Police & Fire Commission in 2020 and has extensive experience in working with incarcerated youth, will be joined by former FBI Agent and current Santa Barbara City College Title IX Coordinator Linda Dozer, advocate and previous member of the Community Formation Commission Ana Zepeda, former health-care executive Dan Herlinger, and attorney Gary Hill (Hill was absent from the first meeting). All five were selected by the City Council out of a pool of more than 20 applicants in December.
The first meeting served as a chance to introduce the new commissioners and familiarize them with the new-look board's updated responsibilities, duties, and powers.
Senior Assistant to the City Administrator Barbara Anderson, who will serve as the official "independent police monitor," explained these changes, along with Assistant City Attorney John Doimas, who will also be helping in an advisory role. Both will be getting a lot of help from outside contractor Hassan Aden, the former chief of police of the Greenville Police Department in Greenville, North Carolina, who has helped monitor and implement the police consent decrees in several major cities with "egregious police misconduct cases," Anderson said, like Baltimore, Chicago, and Cleveland.
The biggest changes: the commission's new powers and responsibilities, and the fact that the meetings are now held in city council chambers and live-streamed for viewers at home.
Now, the commission will act in an "advisory role," Anderson said, for all things relating to the "efficient and adequate fire and police protection for the city." This includes making recommendations for new policies and procedures, recommending appointments of fire and police chiefs, and considering the annual budget — which is slated to come across the commission for discussion in March.
In addition, the commission can conduct ongoing reviews of the complaint process and make recommendations on how to improve the process, as well as discuss any recent patterns or trends in police misconduct to make any necessary changes to department policies, procedures, and practices.
This includes quarterly and annual reports to the commission that will provide the number of complaints on department sworn employees, the number of pending investigations, and the findings of any completed investigations. The commission will not be able to advise on active investigations, Anderson said.
But the commission will be able to make public statements regarding investigations or police practices, she said, where it could help "to manage community expectations for information during active investigation."
There are now certain "quasi-judicial" duties, Anderson said, such as the suspension of a dance permit, revocation of a permit for a pawnbroker, or denial of a pedicab operating permit.
In fact, the first official order of business on the agenda in Thursday's meeting was the appeal of a taxicab operating permit that was previously denied by the Police Department.
---
Sign up for Indy Today to receive fresh news from Independent.com, in your inbox, every morning.
---
The prospective cab driver applied for a permit in September 2022 but was denied when a background check showed the man had a previous assault charge in Orange County. The basis of the appeal was the ambiguous language in Santa Barbara's municipal code that states that any applicant convicted of a crime involving "moral turpitude" should be disqualified. The appellant contended that his misdemeanor charge for "simple assault" did not fit the bill for moral turpitude.
Doimas pointed out that although there was no "statutory definition" of moral turpitude, an existing taxicab driver's permit could be revoked for the same charge, and "it wouldn't make any sense if a police department were to be able to revoke a permit for a crime of violence but they wouldn't be able to deny it. It would produce inconsistent results."
In its first official ruling, the commission voted 4-0 to uphold the previous denial of the permit.
Fire Chief Chris Mailes and Police Chief Kelly Gordon also stopped by to give an overview on each department, including department goals for the next year.
Mailes said the Fire Department received nearly 12,000 calls for service in 2021, with nearly three-quarters of the calls (73.68 percent) for medical assistance. The department is hoping to prepare for a move to a Regional Fire Communications Facility, where all 37 fire stations in the county could be dispatched under one roof. A contract for ambulance services worth hundreds of millions of dollars was recently awarded to American Medical Response, but Santa Barbara County Fire filed a protest against the decision in an effort to have the ambulance services run through the fire department.
In response, Commissioner Rodriguez suggested that the item be placed on the Fire & Police Commission agenda for an in-depth discussion in February.
"I can tell you that every single fire department in the entire county is behind a County Fire–run ambulance service, so we're still very hopeful," Mailes said.
Chief Gordon spoke on her first four months on the job, saying that she is getting to know her department still, but that "overall crime is down in Santa Barbara, and so is our number of use-of-force incidents." Chief Gordon was appointed by the City Council in August 2022 and officially took the reins from interim chief Barney Melekian in September.
Gordon then addressed the recent murder of Camarillo resident Robert Dion Gutierrez on December 9, 2022. Gutierrez was shot following an altercation between two groups near Stearns Wharf and was pronounced dead at the hospital 11 days later.
"He was not involved in the altercation, and he was an innocent bystander visiting Santa Barbara with his wife," Gordon said. "They were actually here celebrating their anniversary."
She responded to criticism the department received for not disclosing information between the original incident and the coordinated execution of several search and arrest warrants on January 19 that ended with five individuals arrested and one weapon recovered as evidence. Four of the men involved have since been charged in connection to the murder.
"The investigation remains ongoing," Gordon said, "as is our commitment to bring all of those involved to justice."
The police have been in regular contact with Gutierrez's family, she said, and information was released to the public as soon as it was safe to disclose.
"Releasing information before the execution of search warrants and arrest warrants would have jeopardized this investigation," she said. "We always strive to be transparent and to provide the public with as much information as we can; however, in this case, nondisclosure outweighed the public interest in disclosure."
City officials also weighed in with a statement on the recent death of Tyre Nichols in Memphis, which resulted in the termination of five police officers who were arrested and charged with his murder Thursday, and which mirrors the 2020 Minneapolis incident that led to widespread police reform.
"The death of Tyre Nichols is appalling, tragic, and was unnecessary," the statement said. "The individuals involved have rightly been fired and criminally charged in the death of Tyre Nichols. There is no excuse for their actions. The actions of these individuals do not reflect the values of our public safety departments and tarnish the badge we all wear."
Gordon said the Santa Barbara Police Department was "committed to providing professional, fair, compassionate, and dedicated law enforcement with integrity and respect with a fundamental commitment to the preservation of human life," and will continue to "ensure our officers understand the concepts of de-escalation."
The Fire & Police Commission will have its next meeting in February.
Correction: The commission meetings have always been public, but in a separate building and sparsely attended; they now take place in City Hall.
---
Support the Santa Barbara Independent through a long-term or a single contribution.
---