Full Belly Files
Full Belly Files | Playing Myself in a Television Pilot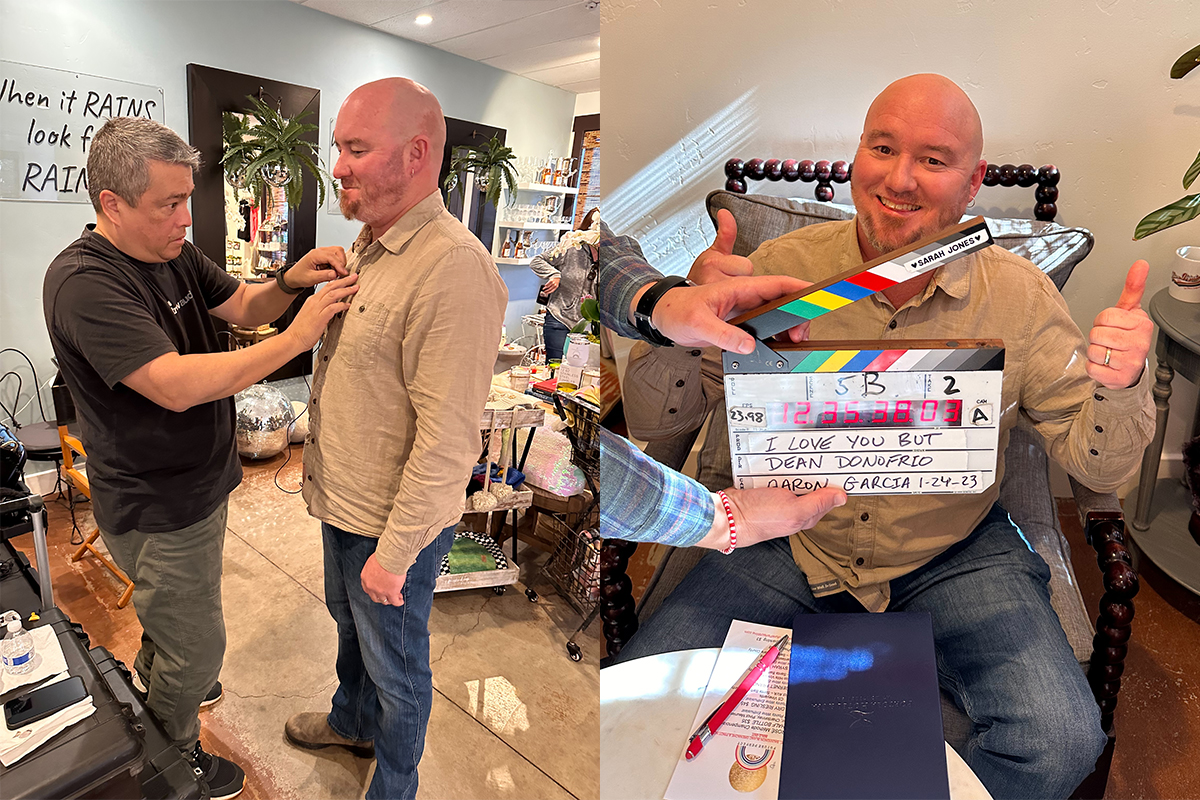 ---
This edition of Full Belly Files was originally emailed to subscribers on January 27, 2023. To receive Matt Kettmann's food newsletter in your inbox each Friday, sign up at independent.com/newsletters.
---
"You're a natural."
Either director Dean Donofrio is experienced in getting acting neophytes like me to get comfortable in front of his camera, or I just might have to ditch the notepads and keyboards for call sheets and clapperboards.
He'd already pumped the flattery pedal on Tuesday morning by pointing out that only one-name celebrities like Cher and Seal actually get to star as themselves in fictional on-screen tales, which is what I'd been enlisted to do as part of the pilot episode for a television series called I Love You But. The invite came from Sunny Doench Stricker, the actor/proprietor of Future Perfect Wine. I wrote a feature about her in November 2021, and have been steadily reviewing her wines for Wine Enthusiast ever since, often with very high scores.
"This is bananas, I realize, but I'm filming a TV pilot — a 'dramedy' that is hilarious and clunky and uncomfortable and incredible," she wrote back in October. "I pitched to the director the idea of you playing you — and he dug it."
Three months later, I was surrounded by actual Screen Actors Guild actors getting into character; a sound guy worried about the woosh of a vinyl jacket and jingling of bracelets; a director of photography arranging lights and analyzing the dappled sun rays; a makeup artist powdering up my shiny bald head; and Dean the director encouraging us all to, essentially, find our motivations.
I'm not a complete on-screen amateur, having appeared in a handful of documentaries, a few televised things, and a gazillion Zoom presentations. But this was the real deal — even if on the lower-budget side of the spectrum — complete with a script, boom microphones, free lunch, and an official call sheet that arrived in my inbox the afternoon before.
The series follows a winery-owning daughter, played by Sunny, and her mother, played by Gloria Loring, a longtime soap opera star and singer, with Carl Anderson, of the 1986 hit song "Friends & Lovers." (She's also the former wife of Alan Thicke and mother of pop star Robin Thicke.) Loring's character has just moved to California from the Midwest and taken a job in her daughter's tasting room.
My scene involves the mother-daughter pair as well as Veronica Wylie, who plays a nonbinary wine buyer and is accompanying me, as "celebrated author and wine critic," on a visit to the tasting room. Things get uncomfortably awkward when the "old-school" mother, who knows little of the West Coast's woke ways, encourages Wylie's character to embrace her "feminine energy."
My role consisted of four very short lines and lots of uncomfortable facial expressions as the confrontation played out. Though the entire scene will probably amount to less than two minutes, it took more than four hours to get it right, minus the half-hour we got for lunch from R-Country Market, (I used to eat there often when driving back and forth from Santa Maria in 2005 while covering the Michael Jackson trial for TIME Magazine and this paper, but the menu evolved in recent years. Case in point: my very delicious grilled spicy turkey panini, with tangy red onion slivers and a creamy house hot sauce.)
Throughout the day, we amended and ad-libbed the script, which I realized is very much a living, evolving document; worked out different angles, emphases, and expressions, often multiple versions at multiple angles; and watched for consistency in the wine bottle and glass levels, just one of the constant concerns that revolve around something in a scene being "established." I found out that a director's "dirty shots" have nothing to do with porn, and watched the extras enjoy persistent pours of wine while I merely watched my own glass refilled and emptied over and over again, never to actually touch my lips.
We even experienced an art-becomes-life moment when the off-screen, character-probing conversations between Loring and Wylie briefly sparked the same awkward old school-meets-woke tension depicted in the script. It was a visceral reminder of how seriously my fellow actors and the assembled crew took their roles and responsibilities, so much that the lines between character and actor and on-screen talent and off-screen production became blurred.

I, meanwhile, was just there to do something different with my Tuesday and see what life is like on that side of the camera. It was an insightful blast, giving me even more appreciation for the craftsmanship that goes into all those shows I watch.

I got a loud applause when Sunny yelled out my "picture wrap!" for the day, so maybe it wasn't only Dean who liked me. Who knows? If I Love You But does get picked up for a full series, maybe I'll find myself back to that makeup chair.
---
Sign up to get Matt Kettmann's Full Belly Files, which serves up multiple courses of food & drink coverage every Friday, going off-menu from our regularly published content to deliver tasty nuggets of restaurant, recipe, and refreshment wisdom to your inbox.
---
Our Own Pressure Cooker Star
Sticking to the TV front, I finally watched the last few episodes of the cooking contest-meets-Real World series Pressure Cooker on Netflix, in which professional chefs live under the same roof while competing in various challenges and then voting on which of their cohorts to kick off the show. As you may recall from a past newsletter, Loquita's own executive chef Sergei Simonov, whom we profiled here, was one of the contestants.
I won't spoil everything for those who haven't started the show, but if you like pulling for a hometown hero — even one who's somewhat vilified by other chefs in the show — it's worth watching. Let's just say he makes it far enough to hold your attention into the final episodes. And to the show's credit, they make sure that even the first chef kicked off gets a couple of encore appearances. I'd bet on a season two.
Black History Month
It's about time Santa Barbara's epicurean world woke up to Black History Month. Throughout February, Finch & Fork at the Canary Hotel is hosting mixology classes and pouring Old Fashioned cocktails to raise money for Historically Black Colleges and Universities and showcase Uncle Nearest Premium Whiskey.
That's the brand that finally gives credit to Nathan "Uncle Nearest" Green for showing a young boy who'd become best known as Jack Daniel how to make Tennessee whiskey. Our sportswriter Victor Bryant put down his cleats and picked up a glass to tell us that story and the details of the promotion here.
Bacara's 805 Deals
The Ritz-Carlton Bacara is offering a locals-only series of discounts that run through March 31. For $80.50 — which does not include tax and gratuity, and excludes Fridays, Saturday, and holidays — the oceanfront steakhouse Angel Oak and the adjacent sushi spot San Setto are both offering pre-fixe menus for two. Meanwhile, the Bacara Wine Tasting Room, home to a rotating cast of Santa Barbara County producers, is serving two flights and a five-cheese charcuterie arrangement for $80.50 as well.
Mark Your Calendars
Renegade Wines @ Black Sheep Brasserie: This stellar wine shop is hosting their first wine dinner of the year at the brand new Black Sheep S.B. Brasserie, which recently took over the former home of legendary French restaurant Mousse Odile on East Cota Street. The four-course, French-themed dinner is called "Le Tour de France" and will be led by Jean-Marc Descabannes, managing partner for the importer Jeff Welburn Selections, and Daniel Berman of Rincon Wine Group. It starts at 6:45 p.m. on February 1, and costs $130. Reservations required by calling (805) 568-1961 or emailing renegadewines007@yahoo.com.
SoCal Mushrooms and Wild Food Lunch: Native plant expert Lanny Kaufer, whom I profiled a year ago in this article, is hosting a workshop on February 18, 9 a.m.-3 p.m., called "Mushrooms of Southern California and Wild Food Lunch with Jess Starwood," who recently published the book Mushroom Wanderland. The day begins at the Ojai Meadows Preserve, followed by lunch and book-signings. As Starwood's only Ojai event during mushroom season, it's filling up fast, so get your $150 tickets now.
Women Winemakers Celebration: Details on this annual affair showcasing Santa Barbara County's industry-leading coterie of female winemakers are still forthcoming, but it will be at Mattei's Tavern on Sunday, March 12. Stay tuned for ticket info. This is the Facebook page from 2022, so hopefully they'll update that.
---
Support the Santa Barbara Independent through a long-term or a single contribution.
---