Drink
Pinot in Paradise
The Annual World of Pinot Noir Continues the Santa Barbara Tradition of Celebrating All Things Pinot Noir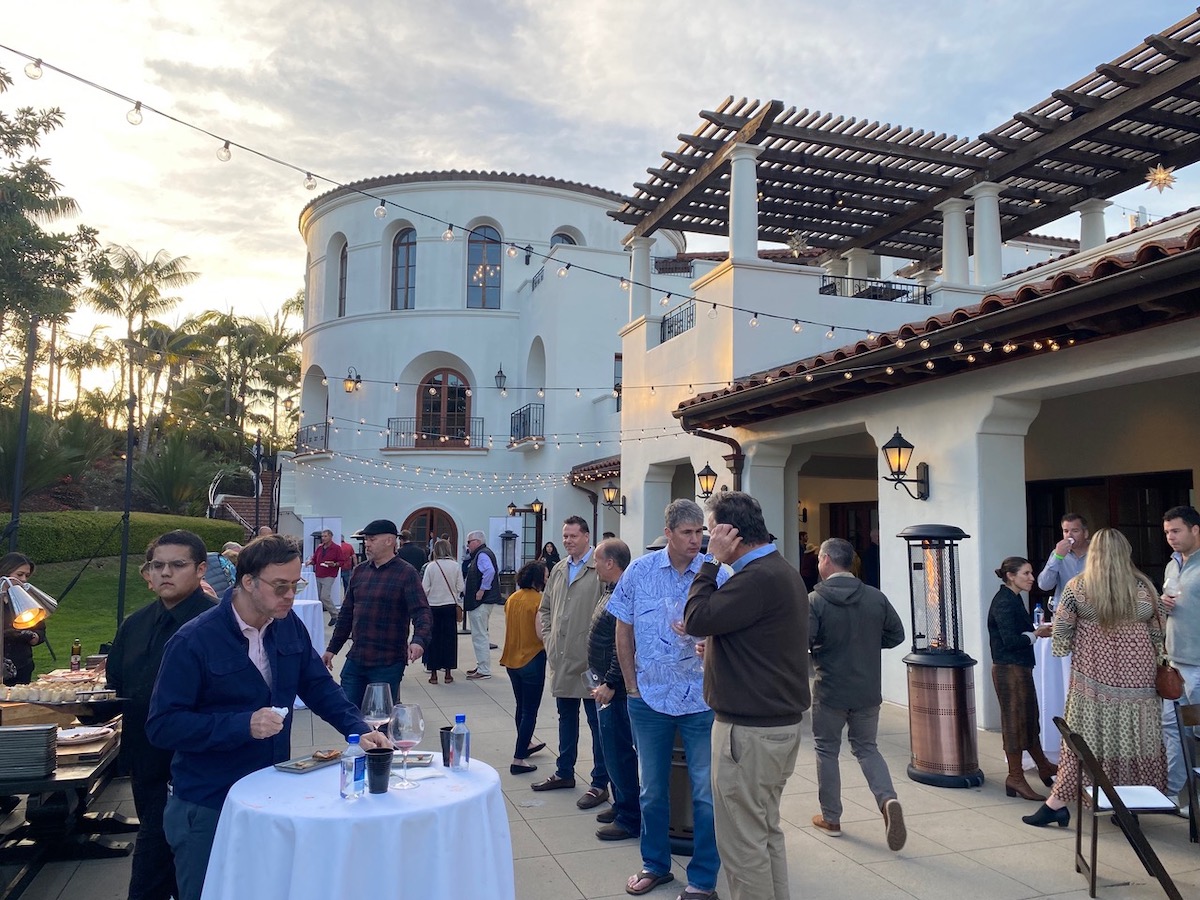 Pinot Noir aficionados rejoiced at the return of the annual World of Pinot Noir (WOPN) event last weekend, which took place at The Ritz-Carlton Bacara Resort. This premier wine festival, now in its 23rd year, brought top producers, sommeliers, and wine enthusiasts together for three days of celebration and education in honor of the beloved pinot noir grape. Although I'd attended many times in the past, my first full post-pandemic WOPN did not disappoint, and once again proved why this seaside fête is a must for not just fans of pinot noir, but anyone who enjoys wine.
Over the course of three days, attendees could choose from over a dozen events and experiences, including seminars, luncheons, an auction, and exclusive winemaker dinners, each designed to reinforce an understanding of and appreciation for pinot noir. Drawing the biggest crowds to WOPN, however, were the two Grand Tastings, held both Friday and Saturday afternoons. Despite some iffy weather earlier in the week, hundreds of eager oenophiles made their way to The Ritz-Carlton's Grand Ballroom for the opportunity to sip top wines from nearly 200 producers, meet winemakers, sample culinary creations from the Bacara team, and toast with fellow wine lovers along the way.
Whether attending Friday's or Saturday's Grand Tasting, there were some truly incredible pinot noirs to be had, including new releases and library vintages in both still and sparkling styles. I also tasted quite a few chardonnays this year, which were delicious in their own right, but also nice palate cleansers between all that pinot. And, while most participating wineries were from California – spanning Santa Barbara and the Central Coast to Sonoma and Mendocino – producers from Oregon, Argentina, France, Australia, Chile, and New Zealand were also there to showcase their wines. It is the "World" of Pinot Noir, after all!
While I highly recommend making time for a seminar or one of the intimate luncheons, which will allow you to dive deeper into the pinots of a specific region or two, the beauty of attending WOPN's Grand Tasting is having the opportunity to taste so many exceptional pinot noirs under one roof, not to mention the chance to meet with smaller producers you may not otherwise have access to. Several of these winemakers are true vignerons, meaning they do everything from farming the grapes to making the wines and, in many cases, selling the wines, too.
If you didn't make it to this year's event, be sure to mark your calendar for March 2024, when WOPN returns to beautiful Santa Barbara for another epic weekend of pinot-specific fun. It's always a thoughtfully organized event that is informative and super enjoyable, and I can almost guarantee you will walk away having discovered a new favorite producer… or five. Cheers to that!
Some of the offerings from MacRostie Winery in Sonoma | Credit: Hana-Lee Sedgwick

The pinot noir was flowing at World of Pinot Noir, March 2-4 at the Ritz-Carlton Bacara | Credit: Hana-Lee Sedgwick

(L-R) Peter & Amy Christine Hunken of Holus Bolus / the Joy Fantastic with Hayden Felice of Trippers & Askers | Credit: Hana-Lee Sedgwick

Jessica Gasca of Story of Soil, left, with Alison Laslett of SB Vintners Association | Credit: Hana-Lee Sedgwick

Larry Tercero of Tercero Wines | Credit: Hana-Lee Sedgwick

Mail Road wines in Sta. Rita Hills | Credit: Hana-Lee Sedgwick

Coby Parker-Garcia, right, & Katie Noonan of El Lugar Wines | Credit: Hana-Lee Sedgwick

The Bacara culinary staff busy at work | Credit: Hana-Lee Sedgwick

Pizza and pinot are a pairing made in heaven | Credit: Hana-Lee Sedgwick

Gaviota steamers and tomato gazpacho were on the menu | Credit: Hana-Lee Sedgwick