Living
Finding Your Flow at Local Yoga Studio in Santa Barbara
Flow Yoga Is Not Just a Yoga Studio, But a Place to Find Community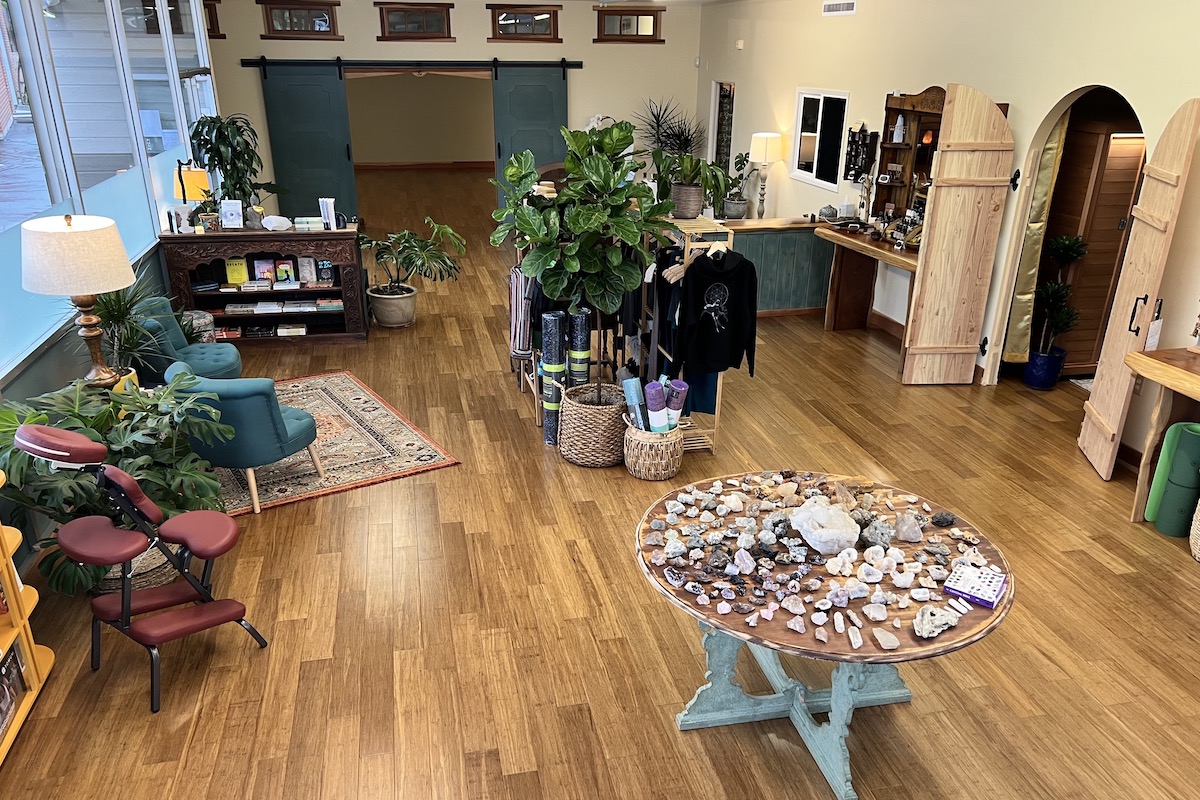 When I first stepped foot into Flow Yoga & Wellness, I didn't really know what to expect. I'd never been in a yoga studio before, let alone done yoga myself, so the thought of participating in a "flow yoga" class, also known as Vinyasa, intimidated me.
However, all my apprehensions were left outside the door once I was met with the sound of lulling pan flutes and gentle strings, the smell of eucalyptus and Himalayan salt, and the sight of Shannon Dante, owner and longtime yoga practitioner, blissfully sweeping her dark hardwood floors — a recurring part of her routine throughout the day.
"I feel like working here doesn't feel like work to me at all even though I'm here like all day," she would later tell me with a pleasant shrug. For Dante, chores around the studio are just little activities for her to do. "I'm always excited because it's like having friends over for tea."
And sure enough, after giving me a warm smile and soft reassurance, she ushered me across the room to a small corner with tea bags and hot water.
Back when Flow Yoga opened in October 2022, it didn't start as a grand business plan for Dante — it was something that simply flowed into place. When she first spotted the building that would become Flow Yoga, it was an unassuming consignment store that had just closed down in her neighborhood.
"I peeked my head in the door and I was not planning on opening a business at all," she said when I asked about how the idea of a yoga studio first came to her. "It was like the universe was like 'Here, you need to do this!'"
While Flow Yoga is a studio with a variety of classes suitable for various levels of experience, Dante's mission goes beyond the workouts. As a member of the community, she felt it was important to have a place that fosters mindfulness, health, and support.
"I felt like after COVID for two years, people were kind of looking for connection and community and health resources," Dante said. "So I wanted to provide all those things that I know I needed and wanted in my neighborhood."
Both in the principal teachings of yoga and in Dante's studio, the idea of compassion is at the heart of what moves through every moment. This became apparent to me when I met my teacher for the day, Eileen Lorraine Olmos. As I rolled my mat out for the 75-minute session, she walked over and handed me a woven blanket and a yoga block for my comfort during the class. She welcomed me and told me how she hopes that I come to love yoga as much as she does. It was a small act of kindness, but it told me everything I needed to know about the team at Flow Yoga — above all, they are a group that prioritizes compassion and seeks to help people feel comfortable about yoga and themselves.
The classes at Flow Yoga are small and intimate with about 10 people per class. Everyone's friendly and open to starting a conversation with a sort-of stranger. After class, they stick around to grab a hot cup of tea and chat in the eclectic lounge area (which features goods from local businesses). It's a kind environment that reminds you that we're part of a community.
Later, Dante also invited me to try their infrared sauna room, which uses chromotherapy and infrared heat to warm your body and detoxify it. For 40 minutes, I had a private sauna to myself with color-changing lights and music I could choose to play from inside the sauna room. Afterward, Dante stopped by to make sure I was well-hydrated, providing me with a large jug of water and a cooling lavender-infused towel. It was a pleasant experience that left me with a warm and radiant glow that lasted throughout the rest of the day.
Aside from yoga classes and the infrared sauna, Flow Yoga also offers massages and holds various workshops throughout the week that promote self-care and healing. Soon, they're even going to start doing facials. But through it all, the most important thing to Dante is providing a place to bring her community together.
"I hope to just really get the community involved with the space and using the space, knowing that it's a space they can come to get information and find connection," she said. "That's what really drives me. Just that this can be that space for people."
And I fully believe that it can be after visiting that day. With Dante's genuine warmth and her team's kind openness for those that come in and out of their studio, Flow Yoga is sure to become a safe place for people to make real connections and find true wellness.
Flow Yoga & Wellness is located at 4441 Hollister Avenue. For more information, visit sbflowyoga.com.