Living
Centenarian Celebration
Juana 'Jenny' Cue Commemorates Her 100th Birthday with Retirement from Santa Barbara's Cottage Health After 70 Years of Service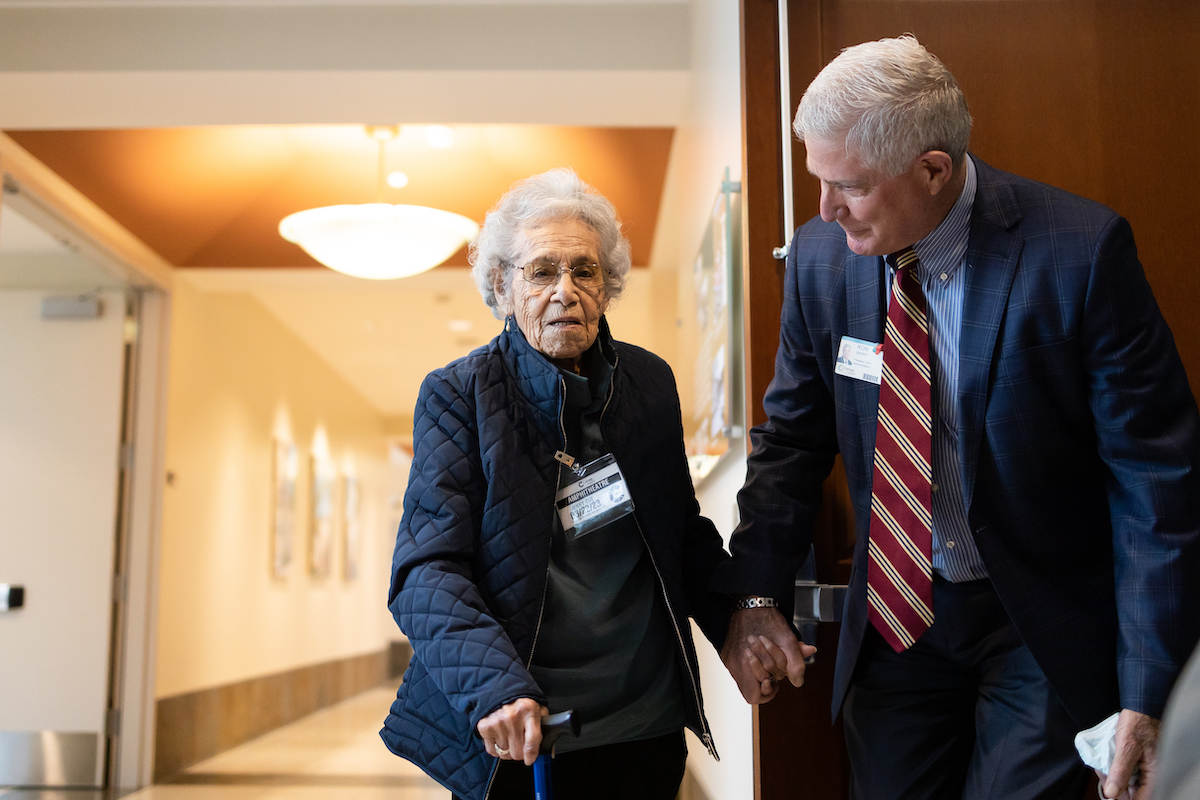 Reaching your 100th birthday is certainly a milestone worth celebrating. Add in retiring after a record 70 years of service, and it's no wonder a large crowd of family, friends, and colleagues came out to Cottage Health to help commemorate the still-spry Juana "Jenny" Cue on March 22.
"She says that her longevity is because of Cottage Hospital, her family, and her coworkers who are her friends," said Jenny's daughter Grace Cue, who acted as her Spanish translator and de facto hearing aid in a room that was buzzing with excitement.
Grace, who was born at Cottage Hospital, along with her two siblings, said she recalled going to work with her mother on Saturdays. "I should give them my timecard, because ever since I was about 5 years old, she took us with her when she started working at the laundry," she said, recalling that back in those days, the laundry was located in a big wood building at the corner of Castillo and Junipero Streets.
Starting work in 1953 in what is now called the "linen processing department," Grace recalled, "Everybody went in there at five o'clock in the morning … and my mother would never be late." One of her duties was to hand-stitch the doctors' initials onto their white coats, and "she took a lot of pride doing that."
After working in the laundry for decades, in the early 1990s, Jenny trained in the "sterile processing department" to learn to wrap basins and linens. This included baby blankets for the maternity ward, where four generations of her family — including her four grandchildren, eight great-grandchildren, and one great-great-grandchild, in addition to her own children — were born.
It was in that department that Vice President of Clinical Services Marc Dailey recalled they would painstakingly remove lint from the baby blankets with a large strip of tape. "This is something that only somebody who works in sterile processing knows … that's one of Jenny's little tricks that they still use in processing, you know. So that's really impressive."
He continued addressing Jenny: "Isaac Newton, I think, was said to say that everything is paid for by standing on the shoulders of giants. And so I just like to tell you, for all of us in this room and throughout the hospital to provide the care that we do is by standing on your shoulders. So thank you so much for everything. We are really, really, really going to miss you."
Jenny really did love working at Cottage, said Grace. "I think the longest period of time she ever took off work, except for COVID, was when she had my brother Eddie. She's made us really proud. I just hope that she has many more years that she's here with us. Even if she is feisty, feisty, feisty!"
"I promise you if it had not been for COVID, she might have decided to work another five years. Honestly, COVID is really where I think it made her kind of reprioritize," said Cara Williams, vice president and chief human resources officer at Cottage Health. "We celebrate all our employees at an event every five years, and we have 45, 50 years of service celebrations — it's pretty remarkable. Think about it; most organizations don't have that privilege of having employees stay so long. It's wonderful. … It's just great that she's retiring and turning 100 and we get to celebrate with her."
Tongue in cheek, Cottage Health President and CEO Ron Werft said to Jenny, "We do have a program that Cara runs where we reach out to people who have retired from Cottage and see if they want to come back. You'll be hearing from her soon about the reentry plan, so I may see you at the 75th anniversary as well."
Asked about what she planned to do the morning after her retirement celebration, Jenny (via Grace) said, "I'll probably sleep in."