Food
Every Meal's a Celebration at Gala
Buzzy New Spot in Santa Barbara Lives Up to the Hype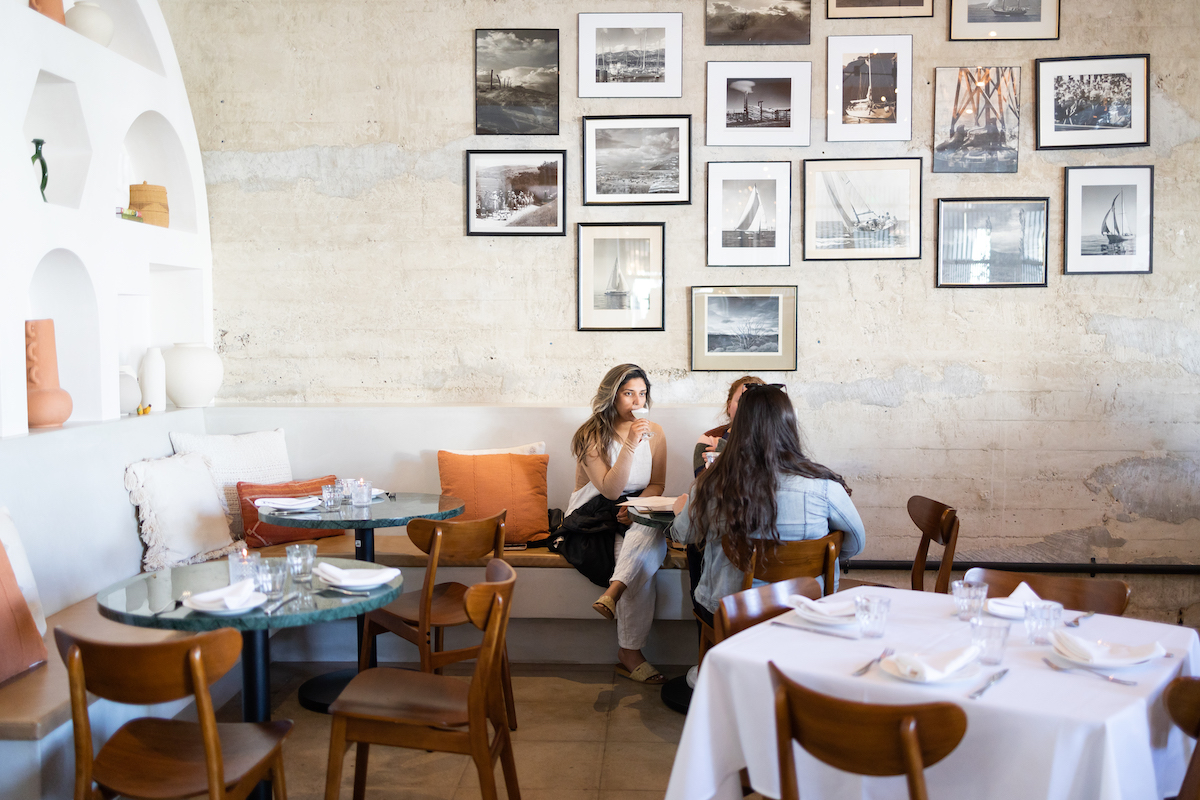 I can't remember the last time I've seen this much buzz around a new restaurant in S.B., and it lived up to the hype so readily. Like the first sip of their crisp cava, Gala, the new restaurant from industry veterans Tara Penke and Jaime Riesco, slides easily into the Santa Barbara scene with a welcome effervescence. From the moment you walk in and see the high ceilings, wide-open windows, delicate floral arrangements, and large bar that seems to sparkle in the sun, you are taken into another world. However, Gala never strays too far from Penke's third-generation Santa Barbara roots.
Since she was 15, Penke's been working in all kinds of restaurants, including Michelin-starred spots in New York City and Barcelona. After graduating from UCSB, she moved to Spain, where she met her future husband, now Gala's head chef. Chef Riesco was born in Chile and worked in London, Berlin, Brazil, and New York City, then moved to Barcelona when he was 24.
It was during their time in New York City — Penke was at Jean-Georges Vongerichten's JoJo and Riesco at Public — that they realized they could make their restaurant dreams a reality. They launched the brunch-focused American-Chilean fusion Picnic in Barcelona in 2010 to much success and have continued to operate it successfully since they moved to Santa Barbara in 2017, splitting themselves between two countries and waiting out the pandemic in order to open a place in S.B.
"A lot of the inspiration or driving force was actually wanting to raise our children in Santa Barbara," Penke said. "Being here is not just a business venture. It's us coming back to my hometown, so we can be here with family and our kids can grow up in this great tight-knit community."
Penke's warmth and down-to-earth nature, as she gleefully dances through the front of the house, speaks to her love of S.B. Her humility belies their ambitious and perfectly executed food — Gala stretches gracefully toward fine dining while leaving pretension at the door.
"Some of my favorite meals are not just about the food; it's about the conversation and the experience you felt while dining," Penke said. "That's a big part of what we want at Gala."
One of the thoughtful ways they've instilled this jovial atmosphere is their menu option to "send cava to the table next to you" for half the price of a regular glass. Could there be a more welcomed icebreaker?
Perhaps one could approach a table and simply remark on someone's beautiful food. The name Gala was inspired by Salvador Dalí's wife, Gala Dalí, as well as Penke and Riesco's fondness for the Costa Brava town of Cadaqués, where the Dalís lived. This artistic influence is evident in the presentation of all of their dishes, especially the crunchy coca, a Catalan flatbread with raclette, za'atar, chanterelles, enoki mushrooms, pea tendrils, and, of course, a few edible flowers. Another highlight is the potato and quinoa hash browns with crème fraîche, topped with fresh salmon gravlax, creating a luxury latke experience.
And you'll definitely want to start your evening with one of the delightful cocktails created by Bar Manager Dakota Lopez, such as the Guava Caviar Sour, a mix of citrus vodka, fresh lime juice, caviar limes, dry curacao, and guava.
"He is like our chef of the bar, making tinctures and infusing liquors. Picking different lemons and limes from friends and neighbors and local farms, local honey, finger limes, with all the ingredients are so fun to watch him get creative," Penke said. She collaborated with friends in the industry for the Gala wine list, staying local for new-world wines and Spanish for the old.
The menu is in an experimental phase and is slated to change weekly if not daily, while the heavy hitters will remain.
"A menu is a collaboration between you and the customer and the seasonal produce and all your vendors. Finding the right mix is important," Penke said.
Currently their creative options sing of Riesco's Chilean memories and influence from Picnic in Barcelona, with a fresh and local Santa Barbara touch.
I was wowed by the steak frites served with fresh chimichurri. The generous creamy slab of Basque cheesecake layered with fresh fruit preserves was quite possibly the best cheesecake I've had in my life.
Guests can stay tuned for brunch, and I can't wait to enjoy warm summer nights out on that sprawling patio.
"We are so grateful to have found our spot and excited to put in all the hard work it takes to get a restaurant off the ground," Penke said. With a passion-driven work ethic, convivial spirit, and mouth-watering food, it's going to be a delight to watch Gala fly.
Open Wednesday-Saturday, 4-9 p.m. (brunch coming soon); 705 Anacapa St.; (805) 869-2813, galasb.com
Artful dishes and cocktails at Gala Restaurant | Credit: Ingrid Bostrom

Turmeric Gimlet, Hibiscus Beet Limeade, Yola Eastside, and Pisco Sour

Fried green tomatoes and Yola Eastside cocktail | Credit: Ingrid Bostrom

Gala Restaurant decor | Credit: Ingrid Bostrom

Gala Restaurant patio | Credit: Ingrid Bostrom

Gala Restaurant | Credit: Ingrid Bostrom