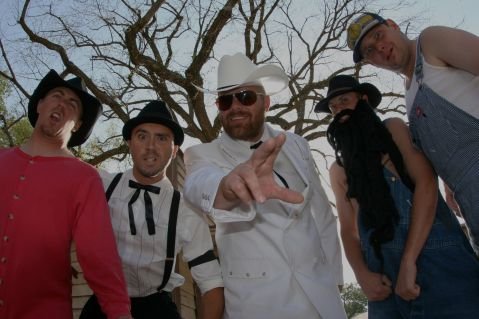 Big Jugs

"Ballad of the Hammerswinger"
"Pro (256)"

Musicians
Genre: Country / Rockabilly
Sound description: An amalgamation of blues, country, and rockabilly, Big Jugs serves up quirky tunes that are sure to get you slappin' your knee with the first twang of the jaw harp. With songs like "Pro in Prostitute," Big Jugs' music is not for the prim and proper, but what's more fun than listening to dirty lyrics accompanied by a banjo, a saw, and a washboard? -The Indy
Web site: http://www.facebook.com/bigjugsmusic
Email: chadmueller31@hotmail.com
History
Big Jugs is your grandpa's favorite country band, but don't expect to find the album anywhere around his house. He won't bring it out at Thanksgiving while the family sits down at the bird. And no, you won't find the record in the front room between his Merle and Willie vinyl. Grandma may not even know the album exists. You see, Grandpa hides it out in the barn next to his old ass kickin' boots. It's from a time when he used to spit tobacco in the face of danger, drink whiskey 'til the sun was rising, and knock the dickens out of any man who wore a sour grin. He even had his own robe down at the local bordello, where he seldom had to pay. And his favorite band was Big Jugs.
Since Big Jugs started in 2006 they have played some great shows with artists coming through town, including The Devil Makes Three, Trainwreck, The Whoreshoes, Cash'd Out, Fast Heart Mart, Bob Wayne and The Outlaw Carnies, and many more.
Upcoming shows
None scheduled
Formed
2006, Santa Barbara, CA
Influences
Bill Monroe, Hank Williams, Hank Williams Jr, Hank III, Willie Nelson, Dolly Parton, David Allan Coe, and Merle Haggard.
Current status
Big Jugs will play the Wildcat Lounge (15 W. Ortega St.) on Tuesday, August 26 with The Snobs.